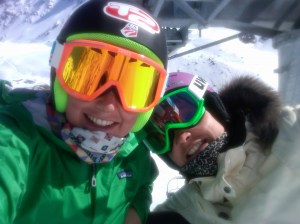 I'm back on snow in Portillo! Took a few runs today after I arrived and it felt so good to be back on snow! I am looking forward to the next two weeks down here in Chile. I am hoping towards the end of camp I will be back in GS gates.
I have spent the past three weeks in Park City training at the Center of Excellence. It was really good for me to get in another solid chunk of time at the gym before I started skiing again. We did some testing just before I came down here and I showed a lot of improvement since I last tested in July. Exciting stuff!
Aside from spending time in the gym I went on a few short camping adventures while I was in Utah. We first started out by going to Dugway, Utah and went rock-hounding for geodes. Weird, I know. But I was up to try something new and although we were unsuccessful at finding any geodes (might have helped if we knew what a geode looked like) it was still a really good time. Not sure rock-hounding will become a passion of mine, but you just never, ever know. We went on two other camping adventures in the nearby Unitah mountains over Labor Day as well. Had a great time like I always do in the outdoors and the only downer was the two flat tires, yes, TWO at once and the three hubcaps I lost. Not sure what really happened but we double flatted and lost a hubcap, luckily with a spare and a can of fix-a-flat we were able to roll slowly down into Heber. I then bought four new tires. No need to explain why. Then on the next camping night two days later I lost two hubcaps. Don't know whats going on but my Nissan Versa is looking pretty classy and FAST.
I also did a lot of mountain biking while I was in Park City. The past few weeks are the first time I have felt comfortable to actually ride fast again and push my limits. I think skiing in New Zealand has given me that extra bit of confidence I needed to not ride like a grandma. It has been a lot of fun, I've slammed a few times but still have all my teeth and haven't really slowed down.
All the biking I have been doing has been helping me get prepared for the 24hrs of Moab which I am racing this October to help raise funds for World Cup Dreams. This year World Cup Dreams will have four teams racing. I am on a team with Eric Scholpy, Brandon Lawrence, Jason Travis and Matt Campbell. World Cup Dreams provides disability insurance for injured athletes like me. They have been providing me support since my injury so this cause is really important to me. I encourage everyone to check out World Cup Dreams at http://www.worldcupdreams.org/ and also to please, please, please donate to my team at http://www.raceraiser.com/pages/worldcupdreams. Every donation counts! Even a few dollars will make a difference!!! The support World Cup Dreams provides is so important to us, we compete in a very dangerous sport and need all the protection we can get!
Thanks Everyone!