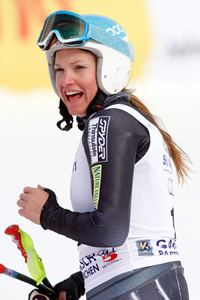 Marker/Volkl has confirmed American Olympic star Julia Mancuso will be skiing on Voelkl for the next two seasons minimally. She had been representing Rossignol.
"I used Volkl skis when I was a kid," (and one of the most successful junior racers in U.S. history) said Mancuso, "so this change is somewhat of a homecoming for me."
Mancuso rose to international prominence with a gold medal at the 2006 Torino Olympic Games. She added four World Cup wins during the 2007 season. She cemented her reputation as a big event skier at this past season's Vancouver Olympics by adding two silver medals to her trophy case. Those medals, she says, reflect a new commitment to racing excellence.
"I am focused on using the new equipment to open ip a new and even more successful chapter in my skiing career," she said. "The new equipment complements my skiing style and I am already feeling like I am part of the Marker Volkl family."
Certainly she was greeted a returning family member. Marker Volkl president Mike Noonan said, "I am really excited that we have signed Julia and I think it's a great testimonial for the commitment of the Marker Volkl team. We've worked hard on our new race products and it is rewarding that an athlete of Julia's caliber has recognized that. We are certainly looking forward to the new World cup season and the 2011 World Championships."