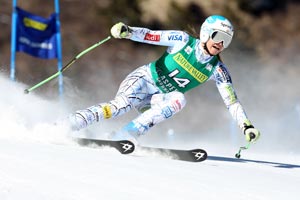 American ski racer Julia Mancuso reclaimed the Aspen World Cup podium for the home team today (Nov. 26) after a seven-year U.S. absence. The California native finished third behind winner Viktoria Rebensburg of Germany.
Rebensburg, fifth after the first run, built speed all the way down the 46-gate course to take her fourth career World cup victory with a .33-second advantage on Austrian first-run leader Elisabeth Goergl in second place.
"I made a huge mistake in the first run, so I was kind of angry at myself," said Rebensburg after the race. "I tried to stay calm and focus for the second run. If I could put everything together, maybe it could work for a win. It worked, I'm so happy for that."
Manucso, fourth after the first run, told reporters she was headed into the second run with room to improve and more speed to find. She went for a wild ride and held on to enough speed to secure her 26th career World Cup podium. Mancuso finished 10th in the first race of the season, also a GS, in Soelden, Austria in late October, then came home for an extended training block in Vail with goals of dialing in her equipment and technical skiing.
"I think I skied better the first run, I made some mistakes second run but it was a really tough course and you never really know what the other skiers are going to do or what mistakes they're going to make," said Mancuso, who hasn't landed a World Cup GS podium since 2007. "I'm just really psyched; my GS has been training really well. I haven't been on the podium for GS in a long time so it feels really good to be right in there. I'm hoping to keep that going for the rest of the season."
An American racer hadn't topped the Aspen podium since Kristina Koznick finished third in a slalom in 2004.
"It's exciting, everyone always talks about curses and statistics and of course as athletes we're just up there trying to ski fast and hope you make the podium or the win," said Mancuso of her record performance. "I have a whole support crew from Squaw Valley also here, actually a lot of my family's here because they came for Thanksgiving, they've skipped on a couple years so it's nice that I could get on the podium and give them a good show."
Mancuso's result marked only the second GS podium of all-time for the U.S. women in Aspen, the last was a win my Tamara McKinney in 1981. McKinney, who, like Mancuso is from Squaw Valley, Calif., was in Aspen to see the race today.
Skies were clear all day in Aspen and athletes raved about the grippy surface conditions on what many of them called one of the most challenging GS courses they see all season. After a sunny first run, the athletes were tested by a flat-lit, shady second run course. "It wasn't perfect but it was challenging," said Rebensburg. "I like the slope, it's tough I think it's the most difficult giant slalom in the World Cup tour."
Lindsey Vonn, who won the opening GS of the season just more than a month ago, was disappointed in her first run (21st) but fought back in the second run to finish 12th today.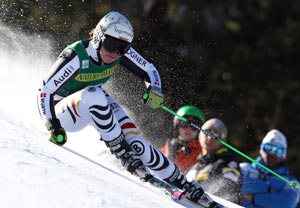 "It felt better," said Vonn of her second run. "I was definitely more aggressive, felt more like myself but it was just tough with the terrain and flat light, I just kept making mistakes but I did what I could and tried to make up some time. I think I did better but just not quite enough; first run was too far off."
Vonn was forced to take four days off of training after injuring her back on the Aspen course last Friday, a minor injury she said limited her movement and had her feeling unlike herself on the slope.
Two races into the 2012 season, Rebensburg leads the overall standings with 180 points. Goergl stands second with 140 points, just ahead of Vonn in third with 122 points.
Two more Austrians joined Goergl in the top 10. Anna Fenninger finished fourth and Stefanie Koehle took ninth.
Swiss young gun Lara Gut had two solid runs to finish fifth after claiming the second-fastest first run in the No. 19 bib. "Yay, I can ski GS!" tweeted Gut after the race.
None of the remaining four American starters managed to reach the 30-woman second run. Teenager Mikaela Shiffrin finished 35th in her third World Cup race ahead of teammates Resi Stiegler in 37th and Kiley Staples in 42nd.
Last season's overall champion, Germany's Maria Hoefl-Reisch continued to have a rocky start to her season, falling during her second run today after finishing 24th in the Soelden GS.
Several of the World Cup's top ranked GS racers were taken out by the tough first run course, set by a Swedish coach. Italian Federica Brignone, French Tessa Worley, teammate Anemone Marmottan and American Sarah Schleper all failed to finish the first run along with 14 other women.
Women's World Cup racing continues in Aspen tomorrow with the first slalom of the season (the original slalom opener scheduled for Levi, Finland, was canceled) . Click here to follow tomorrow's race on our Live Timing Page. – By Eric Williams with reporting from Susan Theis
Images by Gepa
The SCOOP
by Hank McKee
Equipment
Women's World Cup GS
Aspen, USA
Nov. 26, 2011
Skier, skis/boots/bindings
1 Rebensburg, Nordica/Nordica/Marker
2 Goergl, Head/Head/Head
3 Mancuso, Voelkl/Lange/Marker
4 Fenninger, Head/Head/Head
5 Gut, Rossignol/Rossignol/Rossignol
6 Karbon, Fischer/Fischer/Fischer
7 Maze, Stoeckli/Lange/Atomic
8 Duerr, Fischer/Fischer/Fischer
9 Koehle, Voelkl/Tecnica/Marker
10 Lindell-Vikarby, Rossignol/Rossignol/Rossignol
Women's World Cup GS, Aspen, Colo., Nov. 26, 2011. … It is the second of 40 races on the women's 2011-12 World Cup schedule. … The second of nine scheduled giant slaloms. … It is the 67th World Cup race hosted by Aspen. … the 20th GS.
It is the fourth career World Cup victory for Viktoria Rebensburg, all in GS. … It is her first win at Aspen, though she was second last season.
It is the 31st career World Cup podium result for Elisabeth Goergl. … her 14th in GS. … It is her second podium at Aspen, the previous a third in GS Nov. 29, 2008.
It is the 26th career World Cup podium for Julia Mancuso. … her fifth in GS. … and her first at Aspen.
It is the 16th best career Cup GS result for Lindsey Vonn. … her second best (of two) GS results at Aspen.
Rebensburg leads the Overall standings 180-140 over Goergl. … Vonn is third with 122. … Mancuso fifth with 86. … Austria leads the women's Nations Cup 390-252 over Germany. The US is third with 208. Canada is 11th at 13pts.
Rank
Bib
FIS Code
Name
Year
Nation
Run 1
Run 2
Total Time
FIS Points
1
6
205218
REBENSBURG Viktoria
1989
GER
1:05.41
1:05.84
2:11.25
0.00
2
2
55576
GOERGL Elisabeth
1981
AUT
1:04.46
1:07.12
2:11.58
2.19
3
14
537545
MANCUSO Julia
1984
USA
1:05.37
1:06.32
2:11.69
2.92
4
18
55947
FENNINGER Anna
1989
AUT
1:05.57
1:06.18
2:11.75
3.31
5
19
516138
GUT Lara
1991
SUI
1:05.05
1:07.01
2:12.06
5.37
6
9
295445
KARBON Denise
1980
ITA
1:05.15
1:06.99
2:12.14
5.90
7
3
565243
MAZE Tina
1983
SLO
1:05.53
1:07.00
2:12.53
8.48
8
23
206355
DUERR Lena
1991
GER
1:05.80
1:06.78
2:12.58
8.82
9
24
55818
KOEHLE Stefanie
1986
AUT
1:06.00
1:06.79
2:12.79
10.21
10
22
505632
LINDELL-VIKARBY Jessica
1984
SWE
1:06.27
1:06.60
2:12.87
10.74
11
17
55590
SCHILD Marlies
1981
AUT
1:06.47
1:06.44
2:12.91
11.00
12
7
537544
VONN Lindsey
1984
USA
1:06.58
1:06.41
2:12.99
11.53
13
4
185140
POUTIAINEN Tanja
1980
FIN
1:06.01
1:06.99
2:13.00
11.60
14
33
515747
GISIN Dominique
1985
SUI
1:06.07
1:07.03
2:13.10
12.26
14
15
196725
BARIOZ Taina
1988
FRA
1:06.97
1:06.13
2:13.10
12.26
16
26
296509
CURTONI Irene
1985
ITA
1:07.34
1:05.85
2:13.19
12.86
17
37
298084
AGERER Lisa Magdalena
1991
ITA
1:07.25
1:06.14
2:13.39
14.19
18
20
55759
KIRCHGASSER Michaela
1985
AUT
1:06.36
1:07.11
2:13.47
14.72
19
8
296259
MOELGG Manuela
1983
ITA
1:06.31
1:07.20
2:13.51
14.98
20
53
295435
GIUS Nicole
1980
ITA
1:07.47
1:06.21
2:13.68
16.11
21
10
55838
ZETTEL Kathrin
1986
AUT
1:06.40
1:07.35
2:13.75
16.57
22
43
196726
BARTHET Anne-Sophie
1988
FRA
1:06.92
1:06.88
2:13.80
16.90
23
25
296379
GIANESINI Giulia
1984
ITA
1:06.98
1:07.00
2:13.98
18.10
24
29
106825
PREFONTAINE Marie-Pier
1988
CAN
1:06.71
1:07.50
2:14.21
19.62
25
28
515766
SUTER Fabienne
1985
SUI
1:07.19
1:07.33
2:14.52
21.68
26
35
55898
BREM Eva-Maria
1988
AUT
1:06.43
1:08.29
2:14.72
23.00
Disqualified 2nd run
40
206174
STABER Veronika
1987
GER
Did not start 1st run
30
196851
GALLAY BERTRAND Olivia
1989
FRA
Did not qualify 1st run
65
155728
DUBOVSKA Martina
1992
CZE
64
515573
AUFDENBLATTEN Fraenzi
1981
SUI
63
505679
HANSDOTTER Frida
1985
SWE
60
705394
KANTOROVA Barbara
1992
SVK
58
305962
HANAOKA Moe
1984
JPN
57
306096
HOSHI Mizue
1985
JPN
55
6535237
SHIFFRIN Mikaela
1995
USA
54
107044
IRWIN Madison
1991
CAN
52
435210
GASIENICA DANIEL Agnieszka
1987
POL
50
205239
WIRTH Barbara
1989
GER
49
535585
STAPLES Kiley
1989
USA
48
537772
STIEGLER Resi
1985
USA
39
206444
HOESL Simona
1992
GER
38
206367
HRONEK Veronique
1991
GER
34
506399
HECTOR Sara
1992
SWE
31
196179
BERTRAND Marion
1984
FRA
16
505760
PIETILAE-HOLMNER Maria
1986
SWE
Did not finish 2nd run
44
355050
WEIRATHER Tina
1989
LIE
13
55750
FISCHBACHER Andrea
1985
AUT
12
206001
HOEFL-RIESCH Maria
1984
GER
Did not finish 1st run
62
155699
PAULATHOVA Katerina
1993
CZE
61
385041
NOVOSELIC Sofija
1990
CRO
59
485563
PROSTEVA Elena
1990
RUS
56
516319
SUTER Corinne
1994
SUI
51
506146
SWENN-LARSSON Anna
1991
SWE
47
505886
KLING Kajsa
1988
SWE
46
425880
SEJERSTED Lotte Smiseth
1991
NOR
45
565360
STUHEC Ilka
1990
SLO
42
705287
ZUZULOVA Veronika
1984
SVK
41
565268
DREV Ana
1985
SLO
36
56059
DEPAULI Jessica
1991
AUT
32
55690
HOSP Nicole
1983
AUT
27
536481
SCHLEPER Sarah
1979
USA
21
105269
GAGNON Marie-Michele
1989
CAN
11
196793
MARMOTTAN Anemone
1988
FRA
5
196928
WORLEY Tessa
1989
FRA
1
297601
BRIGNONE Federica
1990
ITA