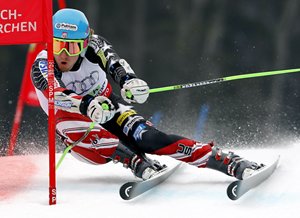 The US Men's Tech Team had, according to coach Mike Day, "an exceptionally productive" on-snow camp at Mammoth Mountain, Calif., as the days of the calendar edged toward the end of June.
"We've been busy," said Day as he took advantage of a "block of rest" sitting on his deck outside Stowe, Vermont. "We had some days at Bachelor and a short camp in Park City, but the last camp at Mammoth was definitely the most productive."
As in any outdoor endeavor, weather was a major factor, but the unusually high snowpack in the California Sierra's has made it possible to have the early training season convenient.
"We had great weather, especially for June," said Day. "Very good weather and reasonable overnight temperatures – with salt if we needed it – gave us decent surface conditions every day with plenty of sunshine. Everything," he said, "was in our favor."
As a result the coaches were able to run the team through some long days. "We were on snow every morning at 7:30," said Nolan Kasper, among the attendees, "through 11 or 11:30. Then we did a bunch of dryland and games in the afternoons, all sorts of recovery exercises. For sure the focus was the skiing. We played volleyball or baseball trying to have fun and no to over do. It was five straight days, which was pretty tough. For me it was my first skiing since Nationals (in April). Some of the other guys had been in camps while I was in school… but I'm well ahead of where I was last year."
And so is pretty much everybody else, for good reason. They ran five straight days on-snow, a rarity "at any time," according to Day.
"This was a different year for us," said Day. "Compared to a year ago when it was very low volume to give the guys some rest after the Olympics. This year is the opposite, we need to get into the progressions and really address fundamental needs with some of the guys. It's not rocket science by any means but with more time the guys can address reach the goals they've set."
Day said all athletes put in "tremendous effort," despite having a lot of ground to cover in the prep period.
"There were no big surprises," Day said. "We see this group a ton, so no one suprised us. That said there are guys definitely skiing better than others right now, but they are all doing what they need to do to be scoring points on the World Cup."
Day said that having the best GS skier in the world on hand in Ted Ligety (World Champion and World Cup Champion) is a major bonus for everybody. "Obviously Ligety provides some challenges in seeing that he gets what he needs to progress, but he is a huge advantage to the rest of the team. We will spend some time training with other nations, which is clearly important, but it is also nice to know that we've got Ted and he's a pretty marker in GS."
There were also some of the "young guns" on hand, skiers the coaches are looking to for the near future. "The youngest (in camp) is Colby Granstrom. He will join us full time and Will Gregorak came in from the combi group, he's in his early 20's. These guys show a ton of speed and a ton of promise. So we spread the gap from guys like Bode and Ted. It is, in fact, a pretty good spread but we feel comfortable working with them together."
Next up will be a condition camp in Park City in the next couple of weeks and then back on snow at the end of July when the tech group heads of New Zealand, where, notes Day, "we will stay through most of August."
Ted Ligety photo by Gepa