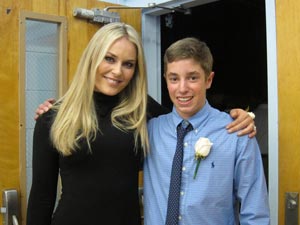 Three-time World Cup overall champion and Olympic gold medalist Lindsey Vonn was too busy training and competing to go to school dances during her teen years. Now, she's making up for lost time.
Vonn, a Vail, Colo. native, was visiting her old stomping grounds at the Vail Ski and Snowboard Academy Thursday (Nov. 3) when she was pleasantly surprised with an invitation to attend the school's homecoming dance the following night by 16-year-old nordic ski racer Parker McDonald.
"When Parker asked me he was cute, nervous and very polite so of course I said YES!" Vonn told her international network of more than 300,000 Facebook friends. "All through school growing up I never got the chance to go to a school dance so I'm excited for tonight!"
Vonn is in Vail with the rest of the U.S. Ski Team for several days of training on the resort's Golden Peak ahead of the next World Cup event in Aspen, Colo. Nov. 27-28.
"I thought, 'I need a date and there's Lindsey Vonn. I'll ask her!'" McDonald told the Vail Daily. "She walked by my lunch table and I whipped out the question."
The question on the rest of our minds? Can Lindsey Vonn move on the dance floor like she does on the race course.
Image: Lindsey Vonn finally makes it to homecoming in Vail. by Doug Haney/ U.S. Ski Team