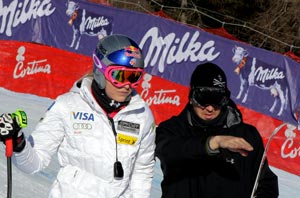 Olympic gold medalist and three-time World Cup overall champion ski racer Lindsey Vonn announced today (Nov. 27) that she will divorce her husband of four years, Thomas Vonn.
Thomas Vonn, a former racer on the U.S. Ski Team, also coached his wife and handled much of the logistics of her World Cup tour schedule and ski equipment. The two wed in the fall of 2007.
"It is with great sadness that I announce that Thomas and I have begun divorce proceedings," Lindsey Vonn said in a statement. "This is an extremely difficult time in my personal life and I hope the media and my fans can respect my need for privacy on this matter. I will continue to be coached by the U.S. Ski Team and look forward to competing the rest of the season."
After finishing 12th in a World Cup giant slalom Saturday, Lindsey Vonn pulled out of Sunday's slalom race in Aspen citing a sore back that has bothered her since injuring it last Friday.
The 27-year-old Vail, Colo. resident will travel to Lake Louise, AB on Monday to continue competing on the World Cup tour.
Image by Gepa