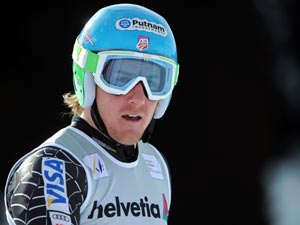 Top ski racing athletes are reacting following an announcement made Thursday by the International Ski Federation (FIS) that introduced changes in ski racing equipment regulations.
The change garnering the most attention by racers and fans alike, is that made to men's GS skis. The FIS will now require the minimum length of GS skis to be 10 centimeters longer past requirements dictated. The radii minimum was also bumped from 27cm to 40. The women's minimum for GS skis was also lengthened by eight centimeters.
The FIS made the shift citing evidence that the changes would help reduce injuries, but several athletes have spoke out in opposition to the move.
Current GS World Champion, American Ted Ligety let fans know about his opinion of the change on his facebook page.
"FIS turns back the clock on ski racing. Who wants to see GS racers not arcing?" wrote the 2006 Olympic gold medalist. "Well that's what u r in for. Current 185cm, 27m. Now 195cm, 40m. Big change! No real data and major rule changes generally lead to bad outcomes. Not cool or smart=dumb."
Ligety later posted further criticism of the change, joking that ski racing legends of the past were returning with there outdated equipment. "The rumors are true, Von Gruenigen and Tomba are making their comebacks with the new ski rules. Salzgeber might need to lend me his old skis circa '96 but then again, they might not have enough radius."
Still active ski racing icon Bode Miller commented this week that FIS equipment regulations are holding back the sport.
"FIS could just remove themselves from the equation, that would be my top suggestion [for positive change]." said Miller. "I think that unrestricting equipment is key. They have shown that restricting equipment across the board in almost every sport does not help.That is a big part of letting the sport evolve outside of those kinds of restrictions."
The FIS is in the process of reconsidering the GS dimensions changes based on recent reactions from ski manufacturers concerned about the time frame needed to produce skis ahead of the coming season. A final decision is expected in late August.
Image by Gepa