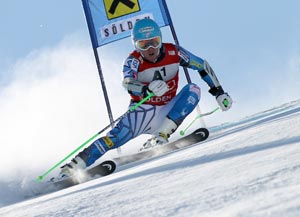 SOELDEN, Austria — The men's World Cup season has officially begun with the first run of a giant slalom race in Soelden, Austria. And so far this season looks a lot like the last with American Ted Ligety ruling the GS course.
Ligety was .18 seconds faster than any challenger in the first run on a bitter cold, cloudless morning atop a hill that recently became the U.S. Ski Team's European training base for the next threes season.
Swiss Carlo Janka was the first out of the gate but now trails Ligety in second position. Austria's own Philipp Schoerghofer stands third .21 seconds behind. France's Alexis Pinturault really improved on his 20 bib, jumping to the fourth position with excellent gliding in the bottom flat section.
A large collection of seven U.S. racers followed Ligety down the course. Only Bode Miller (tied in 16th) was able to qualify for the 30-man second run. American Warner Nickerson just missed the second-run cut off in 32nd, 2.84 seconds behind the leader. Tim Jitloff landed 35, 3.25 seconds off the pace. Both Tommy Ford and Colby Grandstrom failed to finish the first run.
The second run begins at 12:45 local time (6:45 EST). Click here to watch the results come in live.
Image by Gepa
UNOFFICIAL RESULTS (PARTIAL)