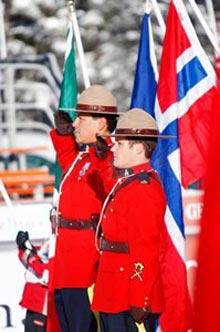 Lake Louise Winterstart World Cup organizers were given the green light Monday (Nov. 14) to stage the first speed races of the season following a successful snow inspection.
The International Ski Federation (FIS) confirmed the Audi FIS Ski World Cup men's downhill and super-G races can go ahead as planned on Nov. 26 and 27.
"We are extremely delighted," said Race Organizing Committee (ROC) chairman John Cassels, after crews spent the weekend making snow on the race course in Lake Louise, Alta. "There's very little snow in Europe but we are ahead of where we've been at this time for the past two or three years.
"Things are setting up nicely for us – the race track is 75 to 80 percent built. We've had 50 volunteers together with our net crew working on the hill since Saturday. They will continue through to Friday when another 150 volunteers will help us put the finishing touches on the track. We are pretty excited and looking forward to some great races."
World Cup slalom races scheduled for Levi, Finland, last weekend had to be cancelled due to poor snow conditions. Helmut Schmalzl, FIS race director for the men's speed events, and chief of race Darrell MacLachlan were among those who conducted an initial inspection of the Lake Louise race track on Saturday. Conditions were deemed "quite positive" and after crews worked on the course this weekend, FIS gave official confirmation Monday that the races can go ahead. A separate inspection is due to be held this weekend to confirm the women's downhill and super-G races for Dec. 2 to 4.
The Lake Louise Winterstart World Cup brings the best speed skiers in the world to Alberta. Canada's men's team for this year's races includes Erik Guay, the 2011 downhill world champion. Canada has enjoyed great success at Lake Louise in recent years, with Calgary's John Kucera (2006) and Jan Hudec (2007) and Vancouver's Manuel Osborne-Paradis (2009) all claiming World Cup victories.
For more information about the Lake Louise Winterstart World Cup, go here.