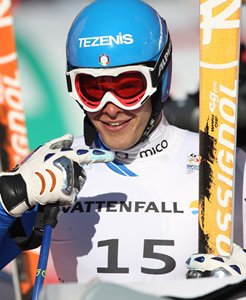 The men's super G of the FIS World Ski Championships at Garmisch-Partenkirchen, Germany today (Feb. 9) was not just a gorgeous test, it was an exam. Christof Innerhofer graduated, rising to the challenge to record the second ever super G championships for an Italian male.
In collecting his first career super G victory Innerhofer pushed Austrian Hannes Reichelt into second and a silver medal while the incredible Ivica Kostelic continued what is surely a career season with the bronze.
Bode Miller, definitely gunning for the championship, produced his usual exciting performance, survived his first error and cashed in after the second, standing for the final gates of the Kandahar 2 course and wound up 12th, narrowly ahead of U.S. youngster Tommy Ford in 14th.
If there was a true star – or perhaps villain – on the day it was the gnarly track itself. Under a clear sky, the tough but fair course drops through the Bavarian forest presenting a hard but scratchable surface. On top of that it is rough and bumpy. It took until the eighth skier of the morning, Austrian Romed Baumann, before anyone had truly skied the course. As the core of the first seed rolled through the start order it became evident the man who could conquer the Kandahar would be a true champion.
Miller, running 11th, appeared he might be that man. With a lead he caught his arm on a gate and had his ski pole ripped from his grip. It wasn't so much a mistake as a misfortune. The gate had caused grief to most of the ten racing in front of him and would continue to pester the field. He was on a high enough line and though his momentum was sucked away by the drag of his pole, he continued to put up good splits. His second mistake, above the finish, was much more costly. Without hope of the win in a race where fourth place matters not a wit, he stood and coasted to the finish.
"Once I made that mistake, I could have tucked to the finish, but my speed was already gone," Miller said. "It was challenging, but I think it was what this course really should be. If it was smooth and soft it would have been really basic. You see a guy like Innerhofer ski that way he did, he deserves to win it. I was impressed with the way he skied."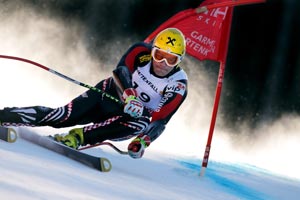 Reichelt, skiing right after Miller, produced the first complete run of the day for a huge .88 lead over Baumann. But Innerhofer, who has produced half of his top six World Cup placings this season, was clean and on line in his run as well as six tenths of a second faster than the Austrian.
"I really liked the course, actually," said Innerhofer who dedicated the victory to a large group from his fan club present. "I felt great, felt strong. I promised myself I would not take fourth again. I tried to be as aggressive as I could. It's better to let the skis run and not think about it too much."
Kostelic, a slalom winner on the World Cup since 2001 and the World slalom champ in 2003, has a new found artistry in the speed disciplines, something he illustrated in certain fashion by winning the Kitzbuehel super G just weeks ago. Solid on his skis as usual he kept pace with the two leaders, gave away nothing and wound up on the podium, a placing 10 better than anything even his World Champion sister Janica ever put up in a World Championship super G, (She did win silver in the discipline twice in Olympic competition).
The defending champion Didier Cuche skied well but dropped back steadily from the leaders to finish fourth, more than a second off the winning pace. Austrians Benjamin Raich and Romed Baumann were fifth and sixth respectively with strong, but hardly error free races. Swiss Carlo Janka, in seventh, touched a hip to the ground in his run. On the DNF list were skiers of undeniable calibre: defending super G World Cup champion Erik Guay, reigning Olympic SG champion Aksel Lund Svindal, Ted Ligety and this season's SG winner at Lake Louise Tobias Gruenenfelder. They were among a list that stretched to 30.
At 36 Cuche has seen his share of tough courses, but said if this test wasn't the most difficult it was near the top of the list. "It is a really tough course, a long and blind super G. The snow is hard, but that is not the problem. The problem is that it is so bumpy it makes you really tired and makes it hard to keep the perfect line."
Or much of any line at all. Kostelic said he would need to skip some race during the rest of this World Championship in order to recover.
"Really it was THE most difficult run I have ever competed in, in any discipline. You had to go to your physical limits." He said. He said visibility was an issue, something not normally associated with clear blue skies. But the course winds through the forest in the shade and the sun reflects off
snow covered mountains across the valley. Not being able to clearly see the bumpy terrain, he said, heightens the impact of the bumpy course. He also said he expended enough energy to supply a nucleur power plant, but added, "It makes me really proud to be the first male medal in speed events for Croatia." There are, he said, no super G tracks anywhere in the country.
The silver medal for Reichelt, he said, was "a big step in my career." He only won a place on the Austria championship team at Hinterstoder last weekend, and then came up with the men's first medal.
"It was one of the most difficult runs I have participated in. It took great strength," he said, adding he didn't feel comfortable at any point on course.
About the only one who did, apparently, was Innerhofer. Said U.S. coach Sasha Rearick: "Innerhofer today threw down and deserved to win over the rest of the gus. He skied with tremendous guts and heart."
A+
The SCOOP
Men's World Championship super G, Garmisch-Partenkirchen, Germany, Feb. 9, 2011
Equipment
Skier, skis/boots/bindings
1 Innerhofer, Rossignol/Rossignol/Rossignol
2 Reichelt, Salomon/Salomon/Salomon
3 Kostelic, Fischer/Fischer/Fischer
4 Cuche, Head/Head/Head
5 Raich, Atomic/Atomic/Atomic
6 Baumann, Salomon/Salomon/Salomon
7 Janka, Atomic/Atomic/Atomic
8 Heel, Head/Head/Head
9 Fill, Atomic/Atomic/Atomic
10 Theaux, Salomon/Salomon/Salomon

Men's World Championship super G, Garmisch-Partenkirchen, Germany, Feb. 9, 2011. … It is the second event of 11 of the World title meet. … the first men's event.
It is the first career World Championship medal for Christof Innerhofer. … He finished 4th in SG at the 2009 Championships. … He was sixth in SG at the 2010 Olympics. … His best World Cup SG result is third at Are, March 12, 2009. … It is the 49th World Championship medal for Italy, the 17th gold.
It is the first World championship result for Hannes Reichelt. … He was tenth in SG at the 2010 Olympics, his only result of the Games. … He has five World Cup wins, four of them in SG, but only one since 2008, coming last weekend at Hinterstoder. … It is the 202nd World Championship medal for Austria (plus a team medal).
It is the second World Championship medal for Ivica Kostelic having won the gold medal in slalom at St Moritz Feb. 16, 2003. … He has three silver Olympic medals, combined in 2006, slalom and combined 2010. … His best Olympic SG finish is 16th. … His best SG finish at Worlds had been 32nd in 1999. … No Croat had ever won a World Championship medal in super G or downhill. … It is the eighth Croatian World Championship medal.
Gepa images
Place
Garmisch-Partenkirchen
(GER)
Discipline
Super G
Date
09.02.2011
Category
FIS World Ski Championships
Race codex
0067
Gender
M
Valid for FIS Points
YES
TD Name
Stocker Rudolf (AUT)
Rank
Bib
FIS Code
Name
Year
Nation
Total Time
FIS Points
1
15
293006
INNERHOFER Christof
1984
ITA
1:38.31
0.00
2
12
50742
REICHELT Hannes
1980
AUT
1:38.91
6.47
3
19
380260
KOSTELIC Ivica
1979
CRO
1:39.03
7.76
4
18
510030
CUCHE Didier
1974
SUI
1:39.34
11.11
5
21
50625
RAICH Benjamin
1978
AUT
1:39.65
14.45
6
8
51215
BAUMANN Romed
1986
AUT
1:39.79
15.96
7
16
511313
JANKA Carlo
1986
SUI
1:40.03
18.55
8
9
292514
HEEL Werner
1982
ITA
1:40.13
19.62
9
14
292455
FILL Peter
1982
ITA
1:40.34
21.89
10
13
192746
THEAUX Adrien
1984
FRA
1:40.44
22.97
11
17
50041
WALCHHOFER Michael
1975
AUT
1:40.51
23.72
12
11
532431
MILLER Bode
1977
USA
1:41.06
29.65
13
27
510890
ZURBRIGGEN Silvan
1981
SUI
1:41.12
30.30
14
24
531799
FORD Tommy
1989
USA
1:41.21
31.27
15
25
293550
MARSAGLIA Matteo
1985
ITA
1:41.26
31.81
16
4
560332
JERMAN Andrej
1978
SLO
1:41.35
32.78
17
45
150398
BANK Ondrej
1980
CZE
1:41.36
32.89
18
23
530874
GANONG Travis
1988
USA
1:41.49
34.29
19
43
103271
THOMSEN Benjamin
1987
CAN
1:41.92
38.92
20
28
560447
SPORN Andrej
1981
SLO
1:42.20
41.94
21
35
200379
SANDER Andreas
1989
GER
1:42.40
44.10
22
1
560406
GORZA Ales
1980
SLO
1:42.45
44.64
23
5
500150
JAERBYN Patrik
1969
SWE
1:42.49
45.07
24
48
501324
OLSSON Matts
1988
SWE
1:42.55
45.72
25
3
192653
FREY Thomas
1984
FRA
1:42.81
48.52
26
40
380292
ZRNCIC-DIM Natko
1986
CRO
1:43.15
52.19
27
47
481006
ZUEV Stepan
1988
RUS
1:43.63
57.36
28
55
420148
KARLSEN Truls Ove
1975
NOR
1:44.01
61.46
29
57
20174
VIDOSA Roger
1984
AND
1:44.84
70.41
30
61
90131
GEORGIEV Georgi
1987
BUL
1:45.23
74.61
31
51
410270
CAFE Tim
1987
NZE
1:45.24
74.72
32
41
410266
GRIFFIN Benjamin
1986
NZE
1:45.63
78.93
33
56
350087
KINDLE Nicola
1991
LIE
1:46.75
91.00
34
58
660021
DANILOCHKIN Yuri
1991
BLR
1:46.81
91.65
35
68
670037
ZAKURDAEV Igor
1987
KAZ
1:47.12
94.99
36
66
700868
FALAT Matej
1993
SVK
1:48.26
107.28
37
63
430472
KLUSAK Michal
1990
POL
1:48.29
107.61
38
65
710320
LAIKERT Igor
1991
BIH
1:48.43
109.12
39
60
670058
KOSHKIN Dmitriy
1986
KAZ
1:49.07
116.02
40
73
690086
FESHCHUK Rostyslav
1990
UKR
1:49.79
123.78
41
69
670029
PIMENOV Taras
1984
KAZ
1:51.04
137.26
Did not start 1st run
680054
GEDEVANISHVILI Dimitri
1993
GEO
191591
BERTRAND Yannick
1980
FRA
Did not finish 1st run
220874
BALDWIN TJ
1990
GBR
92534
CHONGAROV Nikola
1989
BUL
510747
GRUENENFELDER Tobias
1977
SUI
194364
PINTURAULT Alexis
1991
FRA
102263
GUAY Erik
1981
CAN
170131
FAARUP Christoffer
1992
DAN
670059
CHERNICHENKO Pavel
1986
KAZ
151099
SYROVATKA Mark
1989
CZE
910003
LINDNER Georg
1983
MDA
910004
DEFLORIAN Mirko
1980
MDA
180570
ROMAR Andreas
1989
FIN
480736
KHOROSHILOV Alexander
1984
RUS
20267
ESTEVE RIGAIL Kevin
1989
AND
421328
SVINDAL Aksel Lund
1982
NOR
201811
STECHERT Tobias
1985
GER
561085
KRIZAJ Andrej
1986
SLO
30149
SIMARI BIRKNER Cristian Javier
1980
ARG
511352
VILETTA Sandro
1986
SUI
220656
DRAKE Ed
1986
GBR
380290
SAMSAL Dalibor
1985
CRO
501076
OLSSON Hans
1984
SWE
491129
TERRA Ferran
1987
SPA
534562
LIGETY Ted
1984
USA
380298
SIROKI Tin
1987
CRO
491151
DE LA CUESTA Paul
1988
SPA
700724
BABUSIAK Jaroslav
1984
SVK
430429
BYDLINSKI Maciej
1988
POL
421483
JANSRUD Kjetil
1985
NOR
102271
HUDEC Jan
1981
CAN
150421
ZAHROBSKY Petr
1980
CZE