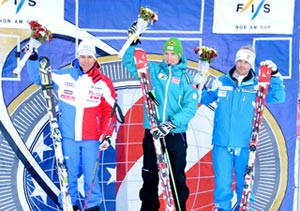 Austrian Marcel Hirscher made him self at home today (Nov. 28) in Aspen, Colo. as he won a NorAm GS with a time of two minutes, 00.45 seconds, after standing third after the first run.
After crashing at a World Cup race in Hinterstoder, Austria, last February and injuring his foot, Hirscher has been working on making a strong comeback.
"Last year was my injury…it's getting better and better, training and everything is ok but training and races are totally different," explained Hirscher.
Hirscher also commented on the dynamic field of World Cup level athletes competing in today's event. "Fifty percent of the [World Cup] GS athletes are here, so it's pretty important for me, it's half a World cup race."
Also on the podium was France's Cyprien Richard in second (2:01:89) and Sweden's Matts Olsson (2:01.97). Another three hundredths behind Olsson was U.S. skier, Tim Jitloff in fourth place (2:02.00).
The NorAm women's season was also kicked off today with a slalom in Loveland, Colo.
German Christina Geiger took the victory after leading the way in both runs with a combined time of one minute, 47.20 seconds. Canadian Marie-Michele Gagnon was .34 seconds behind in second, followed by German Lena Duerr in third (1:49.05).
A total of 34 women, including half of the first 10 starters, failed to finish the first run due to a technical course set and inconsistent surface conditions. On that list was American young gun Mikaela Shiffrin and German World Cup regulars Fanny Chemlar and Katharina Duerr.
The top American in the 85-woman field was Hailey Duke in 10th place.
NorAm Cup racing in Colorado continues tomorrow with a men's giant slalom in Aspen and a women's slalom in Loveland.
Men's Results
Rank
Bib
FIS Code
Name
Year
Nation
Run 1
Run 2
Total Time
FIS Points
1
9
53831
HIRSCHER Marcel
1989
AUT
58.13
1:02.32
2:00.45
6.00
2
17
191423
RICHARD Cyprien
1979
FRA
59.01
1:02.88
2:01.89
16.40
3
22
501324
OLSSON Matts
1988
SWE
59.15
1:02.82
2:01.97
16.98
4
6
534959
JITLOFF Tim
1985
USA
58.85
1:03.15
2:02.00
17.20
5
8
180534
SANDELL Marcus
1987
FIN
57.97
1:04.08
2:02.05
17.56
6
23
292491
MOELGG Manfred
1982
ITA
59.55
1:02.71
2:02.26
19.07
7
27
421669
HAUGEN Leif Kristian
1987
NOR
59.31
1:03.07
2:02.38
19.94
8
14
191750
FANARA Thomas
1981
FRA
59.09
1:03.30
2:02.39
20.01
9
21
292120
SIMONCELLI Davide
1979
ITA
58.54
1:04.03
2:02.57
21.31
10
37
192504
MERMILLOD BLONDIN Thomas
1984
FRA
59.93
1:02.67
2:02.60
21.53
11
30
292967
EISATH Florian
1984
ITA
59.31
1:03.52
2:02.83
23.19
12
25
290693
PLONER Alexander
1978
ITA
59.36
1:03.63
2:02.99
24.35
13
24
202462
DOPFER Fritz
1987
GER
58.80
1:04.21
2:03.01
24.49
14
33
191778
PICHOT Sebastien
1981
FRA
1:00.20
1:03.04
2:03.24
26.15
15
12
103676
BROWN Philip
1991
CAN
59.30
1:04.14
2:03.44
27.60
16
35
500933
OLSSON Jon
1982
SWE
1:00.40
1:03.08
2:03.48
27.89
17
32
51159
NOESIG Christoph
1985
AUT
1:00.09
1:03.41
2:03.50
28.03
18
7
103729
READ Erik
1991
CAN
59.45
1:04.07
2:03.52
28.17
19
36
150834
ZIKA Adam
1989
CZE
1:00.00
1:03.54
2:03.54
28.32
20
2
930105
GRANSTROM Colby
1990
USA
59.67
1:03.95
2:03.62
28.90
21
38
560425
VAJDIC Bernard
1980
SLO
59.79
1:04.28
2:04.07
32.15
22
46
934518
DANIELS Nick
1991
USA
1:00.09
1:04.00
2:04.09
32.29
23
16
934568
RUBIE Brennan
1991
USA
1:00.42
1:03.81
2:04.23
33.30
24
4
421860
NORDBOTTEN Jonathan
1989
NOR
59.94
1:04.56
2:04.50
35.25
25
13
103078
DONALDSON David
1986
CAN
1:00.62
1:04.85
2:05.47
42.26
26
39
530651
STIEGLER Seppi
1988
USA
1:00.87
1:04.62
2:05.49
42.40
27
44
421566
BRENNA Petter
1986
NOR
1:00.56
1:04.94
2:05.50
42.48
28
45
530758
COHEE Nick
1988
USA
1:01.04
1:05.48
2:06.52
49.84
29
56
934643
GOLDBERG Jared
1991
USA
1:01.35
1:05.37
2:06.72
51.29
30
5
421840
HAUG Andreas Willumsen
1989
NOR
1:01.01
1:06.54
2:07.55
57.28
31
42
53859
TRIENDL Armin
1989
AUT
1:01.22
1:06.39
2:07.61
57.72
32
64
6530104
BENNETT Bryce
1992
USA
1:01.85
1:06.24
2:08.09
61.18
33
57
103752
TROW Andy
1991
CAN
1:01.92
1:06.63
2:08.55
64.51
34
50
103865
PHILP Trevor
1992
CAN
1:01.45
1:07.11
2:08.56
64.58
35
75
103997
MEGARRY Morgan
1993
CAN
1:01.33
1:07.33
2:08.66
65.30
36
48
103528
DRURY Kevin
1988
CAN
1:02.29
1:07.60
2:09.89
74.18
37
81
6530454
FARROW Tanner
1993
USA
1:03.47
1:07.05
2:10.52
78.73
38
52
930029
ACOSTA Christopher
1990
USA
1:03.43
1:07.85
2:11.28
84.22
39
70
6530108
BROOKS Dylan
1992
USA
1:03.51
1:08.64
2:12.15
90.51
40
71
6530167
SHIFFRIN Taylor
1992
USA
1:03.21
1:09.09
2:12.30
91.59
41
76
6530399
O BRIEN Cannon
1992
USA
1:04.31
1:08.21
2:12.52
93.18
42
77
6530598
SNOW Scott
1993
USA
1:02.84
1:30.67
2:33.51
244.79
Disqualified 2nd run
18
194364
PINTURAULT Alexis
1991
FRA
Did not start 1st run
73
6530168
SMITH Cameron
1992
USA
Did not qualify 1st run
98
481665
DRUGOV Yuriy
1995
RUS
95
6530800
THEIS Tyler
1994
USA
94
6530950
HAYES Colin
1994
USA
92
6531228
BAROUNOS Alex
1995
USA
90
6531160
LEEVER Alex
1995
USA
89
6531203
SPROCK Ty
1995
USA
88
6530642
HARTMANN Kevin
1993
USA
86
6530507
NIEDERHAUSER Christoph
1993
USA
83
410371
NEESON Finlay
1993
NZL
82
103891
KELLOCK Jonathan
1992
CAN
79
6530496
MCCORMICK Sean
1993
USA
78
103901
SUTTON Brandon
1992
CAN
63
6530117
CONE Robert
1992
USA
28
990048
BORSOTTI Giovanni
1990
ITA
Did not finish 2nd run
72
6530599
STRAND Matthew
1993
USA
69
103899
SOLOMON Andrew
1992
CAN
65
103313
DAWSON Travis
1988
CAN
59
930133
HIGGINS Sean
1990
USA
58
103612
PRIDY Morgan
1990
CAN
54
102435
JANYK Michael
1982
CAN
51
421871
SANDVIK Eian
1989
NOR
49
930160
KELLEY Robby
1990
USA
43
934502
ANKENY Michael
1991
USA
41
534040
COCHRAN Jimmy
1981
USA
40
421954
LYSDAHL Espen
1990
NOR
31
421859
NILSEN Markus
1989
NOR
29
192653
FREY Thomas
1984
FRA
26
420148
KARLSEN Truls Ove
1975
NOR
20
192506
MISSILLIER Steve
1984
FRA
15
103512
FRISCH Jeffrey
1984
CAN
11
510997
BERTHOD Marc
1983
SUI
Did not finish 1st run
97
481614
SHARIY Valentin
1995
RUS
96
6531120
CARDAMONE Devon
1995
USA
93
6531259
VETH Nicolas
1995
USA
91
40536
DEMSCHAR Daniel
1994
AUS
87
6530447
COOPER Scott
1993
USA
85
6530237
FURRER Cameron
1992
USA
84
6530814
MOYER Bobby
1994
USA
80
6530481
KAMPHUIS Colin
1993
USA
74
180631
PENTTINEN Juho-Pekka
1991
FIN
68
501804
MONSEN Sam
1992
SWE
67
410365
BARWOOD Adam
1992
NZL
66
934722
STRAND Derek
1991
USA
62
6530500
MCLAUGHLIN Brian
1993
USA
61
180567
RASANEN Joonas
1989
FIN
60
6530486
KRAUSE Nicholas
1993
USA
55
934524
FARRELL Bobby
1991
USA
53
531414
BANSMER Michael
1989
USA
47
530837
KELLEY Tim
1986
USA
34
101895
ROY Jean-Philippe
1979
CAN
19
292000
BLARDONE Massimiliano
1979
ITA
10
51007
SCHOERGHOFER Philipp
1983
AUT
3
534507
CHRISTIANSON Charles
1984
USA
1
930107
GREGORAK Will
1990
USA

Women's Results
Rank
Bib
FIS Code
Name
Year
Nation
Run 1
Run 2
Total Time
FIS Points
1
21
206279
GEIGER Christina
1990
GER
55.30
51.90
1:47.20
6.00
2
23
105269
GAGNON Marie-Michele
1989
CAN
55.62
51.92
1:47.54
7.93
3
37
206355
DUERR Lena
1991
GER
56.66
52.39
1:49.05
16.53
4
27
55977
THALMANN Carmen
1989
AUT
56.42
52.84
1:49.26
17.72
5
32
196803
MOUGEL Laurie
1988
FRA
57.10
52.49
1:49.59
19.60
6
36
205239
WIRTH Barbara
1989
GER
57.75
52.67
1:50.42
24.32
7
6
106183
TERWIEL Elli
1989
CAN
57.74
52.77
1:50.51
24.83
8
46
425879
RIIS-JOHANNESSEN Kristina
1991
NOR
58.38
52.57
1:50.95
27.34
9
43
385041
NOVOSELIC Sofija
1990
CRO
58.37
52.72
1:51.09
28.14
10
52
537792
DUKE Hailey
1985
USA
58.07
53.26
1:51.33
29.50
11
22
56032
SCHILD Bernadette
1990
AUT
57.91
53.43
1:51.34
29.56
12
15
515997
FEIERABEND Denise
1989
SUI
57.97
53.45
1:51.42
30.01
13
10
485570
SOROKINA Anna
1990
RUS
57.79
53.92
1:51.71
31.66
14
42
565331
LAVTAR Katarina
1988
SLO
58.65
53.17
1:51.82
32.29
14
16
106825
PREFONTAINE Marie-Pier
1988
CAN
57.26
54.56
1:51.82
32.29
14
14
196725
BARIOZ Taina
1988
FRA
58.66
53.16
1:51.82
32.29
17
29
306096
HOSHI Mizue
1985
JPN
58.29
53.81
1:52.10
33.88
18
41
435142
KARASINSKA Katarzyna
1982
POL
58.04
54.12
1:52.16
34.22
19
56
155728
DUBOVSKA Martina
1992
CZE
58.35
53.83
1:52.18
34.34
20
24
206099
PERNER Nina
1986
GER
58.59
53.68
1:52.27
34.85
20
7
107156
MCLEISH Madison
1992
CAN
57.95
54.32
1:52.27
34.85
22
54
155699
PAULATHOVA Katerina
1993
CZE
59.56
53.16
1:52.72
37.41
23
58
538909
MCDONALD Amanda
1990
USA
59.52
53.40
1:52.92
38.55
24
49
565333
BRODNIK Vanja
1989
SLO
58.14
55.04
1:53.18
40.03
25
59
539909
MOLTZAN Paula
1994
USA
59.51
54.40
1:53.91
44.18
26
55
485631
YAKOVISHINA Elena
1992
RUS
59.81
54.52
1:54.33
46.57
27
61
538496
GHENT Erika
1988
USA
1:00.06
54.50
1:54.56
47.88
28
13
107312
ROTH Julia
1993
CAN
1:00.10
55.78
1:55.88
55.39
29
66
107217
KNOWLES Natalie
1992
CAN
1:00.60
55.49
1:56.09
56.59
30
70
539927
LAPANJA Lila
1994
USA
1:01.68
56.37
1:58.05
67.74
31
77
6535204
LATHROP Brittany
1995
USA
1:02.37
58.04
2:00.41
81.17
32
75
539893
ANDERSON Nicole
1994
USA
1:03.26
57.29
2:00.55
81.97
33
50
306987
OKAMOTO Noe
1992
JPN
1:02.54
59.68
2:02.22
91.47
34
63
107227
TESCHNER Randa
1992
CAN
1:03.08
59.22
2:02.30
91.92
35
69
539536
WILES Jacqueline
1992
USA
1:04.07
58.26
2:02.33
92.09
36
76
539887
MURPHY Morganne
1994
USA
1:03.50
59.06
2:02.56
93.40
37
81
6535078
DAVIDSON Katie
1994
USA
1:05.32
1:00.19
2:05.51
110.19
38
84
6535030
SHEELY Miranda
1994
USA
1:05.50
1:01.74
2:07.24
120.03
39
82
539903
GENCHEFF Alex
1994
USA
1:06.63
1:02.80
2:09.43
132.50
40
85
539651
GRAUER Taylor
1993
USA
1:08.27
1:03.38
2:11.65
145.13
Did not start 1st run
83
6535256
MUELLER-RISTINE Julia
1995
USA
51
35079
SIMARI BIRKNER Maria Belen
1982
ARG
31
35089
SIMARI BIRKNER Macarena
1984
ARG
Did not finish 2nd run
78
539931
GUILMINEAU Celine
1994
USA
67
539678
PETERSON Foreste
1993
USA
40
105615
ROUTHIER Eve
1988
CAN
39
435210
GASIENICA DANIEL Agnieszka
1987
POL
35
435189
KLUS Aleksandra
1986
POL
17
539363
GHENT Abby
1992
USA
9
536481
SCHLEPER Sarah
1979
USA
3
106961
MIELZYNSKI Erin
1990
CAN
Did not finish 1st run
80
539896
HALL Madeleine
1994
USA
79
539685
RYAN Katherine
1993
USA
74
539361
FRENCH Bridget
1992
USA
73
6535250
KOPRUCKI Elizabeth
1995
USA
72
539484
MCVICKER Victoria
1992
USA
71
539356
CASTON Rose
1992
USA
68
539360
DUNLEAVY Avril
1992
USA
65
485525
BUREEVA Vladislava
1989
RUS
64
107185
VALLERAND Laurence
1992
CAN
62
539390
MCLEAN Shane
1992
USA
60
516319
SUTER Corinne
1994
SUI
57
485563
PROSTEVA Elena
1990
RUS
53
306832
HIRAYAMA Agasa
1991
JPN
48
705394
KANTOROVA Barbara
1992
SVK
47
425849
GASMANN-BROTT Rikke
1991
NOR
45
306249
HASEGAWA Emi
1986
JPN
44
425914
TEFRE Elise-Woien
1992
NOR
38
196179
BERTRAND Marion
1984
FRA
34
206444
HOESL Simona
1992
GER
33
55898
BREM Eva-Maria
1988
AUT
30
305944
KIYOSAWA Emiko
1983
JPN
28
55807
DAUM Alexandra
1986
AUT
26
196016
DAUTHERIVES Claire
1982
FRA
25
516280
HOLDENER Wendy
1993
SUI
20
206035
CHMELAR Fanny
1985
GER
19
205168
DUERR Katharina
1989
GER
18
155415
ZAHROBSKA Sarka
1985
CZE
12
516109
VOGEL Nadja
1990
SUI
11
106633
GOODMAN Anna
1986
CAN
8
107044
IRWIN Madison
1991
CAN
5
537772
STIEGLER Resi
1985
USA
4
107068
PHELAN Brittany
1991
CAN
2
538284
MCJAMES Megan
1987
USA
1
6535237
SHIFFRIN Mikaela
1995
USA