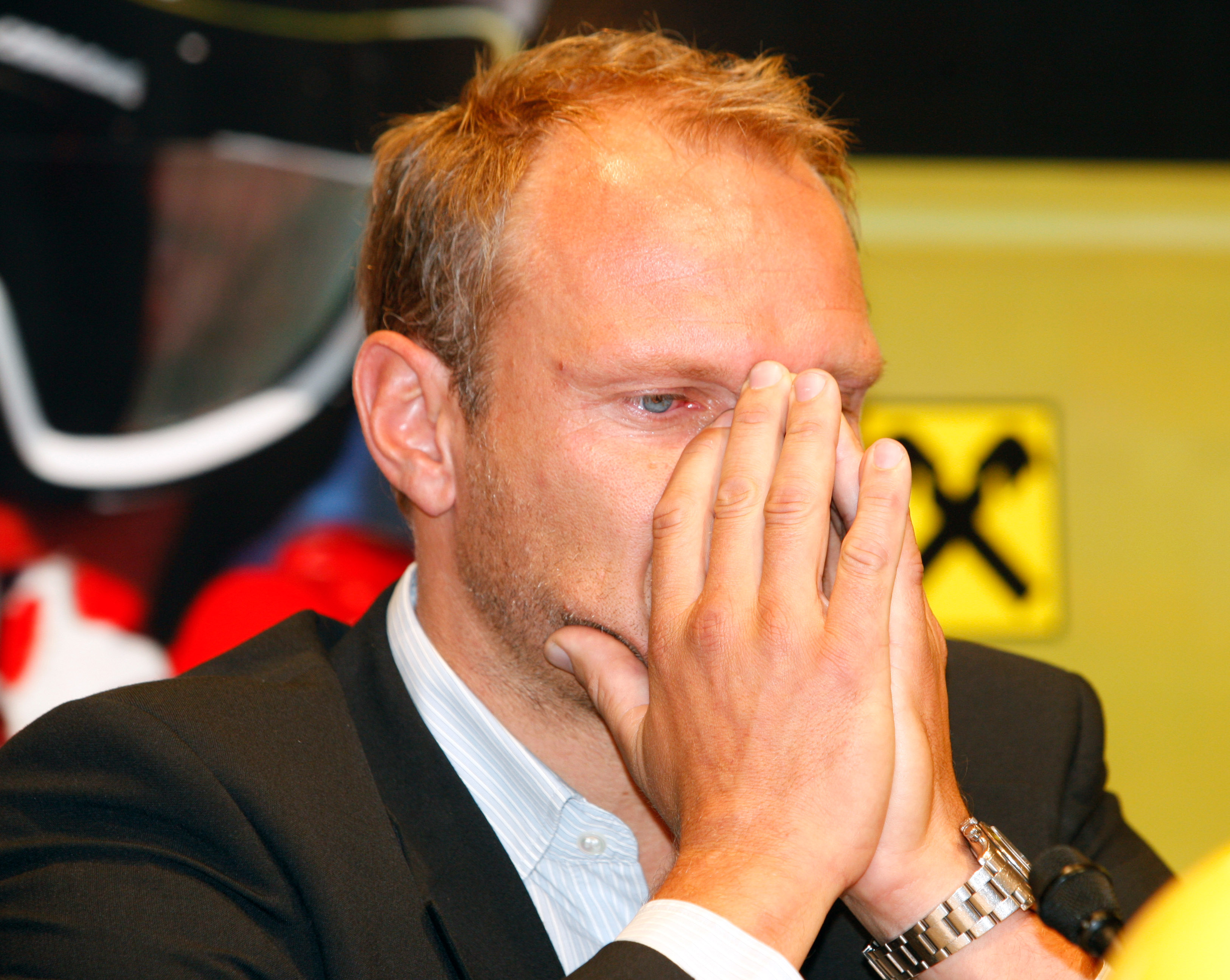 By Patrick Lang
A week prior the start of the next alpine World Cup season one of the greatest legends of the sports surprisingly announced his decision to retire from the ski tour.
Double Olympic champion Hermann Maier, who turns 37 in December, informed the amazed Austrian reporters gathered at the last minute in Wien by his press agent and the Austrian Ski Federation that he had decided to end his career as one of the leading heroes of the sports after overcoming another series of health problems.
Maier, a four-time overall World Cup champion and a winner in 54 World Cup competitions since February 1997, had to undergo minor arthroscopic surgery on his knee last spring forcing him to rest for a long time. Later on this summer, he crashed while riding his bike and hurt his leg.
Finally last week, he managed to get back on his skis on the glacier above Soelden and seemed happy by his form. He said after a few hours of free skiing that he was planning to get back on his racing skis at the end of November at Lake Louise, in time for the first speed events of the new season.
Yet, he decided in the meantime that it would not be such a good idea after all. "I enjoyed free skiing the other day at Soelden and I was happy that my body was back in shape after that long break, it was one of my main goals this fall," he first said at the press conference attended by dozens of journalists, TV crews and photographers.
"Yet afterwards, I found out that it was also a good time to retire, it was a tough yet spontaneous decision which came up in my mind," he added after a short pause during which he was overwhelmed by emotion and unable to speak.
"Last Friday, I suddenly decided to quit as I wanted to retire in good shape and relax a little. A week ago, I was not aware that this could happen so quickly, but the fact that I feel physically so great certainly pushed me towards that decision."
"Ski racing is a demanding activity and you need to be totally fit and ready to fully charge the slopes to really have fun practicing it," he told the press. "Last season I had some good results but I also felt that my body was sometimes tired and suffering."
"I just felt that it was time to retire as I felt fully healthy again. I'm closing an important chapter in my life but I'm sure that there will be many more exciting moments to face from now on."
Maier exploded on the ski scene in February 1997 a month after breaking a hand in a downhill crash at Chamonix in surprisingly beating all top-favorites in a Super-G race at Garmisch-Partenkirchen, Germany. He became a world star a year later at the 1998 Winter Olympics clinching two gold medals only a few days after a horrendous crash in downhill. He was nicknamed "The Herminator" afterwards by his colleagues, the press and his numerous fans from all over the world because of his incredible determination and his reckless racing tactics.
He won two more gold medals at the 1999 World Championships at Vail/Beaver Creek, in Colorado, and kept on dominating the scene until 2001, winning a total of 13 races that season. In March 2000, he captured his second overall World Cup title with a record of 2000 points.
Unfortunately he suffered a terrible motorbike accident in August 2001 and was lucky to survive it after a series of operations. After working very hard during his rehabilitation, he celebrated an incredible comeback in 2003, winning the treacherous Super-G race at Kitzbühel and a silver medal at the World Championships at St Moritz.
In 2004, the Austrian clinched another overall World Cup title and in 2005 a fifth and last gold medal in giant slalom at Bormio, Italy. At the 2006 Olympics at Sestriere, he came in 2nd in Super-G and 3rd in giant slalom despite a bad cold which didn't allow him to be at his best.
In November 2008 he unexpectedly won his last race at Lake Louise, in Canada, despite strong pains at his back and finished 5th in February in downhill at the Val d'Isère World Championships.
"I have reached much more that I thought in my great career, I'm really proud of what I was able to achieved, especially during my comeback years," Maier also said. "My goal at the beginning was to be a racer, I was passionate by that sport, but I never imagined I could be so strong during all those exciting years."
An intensive chapter of alpine ski racing is ending now and Hermann Maier definitively belongs to the groups of superstars having dominated it since the early 1930s.
GEPA photo

Hermann Maier
Born 12/7/1972 in Villach, resides Flachau, Austria
54 World Cup wins
14 World Cup titles (four overall, two DH, three GS and five SG)
Six World Championship medals
Four Olympic medals
First man to score 2000 World Cup points in a season (2000)
264 World Cup starts – 96 podiums and 54 victories, a winning percentage over 20%.
His 24 super G wins is more than double that of any other male competitor.
He was particularly dominant at Beaver Creek, winning eight times (six World Cup and two World Championships). He also won six times at Kitzbuehel.
Bad knees forced Maier to quit ski racing at age 15. He became a ski instructor in winter and brick layer in summer a rotation he upheld from age 16 to 22. At 22 he applied for his FIS competition license. He entered the 1995 Austrian National Championships and finished the giant slalom 18th despite starting 141st and despite falling twice. He won the Europa Cup overall crown the following season and got his first World Cup start.
In '97 he collected his first World Cup win.
The following season ('98) he won ten World Cup and two Olympic gold medals and also made highlight reels around the globe for an amazing upside down crash in the opening DH in which – he later said – "I stuck in the snow like a frog." He won the World Cup overall, GS and super G titles.
He added seven wins in 1999 plus two World Championships, adding his second Cup super G title.
In 2000 he became the first to garner 2000 World Cup points in a single season. He won ten races and notched four World Cup titles (overall, downhill, GS and super G) holding 0.00 FIS points in each discipline.
Maier won 13 Cup races in 2001, matching Ingemar Stenmark's season mark from '79, won a bronze and silver medal at the World Championships and won the Cup's overall, downhill, GS and super G crowns.
He missed 2002 to injuries from a severe motorcycle accident which threatened his leg.
In 2003 he picked up another World Cup win and another World Championship silver medal.
He tacked on five more wins in 2005 and again won the World Cup overall and super G championships.