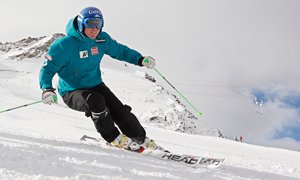 Austrian Hans Grugger, the most recent victim of ski racing's most dangerous course, is back on skis 11 months after crashing at Kitzbuehel.
Grugger, a 29 year old downhiller for the Austrian team, crashed at Kitzbuehel while training for the famed Hahnenkamm Downhill last Jan. 20 sustaining heavy injuries. He was in a coma for 11 days before undergoing brain surgery. Last May he told officials he intended to return to the ski racing circuit. Wednesday (Oct. 12) he was on the Rettenburg Glacier above Soelden, Austria with teammates and made his first turns in nearly 10 months.
He told Austrian media he was uncomfortable saying, "I realized skiing isn't that easy."
Grugger said he planned to attend several World Cup races this season before making any decision about a possible return to the circuit.
Gepa photo