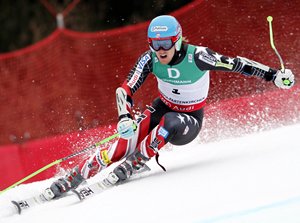 Put on your dancing shoes America. Ted Ligety won the World Championship giant slalom.
For what is now officially the best giant slalom skier in the world it was business as usual. Ted "Shred" Ligety went about his job. He fed off the energy of the World Championships, listened to a detailed course report from Bode Miller, the fastest skier of the second run and then he executed, laying into his turns as only he can. And he continued to execute, turn after turn, coming away with a narrow .08 of a second gold medal margin over Frenchman Cyprien Richard. Austria's Philipp Schoerghofer salvaged his nation's pride with a strong bronze medal performance.
The day, and indeed the next two years, belong to Ligety who will add this gold medal to a collection of crystal globes from his two GS World Cup titles.
It took near perfect execution to pull off. Fourth after the first run ,Ligety said he wasn't too concerned about a quarter of a second disadvantage. Although his three World Cup GS wins in December had resulted from first run wins, that had not been common in past years when he had delivered wins by coming from behind. "It really doesn't matter what position you're in as long as you're in touch."
"Between runs we just talked fight, fight, fight," said coach Sasha Rearick. "We've been here before, we know what we have to do. When we saw the course today we knew those were the type of turns where Ted can dominate. This course set suited dynamic skiers. He should win, he knows he should win and he's a great skier, but to actually go out and execute on race day is a challenge. He is the best in the world when he can go clean and deep. The main thing was for him to trust himself and go as hard as he can."
When he ran in the second heat he was looking at Richard with the lead, having come from further out with the second-fastest run of the second heat. Richard had been seventh, 0.71 out. After Richard ran Carlo Janka dumped all his speed leading into the flat and dropped back and Didier Cuche, skiing with his hand in a cast could not get into the fight, ran into some trouble on the steep and also dropped back. Ivica Kostelic, too, fought his way down the pitch to finish well back. Neither Schoerghofer, the first run runner-up, nor Aksel Svindal, the first run leader could match Richard.
"Drop your knee in and kill it. You've just got to work hard on that bottom Ted. Hammer," was the tail end of a long and detailed course report from Miller. After a tough first run when he got behind the course above the pitch, Miller was nearly perfect in the second, but had left an impossible task of making up nearly two seconds. He got back enough to climb from 27th to 12th, but his role in this championship was not as the winner, rather as the teammate. The information he delivered helped Ted Ligety produce a world championship.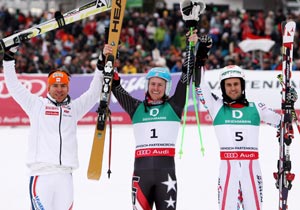 "It's always nice because the coaches don't really know what's going on with the course until somebody runs it," Ligety said. "Having Bode relay up is good because he obviously has a good feeling for the snow and he was the fastest guy in the run so he knew what to do. He got on the radio and told me that I had to push super hard, where I had to be tactical and where it was still clean enough to hammer."
For Schoerghofer the result was important, for his nation even more so.
With just one previous medal for the Austrian men – in super G from
Hannes Reichelt – the medal was all but mandatory, but the team had
entered the race without Reichelt – injured in training – and Benjamin Raich
who has undergone surgery after a crash in the team event here.
Schoerghofer, in fact, might not have made the GS team had the team
remained healthy. He was supported by a huge fan club that took up a
section of the bleachers and was led my his mom and family and his
girlfriend's family. "There were 120 people cheering," he said smiling.
They are from many towns in the region and it is only a two and a half
hour drive."
"I am extremely proud to have this medal for Austria and I am extremely proud for me."
He said he did not watch Svindal's run, knowing the six time World medalist stood a good chance to bump him off the podium.
"I didn't ski good enough down the steep and out of there were some small mistakes," said Svindal. "I didn't carry the speed I had in the first run. I have the gold from the combined so that's the way it is. As long as you are in the fight for medals, sometimes you are going to get them and some times not."
Also missing the steps was Cuche who had told his doctors if he won a medal of any color he wouldn't need anesthesia when they operate on the thumb he broke in training.
"No, it is not a disappointment," he said. "My heart hurts because I know that was my last start in a World Championship. I won't be in Schladming (2013)."
It is the fourth U.S. gold medal in GS, the first coming in 1982 from
Steve Mahre in a record setting U.S. showing in Schladming. The second
was a surprise from Diann Roffe in 1985 at Bormio and Bode Miller won
his at St Moritz in 2003. But this one, this gutsy, no nonsense effort
from Ligety has turned a disappointing World Championship into a
successful, joyful celebration for the USA.
Nothing left now but the dancing.
The SCOOP
By Hank McKee
Men's World Championship Giant Slalom, Garmisch-Partenkirchen, Germany, Feb. 18, 2011
Equipment
Skier, skis/boots/bindings
1 Ligety, Head/Head/Head
2 Richard, Fischer/Fischer/Fischer
3 Schoerghofer, Atomic/Atomic/Atomic
4 Svindal, Head/Head/Head
5 Jansrud, Head/Head/Head
6 Fanara, Fischer/Fischer/Fischer
7 Janka, Atomic/Atomic/Atomic
8 Cuche, Head/Head/Head
9 DeTessieres, Head/Head/Head
10 Sandell, Atomic/Atomic/Atomic
Men's World Championship Giant Slalom, Garmisch-Partenkirchen, Germany, Feb. 18, 2011. … It is the ninth of 11 scheduled events. … The fourth of five men's races. … It is the 46th giant slalom held in World Championship competition.
It is the second career World Championship medal for Ted Ligety having previously won a bronze medal in GS at Val d'Isere in 2009. … He also owns an Olympic gold medal from combined in 2006. … It is his fourth win of the season – all in GS – including World Cup results.
It is the first medal and first World Championship result for Cyprien Richard as an individual, though he was a member of the gold medal French team earlier in this championship. … it is his third podium result of the season having won a World Cup GS at Adelboden and finishing second in GS at Alta Badia.
It is the first medal and second result at World Championships for Philipp Schoerghofer. … He was 14th in GS at Val d'Isere. … It is his second podium result of the season having won the Hinterstoder World Cup GS earlier this month.
Bode Miller matches his 12th best World Championship result. … It is the third time he has placed 12th in a World title meet race. … it matches his tenth best result of the season. … It is the third result of the season for Warner Nickerson. … his first in World Championship competition.

Medal Count
Austria 6 (3gold, 2silver, 1bronze)
Italy 5 (1gold, 2silver, 2bronze)
USA 3 (1gold, 2silver
France 3 (1gold, 1silver, 1bronze)
Slovenia 1 (1gold, 1silver)
Canada 1 (1gold)
Norway 1 (1gold)
Switzerland 1 (1silver)
Germany 2 (2bronze)
Sweden 1 (1bronze)
Croatia 1 (1bronze)
Images by Gepa
Place
Garmisch-Partenkirchen
(GER)
Discipline
Giant Slalom
Date
18.02.2011
Category
FIS World Ski Championships
Race codex
0076
Gender
M
Valid for FIS Points
YES
TD Name
Stocker Rudolf (AUT)
Rank
Bib
FIS Code
Name
Year
Nation
Run 1
Run 2
Total Time
FIS Points
1
1
534562
LIGETY Ted
1984
USA
1:02.33
1:08.23
2:10.56
0.00
2
3
191423
RICHARD Cyprien
1979
FRA
1:02.79
1:07.85
2:10.64
0.53
3
5
51007
SCHOERGHOFER Philipp
1983
AUT
1:02.13
1:08.86
2:10.99
2.87
4
2
421328
SVINDAL Aksel Lund
1982
NOR
1:02.08
1:08.97
2:11.05
3.27
5
6
421483
JANSRUD Kjetil
1985
NOR
1:03.01
1:08.28
2:11.29
4.86
6
14
191750
FANARA Thomas
1981
FRA
1:03.32
1:08.00
2:11.32
5.06
7
4
511313
JANKA Carlo
1986
SUI
1:02.57
1:08.91
2:11.48
6.13
8
11
510030
CUCHE Didier
1974
SUI
1:02.46
1:09.03
2:11.49
6.20
9
8
191746
DE TESSIERES Gauthier
1981
FRA
1:02.86
1:08.64
2:11.50
6.26
10
25
180534
SANDELL Marcus
1987
FIN
1:03.56
1:08.10
2:11.66
7.33
11
13
51215
BAUMANN Romed
1986
AUT
1:03.72
1:08.05
2:11.77
8.06
12
16
532431
MILLER Bode
1977
USA
1:04.01
1:07.82
2:11.83
8.46
13
32
511896
MURISIER Justin
1992
SUI
1:03.90
1:08.00
2:11.90
8.93
13
9
380260
KOSTELIC Ivica
1979
CRO
1:02.31
1:09.59
2:11.90
8.93
15
27
202462
DOPFER Fritz
1987
GER
1:03.47
1:08.50
2:11.97
9.40
16
22
421669
HAUGEN Leif Kristian
1987
NOR
1:03.55
1:08.51
2:12.06
10.00
17
10
292491
MOELGG Manfred
1982
ITA
1:03.37
1:08.80
2:12.17
10.73
18
20
501324
OLSSON Matts
1988
SWE
1:03.85
1:08.34
2:12.19
10.86
19
17
150398
BANK Ondrej
1980
CZE
1:03.41
1:08.98
2:12.39
12.19
20
12
292120
SIMONCELLI Davide
1979
ITA
1:03.72
1:08.79
2:12.51
12.99
21
15
510997
BERTHOD Marc
1983
SUI
1:04.20
1:08.38
2:12.58
13.46
22
30
53853
SIEBER Bjoern
1989
AUT
1:03.89
1:08.73
2:12.62
13.73
23
23
50600
GOERGL Stephan
1978
AUT
1:03.91
1:08.74
2:12.65
13.93
24
18
511352
VILETTA Sandro
1986
SUI
1:03.55
1:09.20
2:12.75
14.59
25
19
420148
KARLSEN Truls Ove
1975
NOR
1:03.87
1:09.05
2:12.92
15.73
26
38
561148
SKUBE Matic
1988
SLO
1:03.98
1:09.10
2:13.08
16.79
27
36
180570
ROMAR Andreas
1989
FIN
1:04.10
1:09.07
2:13.17
17.39
28
28
990048
BORSOTTI Giovanni
1990
ITA
1:04.49
1:08.83
2:13.32
18.39
29
37
202437
LUITZ Stefan
1992
GER
1:03.68
1:09.68
2:13.36
18.66
30
7
292000
BLARDONE Massimiliano
1979
ITA
1:04.43
1:09.19
2:13.62
20.39
31
34
150644
KRYZL Krystof
1986
CZE
1:04.40
1:09.32
2:13.72
21.06
32
35
180666
TORSTI Samu
1991
FIN
1:04.29
1:09.48
2:13.77
21.39
33
24
192653
FREY Thomas
1984
FRA
1:03.75
1:10.10
2:13.85
21.92
34
21
201702
NEUREUTHER Felix
1984
GER
1:04.45
1:09.48
2:13.93
22.46
35
31
534038
NICKERSON Warner
1981
USA
1:04.85
1:09.91
2:14.76
27.99
36
43
150834
ZIKA Adam
1989
CZE
1:04.65
1:10.25
2:14.90
28.92
37
45
491151
DE LA CUESTA Paul
1988
SPA
1:04.60
1:10.31
2:14.91
28.99
38
49
380292
ZRNCIC-DIM Natko
1986
CRO
1:05.19
1:10.29
2:15.48
32.78
39
52
220689
RYDING David
1986
GBR
1:04.93
1:10.86
2:15.79
34.85
40
46
20174
VIDOSA Roger
1984
AND
1:04.95
1:11.08
2:16.03
36.45
41
50
700724
BABUSIAK Jaroslav
1984
SVK
1:05.41
1:11.44
2:16.85
41.91
42
42
30149
SIMARI BIRKNER Cristian Javier
1980
ARG
1:05.97
1:11.17
2:17.14
43.85
43
60
410270
CAFE Tim
1987
NZE
1:06.09
1:11.99
2:18.08
50.11
44
53
370022
JENOT Olivier
1988
MON
1:06.81
1:11.41
2:18.22
51.04
45
59
90131
GEORGIEV Georgi
1987
BUL
1:06.24
1:12.22
2:18.46
52.64
46
66
680041
ABRAMASHVILI Iason
1988
GEO
1:05.97
1:12.58
2:18.55
53.24
47
58
380318
BRIGOVIC Sebastian
1992
CRO
1:06.50
1:12.22
2:18.72
54.38
48
71
350086
HEEB Simon
1991
LIE
1:06.92
1:13.03
2:19.95
62.57
49
65
60088
VAN DEN BOGAERT Jeroen
1979
BEL
1:06.67
1:13.94
2:20.61
66.97
50
64
680047
BENIAIDZE Alex
1991
GEO
1:08.27
1:12.65
2:20.92
69.03
51
77
660021
DANILOCHKIN Yuri
1991
BLR
1:07.77
1:13.62
2:21.39
72.17
52
73
670058
KOSHKIN Dmitriy
1986
KAZ
1:08.14
1:14.29
2:22.43
79.10
53
56
480736
KHOROSHILOV Alexander
1984
RUS
1:05.34
1:28.40
2:33.74
154.46
Did not qualify for 2nd run
54
74
550054
ZVEJNIEKS Kristaps
1992
LAT
1:08.28
1:08.28
55
48
302982
OHKOSHI Ryunosuke
1988
JPN
1:08.65
1:08.65
56
82
710311
RUDIC Marko
1990
BIH
1:08.72
1:08.72
57
81
170136
VIAL Christian
1984
DAN
1:08.89
1:08.89
58
76
750088
RISTEVSKI Antonio
1989
MKD
1:09.29
1:09.29
59
63
400237
MEINERS Maarten
1992
NED
1:11.31
1:11.31
60
90
950000
OETTL REYES Manfred
1993
PER
1:11.35
1:11.35
61
79
230192
TSAKNAKIS Alexandros
1986
GRE
1:11.47
1:11.47
62
89
280030
VANDEPUT Virgile
1994
ISR
1:11.52
1:11.52
63
87
240132
FARKAS Norbert
1992
HUN
1:13.09
1:13.09
64
91
570015
SCOTT Peter
1990
RSA
1:14.07
1:14.07
65
85
520082
TURKSEVER Erdinc
1985
TUR
1:14.21
1:14.21
66
80
120047
ZHANG Yuxin
1989
CHN
1:16.26
1:16.26
67
98
360034
GIRST Patrick
1989
LUX
1:16.80
1:16.80
68
94
270055
LYNE Conor
1993
IRE
1:16.87
1:16.87
69
96
340154
FENIANOS Tarek
1990
LIB
1:21.25
1:21.25
Did not qualify for final race
70
9
400163
ROOIJ VAN Joery
1986
NED
1:07.36
1:08.36
2:15.72
71
18
20267
ESTEVE RIGAIL Kevin
1989
AND
1:07.84
1:08.29
2:16.13
72
37
350095
PFIFFNER Marco
1994
LIE
1:08.38
1:09.03
2:17.41
73
26
110266
ANGUITA Martin
1991
CHI
1:08.55
1:08.91
2:17.46
74
42
110269
CARVALLO Nicolas
1991
CHI
1:08.65
1:09.43
2:18.08
75
43
260110
KIYA DARBANDSARI Mohammad
1989
IRA
1:08.71
1:09.48
2:18.19
76
41
750089
DEHARI Dardan
1990
MKD
1:08.35
1:10.21
2:18.56
77
23
460060
BARBU Alexandru
1987
ROU
1:09.52
1:09.11
2:18.63
78
30
700843
KUTLIK Matej
1991
SVK
1:09.03
1:09.98
2:19.01
79
61
670029
PIMENOV Taras
1984
KAZ
1:09.04
1:10.11
2:19.15
80
69
680045
VAKHTANGISHVILI Kote
1991
GEO
1:09.72
1:09.77
2:19.49
81
35
60015
MOLLIN Bart
1981
BEL
1:09.15
1:10.36
2:19.51
82
29
700879
ZAMPA Andreas
1993
SVK
1:09.72
1:09.93
2:19.65
83
54
860005
BRACHNER Patrick
1992
AZE
1:10.89
1:09.50
2:20.39
84
123
910003
LINDNER Georg
1983
MDA
1:10.21
1:10.19
2:20.40
85
74
680054
GEDEVANISHVILI Dimitri
1993
GEO
1:10.43
1:10.55
2:20.98
86
85
550038
DAUGULIS Kaspars
1989
LAT
1:10.82
1:10.61
2:21.43
87
71
690672
TELYCHUK Vasyl
1992
UKR
1:10.66
1:11.40
2:22.06
88
66
40474
POCCARD Marc
1989
AUS
1:10.24
1:12.05
2:22.29
89
62
260079
SAVEH SHEMSHAKI Hossein
1985
IRA
1:11.18
1:11.39
2:22.57
90
73
690086
FESHCHUK Rostyslav
1990
UKR
1:11.14
1:11.52
2:22.66
91
28
110294
ECHEVERRIA Jose Tomas
1992
CHI
1:10.71
1:12.14
2:22.85
92
58
250286
ASTVALDSSON Jon-Gauti
1991
ISL
1:11.28
1:11.73
2:23.01
93
89
520100
SIMSEK Emre
1987
TUR
1:10.75
1:12.52
2:23.27
94
68
240128
BUJTAS Csaba
1992
HUN
1:11.31
1:12.82
2:24.13
95
67
250259
GUDMUNDSSON Brynjar-Jokull
1989
ISL
1:11.30
1:13.19
2:24.49
96
87
550058
BRISHKA Roberts
1993
LAT
1:12.79
1:12.08
2:24.87
97
76
690067
DOLGYY Sergiy
1984
UKR
1:12.11
1:13.12
2:25.23
98
106
170114
STENE Nils-Henrik
1988
DAN
1:12.47
1:13.22
2:25.69
99
56
120035
LI Lei
1987
CHN
1:12.61
1:13.12
2:25.73
100
52
260084
TIR Omid
1984
IRA
1:12.67
1:13.47
2:26.14
101
70
240111
BENE Marton
1986
HUN
1:12.61
1:14.12
2:26.73
102
64
40543
BROWN Callum
1994
AUS
1:13.89
1:13.15
2:27.04
103
103
170126
MADSEN Nicolai
1991
DAN
1:13.36
1:14.34
2:27.70
104
92
660019
DUS Evgeny
1992
BLR
1:13.71
1:14.00
2:27.71
105
86
80068
GUGLIELMINI Fabio
1994
BRA
1:14.74
1:14.33
2:29.07
106
81
660015
MAZALEUSKI Siarhei
1992
BLR
1:12.86
1:17.31
2:30.17
106
77
80062
SETUBAL Paulo E.
1988
BRA
1:14.29
1:15.88
2:30.17
108
97
230353
KARAMANIDIS Chrysostomos
1990
GRE
1:16.45
1:14.92
2:31.37
109
101
740030
GHAZARYAN Arsen
1992
ARM
1:15.54
1:15.87
2:31.41
110
88
310403
MINIC Mladen
1993
MNE
1:15.45
1:16.17
2:31.62
111
104
270040
MC SHERA Shane
1990
IRE
1:15.22
1:18.02
2:33.24
112
111
770015
TIMOFEEV Evgeniy
1994
KGZ
1:16.98
1:17.05
2:34.03
113
94
210024
BABIKOV Dmitriy
1990
UZB
1:17.33
1:17.46
2:34.79
114
96
120037
TIAN Yuheng
1985
CHN
1:16.43
1:18.79
2:35.22
115
90
280027
BARNETZ Niv
1994
ISR
1:17.41
1:18.20
2:35.61
116
115
770006
BORISOV Igor
1965
KGZ
1:16.98
1:18.65
2:35.63
117
102
270045
MCKELVEY Nicholas
1991
IRE
1:16.95
1:19.23
2:36.18
118
108
740028
MANUKYAN Yura
1991
ARM
1:17.76
1:20.10
2:37.86
119
109
360035
TRIERWEILER Ben
1988
LUX
1:21.60
1:22.44
2:44.04
120
113
570018
SPEELMAN Sive
1995
RSA
1:20.19
1:24.55
2:44.74
121
118
570017
DYWILI Tsotane
1992
RSA
1:23.01
1:22.64
2:45.65
122
116
590033
MARQUES Joao-Miguel
1992
POR
1:31.55
1:26.62
2:58.17
123
114
740029
KHACHATRYAN Davit
1992
ARM
1:28.57
1:31.49
3:00.06
124
120
941000
NKRUMAH-ACHEAMPONG Kwame
1974
GHA
1:31.16
1:29.70
3:00.86
125
122
620058
THAKUR Rajat
1994
IND
1:32.51
1:32.63
3:05.14
126
117
590035
GONCALVES Jorge
1968
POR
1:30.99
1:35.44
3:06.43
127
119
921000
ROY Jean-Pierre
1963
HAI
1:36.51
1:34.07
3:10.58
Disqualified 1st run
95
740022
NERSISYAN Arsen
1987
ARM
47
700830
ZAMPA Adam
1990
SVK
Did not start 2nd run
61
430429
BYDLINSKI Maciej
1988
POL
54
220083
BAXTER Noel
1981
GBR
44
150495
VRABLIK Martin
1982
CZE
26
180251
PALANDER Kalle
1977
FIN
Did not finish 2nd run
51
220874
BALDWIN TJ
1990
GBR
33
910004
DEFLORIAN Mirko
1980
MDA
29
531799
FORD Tommy
1989
USA
Did not finish 1st run
97
160091
PAPAMICHAEL Constantinos
1993
CYP
93
770011
TRELEVSKI Dmitry
1983
KGZ
92
210032
VORONOV Artem
1993
UZB
88
310388
KOSIC Bojan
1990
MNE
86
690036
VAKHNENKO Igor
1981
UKR
84
780002
RUMIANCEV Vitalij
1985
LTU
83
250272
HALLDORSSON Gunnar-Thor
1990
ISL
78
110320
CLARO Eugenio
1993
CHI
75
80063
LONGHI Jhonatan
1988
BRA
72
350087
KINDLE Nicola
1991
LIE
70
460040
NAN Ioan-Gabriel
1980
ROU
69
40349
RISHWORTH Mike
1987
AUS
68
40332
STEVENS Hugh
1986
AUS
67
260097
SAVEH SHEMSHAKI Porya
1987
IRA
62
92534
CHONGAROV Nikola
1989
BUL
57
380298
SIROKI Tin
1987
CRO
55
30266
GASTALDI Sebastiano
1991
ARG
41
491129
TERRA Ferran
1987
SPA
40
410266
GRIFFIN Benjamin
1986
NZE
39
481006
ZUEV Stepan
1988
RUS
Disqualified 2nd run in qualification race
93
740022
NERSISYAN Arsen
1987
ARM
Disqualified 1st run in qualification race
105
210020
EGEMBERDIEV Safar
1986
UZB
40
750088
RISTEVSKI Antonio
1989
MKD
Did not start 2nd run in qualification race
112
540001
VON HOHENLOHE Hubertus
1959
MEX
27
30271
MURTAGH Rodrigo
1991
ARG
Did not start 1st run in qualification race
15
320244
KIM Woo-Sung
1986
KOR
12
320293
KYUNG Sung-Hyun
1990
KOR
Did not finish 2nd run in qualification race
121
170120
BRODERSEN Mathias
1990
DAN
100
570012
HEATH Alexander
1978
RSA
78
550049
BLUMS Kristaps
1992
LAT
75
240134
PETROVICS Daniel
1992
HUN
47
230192
TSAKNAKIS Alexandros
1986
GRE
44
30283
FREEMAN CRESPO Ignacio
1992
ARG
38
350088
OEHRI Josef
1991
LIE
Did not finish 1st run in qualification race
110
770004
TRELEVSKI Andrey
1979
KGZ
99
270053
LYONS Simon
1993
IRE
84
770011
TRELEVSKI Dmitry
1983
KGZ
82
570015
SCOTT Peter
1990
RSA
79
120048
HUANG Haibin
1990
CHN
59
250292
HALLDORSSON Sigurgeir
1991
ISL
53
250272
HALLDORSSON Gunnar-Thor
1990
ISL
50
430472
KLUSAK Michal
1990
POL
34
60160
ALAERTS Kai
1989
BEL
33
670058
KOSHKIN Dmitriy
1986
KAZ