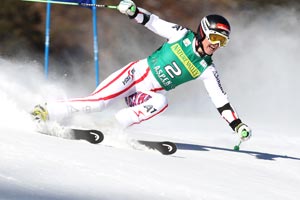 Austrian double speed world champion Elisabeth Goergl leads the field after the first run of a World Cup women's giant slalom in sunny Aspen, Colo. today (Nov. 26).
Goergle navigated the 45-gate course in one minute 4.46 seconds,.59 seconds faster than any other racer.
Swiss Lara Gut had an exciting run complete with several heart-stopping recoveries to finish standing second,.10 seconds ahead of Italian Denise Karbon standing third.
American Julia Mancuso put together a strong first run to stand fourth, .91 seconds off the lead.
"It was a difficult set today that first run, I think I have a lot of room to improve," said Mancuso. "I was fighting and pretty solid to the finish. The course was in really good condition, it's holding up really well."
American teammate Lindsey Vonn, winner of this season's first GS in Soelden, Austria in late October, was the seventh racer down the course but struggled to maintain speed as she continues to fight a back injury she sustained here a week ago. She stands 21st going into the second run.
"I was a little too nervous today, I just wasn't really myself, I just never really found a good rhythm on the course," said Vonn. "I just lost my balance going over straw pile…was too cautious, not arching enough and lost a lot of time. I'm just going to try and make up as much time as I can, have to see what the course set is like, just have to go out there and charge, I have nothing to lose.
None of the remaining four American starters managed to reach the 30-woman second run. Teenager Mikaela Shiffrin finished 35th ahead of teammates Resi Stiegler in 37th and Kiley Staples in 42nd.
Several of the World Cup's top ranked GS racers were taken out by the tough course, set by a Swedish coach. Itlalian Federica Brignone, French Tessa Worley, teammate Anemone Marmottan and American Sarah Schleper all failed to finish the first run along with 14 other women.
The second run begins at 1:15 MST. Click here to watch the results as they come in on our Live Timing page.
Image by Gepa
UNOFFICIAL RESULTS
| | | | | | | | | |
| --- | --- | --- | --- | --- | --- | --- | --- | --- |
| Rank | Bib | FIS Code | Name | Year | Nation | Run 1 | Run 2 | Total Time |
| 1 | 2 | 55576 | GOERGL Elisabeth | 1981 | AUT | 1:04.46 | | 1:04.46 |
| 2 | 19 | 516138 | GUT Lara | 1991 | SUI | 1:05.05 | | 1:05.05 |
| 3 | 9 | 295445 | KARBON Denise | 1980 | ITA | 1:05.15 | | 1:05.15 |
| 4 | 14 | 537545 | MANCUSO Julia | 1984 | USA | 1:05.37 | | 1:05.37 |
| 5 | 6 | 205218 | REBENSBURG Viktoria | 1989 | GER | 1:05.41 | | 1:05.41 |
| 6 | 3 | 565243 | MAZE Tina | 1983 | SLO | 1:05.53 | | 1:05.53 |
| 7 | 18 | 55947 | FENNINGER Anna | 1989 | AUT | 1:05.57 | | 1:05.57 |
| 8 | 23 | 206355 | DUERR Lena | 1991 | GER | 1:05.80 | | 1:05.80 |
| 9 | 24 | 55818 | KOEHLE Stefanie | 1986 | AUT | 1:06.00 | | 1:06.00 |
| 10 | 4 | 185140 | POUTIAINEN Tanja | 1980 | FIN | 1:06.01 | | 1:06.01 |
| 11 | 33 | 515747 | GISIN Dominique | 1985 | SUI | 1:06.07 | | 1:06.07 |
| 12 | 12 | 206001 | HOEFL-RIESCH Maria | 1984 | GER | 1:06.08 | | 1:06.08 |
| 13 | 44 | 355050 | WEIRATHER Tina | 1989 | LIE | 1:06.21 | | 1:06.21 |
| 14 | 22 | 505632 | LINDELL-VIKARBY Jessica | 1984 | SWE | 1:06.27 | | 1:06.27 |
| 15 | 8 | 296259 | MOELGG Manuela | 1983 | ITA | 1:06.31 | | 1:06.31 |
| 16 | 20 | 55759 | KIRCHGASSER Michaela | 1985 | AUT | 1:06.36 | | 1:06.36 |
| 17 | 10 | 55838 | ZETTEL Kathrin | 1986 | AUT | 1:06.40 | | 1:06.40 |
| 18 | 35 | 55898 | BREM Eva-Maria | 1988 | AUT | 1:06.43 | | 1:06.43 |
| 19 | 17 | 55590 | SCHILD Marlies | 1981 | AUT | 1:06.47 | | 1:06.47 |
| 20 | 13 | 55750 | FISCHBACHER Andrea | 1985 | AUT | 1:06.57 | | 1:06.57 |
| 21 | 7 | 537544 | VONN Lindsey | 1984 | USA | 1:06.58 | | 1:06.58 |
| 22 | 29 | 106825 | PREFONTAINE Marie-Pier | 1988 | CAN | 1:06.71 | | 1:06.71 |
| 23 | 43 | 196726 | BARTHET Anne-Sophie | 1988 | FRA | 1:06.92 | | 1:06.92 |
| 24 | 15 | 196725 | BARIOZ Taina | 1988 | FRA | 1:06.97 | | 1:06.97 |
| 25 | 25 | 296379 | GIANESINI Giulia | 1984 | ITA | 1:06.98 | | 1:06.98 |
| 26 | 28 | 515766 | SUTER Fabienne | 1985 | SUI | 1:07.19 | | 1:07.19 |
| 27 | 40 | 206174 | STABER Veronika | 1987 | GER | 1:07.25 | | 1:07.25 |
| 27 | 37 | 298084 | AGERER Lisa Magdalena | 1991 | ITA | 1:07.25 | | 1:07.25 |
| 29 | 26 | 296509 | CURTONI Irene | 1985 | ITA | 1:07.34 | | 1:07.34 |
| 30 | 53 | 295435 | GIUS Nicole | 1980 | ITA | 1:07.47 | | 1:07.47 |
| 31 | 52 | 435210 | GASIENICA DANIEL Agnieszka | 1987 | POL | 1:07.55 | | 1:07.55 |
| 32 | 38 | 206367 | HRONEK Veronique | 1991 | GER | 1:07.60 | | 1:07.60 |
| 33 | 31 | 196179 | BERTRAND Marion | 1984 | FRA | 1:07.69 | | 1:07.69 |
| 34 | 16 | 505760 | PIETILAE-HOLMNER Maria | 1986 | SWE | 1:07.73 | | 1:07.73 |
| 35 | 55 | 6535237 | SHIFFRIN Mikaela | 1995 | USA | 1:07.74 | | 1:07.74 |
| 36 | 50 | 205239 | WIRTH Barbara | 1989 | GER | 1:07.95 | | 1:07.95 |
| 37 | 64 | 515573 | AUFDENBLATTEN Fraenzi | 1981 | SUI | 1:07.99 | | 1:07.99 |
| 38 | 63 | 505679 | HANSDOTTER Frida | 1985 | SWE | 1:08.17 | | 1:08.17 |
| 39 | 48 | 537772 | STIEGLER Resi | 1985 | USA | 1:08.33 | | 1:08.33 |
| 40 | 39 | 206444 | HOESL Simona | 1992 | GER | 1:08.58 | | 1:08.58 |
| 41 | 54 | 107044 | IRWIN Madison | 1991 | CAN | 1:08.98 | | 1:08.98 |
| 42 | 60 | 705394 | KANTOROVA Barbara | 1992 | SVK | 1:09.00 | | 1:09.00 |
| 43 | 57 | 306096 | HOSHI Mizue | 1985 | JPN | 1:09.07 | | 1:09.07 |
| 44 | 49 | 535585 | STAPLES Kiley | 1989 | USA | 1:09.68 | | 1:09.68 |
| 45 | 65 | 155728 | DUBOVSKA Martina | 1992 | CZE | 1:10.19 | | 1:10.19 |
| 46 | 58 | 305962 | HANAOKA Moe | 1984 | JPN | 1:12.27 | | 1:12.27 |
| 47 | 34 | 506399 | HECTOR Sara | 1992 | SWE | 1:15.12 | | 1:15.12 |