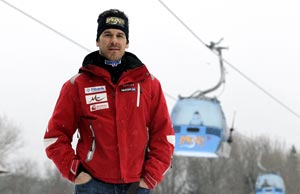 Chair of the International Ski Federation (FIS) Athlete Commission, Bulgarian slalom specialist Kilian Albrecht, yesterday (Aug. 29) posted a letter he wrote to the sport's international governing body regarding recent regulation changes made to competition skis to the website ski.freesponsible.info.
The letter reads as follows:
As I already stated at the alpine executive meeting in Portoroz, I got lots of athletes comments about course preparation. The common opinion is that constant conditions from top to bottom will help avoid injuries much more than new regulated skis.
I want to point out that its the athletes that put on the show who risk their health and even their life's. They are all mature and responsible and know what they are doing and therefor I hope that the FIS officials take our opinion serious. I also want to address in advance that this should not be taken as an opportunity to say FIS wanted to make our sport more safe but the athletes does not want that. If there are reasonable suggestions like the maximum width of the skis or others the athletes are the last ones not to agree.
For the future I hope that the voice of the athletes will be more welcome because its about the safety in our sport. We can only make the sport safer if FIS and their federations will include the athletes in their decision making and actively listen to them. The athlete is the one who can feel and understand the forces and dangers of the skis, courses, the course setting etc the best and therefor the only valid source.
The Athletes do not want Alpine skiing to loose its attractiveness because we are aware that there is lots of competition with other great sports out there. So i hope we will have a better communication with the FIS in the future and as everybody can see the majority of the athletes can speak with one powerful voice.
Image by Gepa