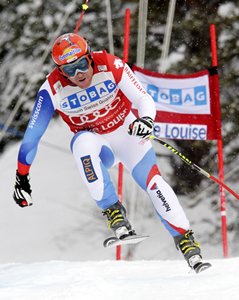 There is a lot to be said for experience. And a lot more to be said for good fortune.
Didier Cuche, the ageless Swiss one, notched his 18th career World Cup win, his tenth in downhill and second at Lake Louise Saturday (Nov. 26), making him the fourth winning-est Swiss man in Cup history. There is no questioning his pedigree. The man can flat out ski race and has seemingly gotten better with age, now enjoying his 37th year. But he, fourth finishing Romed Baumann of Austria and a second place Swiss Beat Feuz all started consecutively (17th, 18th and 19th respectively) on a day when weather seemed, some thought, to play a bigger than usual role.
"Usually at Lake Louise you have to be lucky also with the weather and not only make a good run," said Cuche.
The Lake Louise area has been showered with snow for the better part of a week and the course was soft. Wind had completely messed with the times from the final training session Friday and the top of the hill was socked in less than an hour before the start of the race. But the gods of all that is right smiled on Lake Louise. The clouds lifted, the wind diminished and the snow tapered off. At times the sun even shone through. Like for bibs 17 through 19.
"At the start we going 'come on sun'," said Marco Sullivan – in 24th the second best American on the day – "instead we got wind."
And, since most of the U.S. team started in a pack just outside of the top 30 seed, they all got – more or less – the same thing.
"It was different for everybody," said Sullivan. "Some got a little head wind, some got a little tail wind. And then, for Reichelt, the sun is out."
Hannes Reichelt, the 45th starter, skied a brilliant run and take nothing from him for he executed flawlessly on a hill that punishes the slightest mistake. The Austrian interrupted interviews as he ran to a podium finish, and took over as the top Austrian finisher.
He, and the rest of the podium placing skiers, did not feel conditions played a very big role, if any.
"Conditions," he said, "were stable."
Bode Miller, an early racer in bib nine, fell behind early leaders, and then almost inexplicably, started making up time and took the early lead. He eventually got bumped back to finish the same place he started, in ninth. Sullivan got 24th and Travis Ganong 27th for points. Erik Fisher was just out of the points in 35th. Wiley Maple was 38th, Andrew Weibrecht 51st and Ryan Cochran-Siegle crashed out in his first World Cup start.
Canadian Jan Hudec posted the top host marks in 12th, while his teammate Erik Guay, the fastest in the final training run, had an amazingly bad time of it to finish in 44th. Robbie Dixon was 25th, Ben Thomsen 34th, Louis-Pierre Helie 46th, Kelby Halbert 52nd, Ryan Semple 59th, Conrad Pridy 59th and Dustin Cook 63rd.
Cuche photo by Gepa
The SCOOP
by Hank McKee
Equipment
Men's Downhill
Lake Louise, CAN
Nov. 26, 2011
skier, skis/boots/bindings
1 Cuche, Head/Head/Head
2 Feuz, Salomon/Salomon/Salomon
3 Reichelt, Salomon/Salomon/Salomon
4 Baumann, Salomon/Salomon/Salomon
5 Kroell, Salomon/Salomon/Salomon
6 Clarey, Head/Head/Head
6 Theaux, Salomon/Salomon/Salomon
8 Puchner, Atomic/Atomic/Atomic
9 Miller, Head/Head/Head
10 Streitberger, Fischer/Fischer/Fischer

Men's World Cup downhill, Lake Louise, Canada, Nov. 26, 2011. … It is the second race of the men's 45 race 2011-12 World Cup schedule, the first of 11 scheduled downhills. … It is the 81st Cup race held at Lake Louise. … and the 49th downhill.
It is the 18th career World Cup win for Didier Cuche. … His tenth in downhill and second in DH at Lake Louise having also won the race in 2009.
It is the third career World Cup podium for Beat Feuz, the other two a win and a third coming back-to-back at Kvitfjell, both in DH, last season (March 11, 12).
It is the 13th career World Cup podium for Hannes Reichelt, his first in downhill. … He owns four Cup super G wins and one GS win.
It is the 147th career World Cup top 10 for Bode Miller. … his 48th in DH. … It is his sixth top 10 scored at Lake Louise, but just the second since 2004. … It is the 11th best of 28 career Cup scoring results. … It is his fifth best of nine results scored at Lake Louise. … Marco Sullivan matches his 42nd best career Cup result. … 29th best in DH. … it is his sixth best of seven Lake Louise results. … It is the 23rd best of 26 Cup scoring results for Robbie Dixon. … his sixth best of six results at Lake Louise. … It is the third best of six career World Cup scoring results for Travis Ganong. … his second best at Lake Louise.
After two races Austria leads the Nations Cup 376-286 over France. …Switzerland is third with 276pts and the U.S. fourth with 169. … Canada sits eighth with 37pts.
Place
Lake Louise (CAN)
Discipline
Downhill
Date
26.11.2011
Category
FIS World Cup
Race codex
0255
Gender
M
Valid for FIS Points
YES
TD Name
Van Slyke Paul (USA)
Rank
Bib
FIS Code
Name
Year
Nation
Total Time
FIS Points
1
17
510030
CUCHE Didier
1974
SUI
1:47.28
0.00
2
19
511383
FEUZ Beat
1987
SUI
1:47.34
0.74
3
45
50742
REICHELT Hannes
1980
AUT
1:47.36
0.99
4
18
51215
BAUMANN Romed
1986
AUT
1:47.63
4.34
5
22
50753
KROELL Klaus
1980
AUT
1:47.75
5.83
6
30
191740
CLAREY Johan
1981
FRA
1:47.91
7.81
6
13
192746
THEAUX Adrien
1984
FRA
1:47.91
7.81
8
26
51327
PUCHNER Joachim
1987
AUT
1:47.96
8.43
9
9
532431
MILLER Bode
1977
USA
1:48.01
9.05
10
3
50858
STREITBERGER Georg
1981
AUT
1:48.06
9.67
11
31
421483
JANSRUD Kjetil
1985
NOR
1:48.26
12.15
12
2
102271
HUDEC Jan
1981
CAN
1:48.33
13.02
13
29
291459
PARIS Dominik
1989
ITA
1:48.36
13.39
14
14
421328
SVINDAL Aksel Lund
1982
NOR
1:48.53
15.50
15
4
191591
BERTRAND Yannick
1980
FRA
1:48.59
16.24
16
41
200379
SANDER Andreas
1989
GER
1:48.67
17.23
17
59
191964
POISSON David
1982
FRA
1:48.69
17.48
17
24
510767
HOFFMANN Ambrosi
1977
SUI
1:48.69
17.48
19
48
180570
ROMAR Andreas
1989
FIN
1:48.71
17.73
20
28
511529
GISIN Marc
1988
SUI
1:48.73
17.98
21
32
50625
RAICH Benjamin
1978
AUT
1:48.76
18.35
22
7
501076
OLSSON Hans
1984
SWE
1:48.80
18.84
23
20
293006
INNERHOFER Christof
1984
ITA
1:48.84
19.34
24
37
533131
SULLIVAN Marco
1980
USA
1:48.88
19.84
25
43
53817
FRANZ Max
1989
AUT
1:48.90
20.08
25
35
102961
DIXON Robbie
1985
CAN
1:48.90
20.08
27
38
530874
GANONG Travis
1988
USA
1:48.91
20.21
28
10
511313
JANKA Carlo
1986
SUI
1:48.92
20.33
29
21
510890
ZURBRIGGEN Silvan
1981
SUI
1:48.93
20.46
30
1
192932
FAYED Guillermo
1985
FRA
1:48.96
20.83
31
39
53837
KRAMER Manuel
1989
AUT
1:49.04
21.82
32
33
201811
STECHERT Tobias
1985
GER
1:49.05
21.94
33
8
292455
FILL Peter
1982
ITA
1:49.08
22.32
34
54
103271
THOMSEN Benjamin
1987
CAN
1:49.12
22.81
35
34
534939
FISHER Erik
1985
USA
1:49.19
23.68
35
6
201606
KEPPLER Stephan
1983
GER
1:49.19
23.68
37
44
53981
KROELL Johannes
1991
AUT
1:49.26
24.55
38
46
930024
MAPLE Wiley
1990
USA
1:49.27
24.67
39
60
510747
GRUENENFELDER Tobias
1977
SUI
1:49.35
25.66
39
27
380260
KOSTELIC Ivica
1979
CRO
1:49.35
25.66
41
11
560447
SPORN Andrej
1981
SLO
1:49.38
26.03
42
25
560332
JERMAN Andrej
1978
SLO
1:49.39
26.16
43
12
511139
KUENG Patrick
1984
SUI
1:49.41
26.41
44
15
102263
GUAY Erik
1981
CAN
1:49.42
26.53
45
56
561216
KLINE Bostjan
1991
SLO
1:49.48
27.27
46
58
103090
HELIE Louis-Pierre
1986
CAN
1:49.52
27.77
47
62
53902
MAYER Matthias
1990
AUT
1:49.59
28.64
48
16
510727
DEFAGO Didier
1977
SUI
1:49.69
29.88
49
23
292514
HEEL Werner
1982
ITA
1:49.78
30.99
50
42
511142
LUEOEND Vitus
1984
SUI
1:49.81
31.37
51
36
530939
WEIBRECHT Andrew
1986
USA
1:49.85
31.86
52
55
103656
HALBERT Kelby
1990
CAN
1:49.88
32.23
53
47
990081
CASSE Mattia
1990
ITA
1:50.02
33.97
54
49
561087
MARKIC Gasper
1986
SLO
1:50.24
36.70
54
5
500150
JAERBYN Patrik
1969
SWE
1:50.24
36.70
56
52
294911
PATSCHEIDER Hagen
1988
ITA
1:50.25
36.82
57
40
293550
MARSAGLIA Matteo
1985
ITA
1:50.40
38.68
58
65
561085
KRIZAJ Andrej
1986
SLO
1:50.49
39.80
59
68
102403
SEMPLE Ryan
1982
CAN
1:50.51
40.04
59
61
103385
PRIDY Conrad
1988
CAN
1:50.51
40.04
61
50
380292
ZRNCIC-DIM Natko
1986
CRO
1:50.69
42.28
62
63
194190
ROGER Brice
1990
FRA
1:50.78
43.39
63
51
100558
COOK Dustin
1989
CAN
1:51.13
47.73
64
69
421650
BJERKESTRAND Iver
1987
NOR
1:52.43
63.85
65
66
220695
CRAWFORD Douglas
1987
GBR
1:52.85
69.05
66
67
380298
SIROKI Tin
1987
CRO
1:53.60
78.35
Did not finish 1st run
64
6530319
COCHRAN-SIEGLE Ryan
1992
USA
57
294277
KLOTZ Siegmar
1987
ITA
53
561067
PERKO Rok
1985
SLO