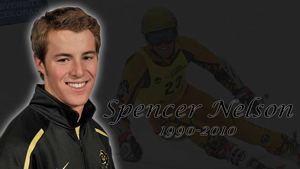 University of Colorado ski team member Spencer Nelson died in a hiking accident Saturday (Aug. 14) near Aspen. He was 20.
At approximately 10:25 am Saturday, after Nelson and his group of seven others including his father, Peter, had already summited one of the 14,000-foot Maroon Peaks, he was struck in the head by a dislodged rock. He fell into the Bell Chords couloir, according to Alex Burchetta, spokesman for the Pitkin County Sheriff's Office.
Maroon Bells is a popular hiking destination in the White River National Forest just south of Aspen.
According to Burchetta, officials received a call shortly after 11 am and by 11:45 members of Mountain Rescue Aspen, the Aspen Volunteer Fire Department, the Pitkin County Sheriff's Office, the U.S. Forest Service and Flight for Life had begun a rescue attempt.
Two off-duty mountain rescue volunteers, one of which was a paramedic and registered nurse, were hiking nearby and reached Nelson, staying until rescue crews arrived. Helicopter rescue could not reach the Bell Chords couloir, which is estimated about 13,000 feet, and dropped a rescue team above the area. He was pronounced dead at the scene and recovery operations were suspended at dusk to resume Sunday, according to Burchetta.
"This is a terrible tragedy," CU ski coach Richard Rokos said. "For everybody involved – parents, friends, his team, coaches, anybody who had ever met him – it's a terrible waste of life, talent and ambition."
He finished his freshman campaign at CU with nine top 20 performances and finished 21st in the giant slalom and 23rd in the slalom at NCAA Championships, helping the team to a second-place finish. He was honored with the Lucie Hanusova Memorial Award, which is given for those who overcome adversity and challenges with smiles and enthusiasm. After the season, he was honored by Colorado Ski Country USA in its Double Diamond Awards as male all-star athlete of the year.
Nelson graduated from Middle Park High School in Granby, Colo., in 2008 and lists Winter Park as his home town. There he played soccer and also lettered in track&field, competing in the 100- and 200-meter dashes. He skied for the Winter Park Competition Center from 1997-09 and was a member of the Colorado All-Star team from 2007-10, was named to the regional team in 2009-10 and was a Rocky Mountain Division National Team member in 2009.
Born March 16, 1990 in Denver, Nelson is survived by his parents, Peter Nelson and Peggy Smith, both CU alumni, and a brother, Connor, 18. His father works for CU in facilities management and is the lead architect on CU's remodel of the ski team building, underway this summer and fall. He was majoring in finance and marketing at Colorado.
Details of a memorial service are pending.
(Reports from the Denver Post and KMGH's TheDenverChannel.com were used in this report).