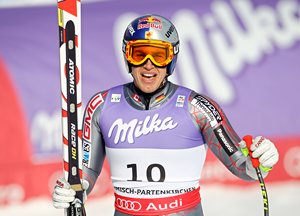 Erik Guay is the World Champion.
Once again Canada has taken the World Downhill title from under the noses of the Europeans. In 2009 it was John Kucera winning a difficult test at Val d'Isere. This time it was Guay with an early run down a decidedly changed Garmisch-Partenkirchen race course who stole the world's most prestigious ski racing title.
Didier Cuche, a favorite in many eyes, was second. Christof Innerhofer had earned favored status with the super G gold medal three days ago and a courageous first in training run one. He finished third for the bronze medal.
Romed Baumann, in fourth, was more than a second off the winning time.
The Kandahar 2 course had changed dramatically since Innerhofer's medal or his first training run win when a rough, icy surface had drawn abundant criticism and had skiers thinking more about survival than finding speed. On a softened course in Friday's training racers had a better opportunity to seek speed and today (Feb. 12) in the World Championship, the course invited attack. … but only for a short while. Then the track began to melt from the bottom to the top, making it almost impossible to challenge the leaders.
Guay agreed his start number (10) was about perfect, but added that many things had aligned right, contributing to his success. "I was a little lucky on that side to draw a good number, but you also have to execute and take advantage of that number."
"This was a tough season from the beginning, I've had some back issues, missed some races through the year. My back started acting up right after Chamonix (Jan. 29-30) so I did a lot of work with physios and trainers and people, enough to race Hinterstoder, but it was still very painful. When I came here, I wasn't really confident yet…. was able to keep my eye on the prize. It seemed like the planets aligned. I had a great start number, my back was feeling great after a couple of days on the track, my confidence was coming back, Garmisch is obviously a place that I love, so it just seemed like everything went right."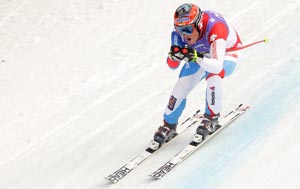 Guay's love affair with Garmisch goes way back. In his last four World Cups here he had finished third-first-third-first, the last time in SG to cinch that World Cup title. In training he had been seventh and fourth in in the treacherous super G he had failed to finish. He said he had looked forward to the downhill to show what he could do at Garmisch.
As questioners ran down the list of his last Garmisch Cup finishes, he deadpanned, "Yeah, this is a good place for me."
Although the first group of skiers switched out leaders (Canadian Benjamin Thomsen, birthday boy Steven Nyman and Swiss Ambrosi Hoffmann knocked one another off the top of the podium in subsequent runs) when Innerhofer came down he took the lead by 1.18 seconds, an indicator the first seeded group (starting from 8 to 16 under the current format) was going to take control. He was immediately followed by Guay's brilliant run and then there was a wait of eight skiers before Cuche got his chance. In that time, Cuche said, the course deteriorated considerably.
The old Swiss was his usual stellar self, solid and compact, charging and concise. He was faster than Guay at the second and third interval timers, but just before the finish, at the last of 44 gates on the track was a slight bobble, a heartbeat of trouble that pulled his shoulder out of his tuck. He finished .32 back and Guay could not contain a shout and fist pump from the leaders box.
"The first 40 seconds were very compact," said Cuche, "but it wasn't icy anywhere on course and where it was flat it was quite soft. There were so many tracks you had to ride over. … I think everybody saw that the snow started to melt, there were more tracks and that made it more difficult."
"I am very happy that I won a medal," said Cuche who already owned three World title meet medals in three disciplines. "I wasn't so sure before the race." Though he voiced strong opinion about the course conditions he was gracious. "I like Canada and like to go there. … We will celebrate later together I am sure, Erik and I."
No others could even approach Guay's time. Romed Baumann – running two starters after Cuche – got fourth 1.10 seconds out. Although Swiss Beat Feuz got ninth from the 29th start the rest of the top 10 was already cemented in place, and he took a significantly different line than most. The Kandahar grew slower for those starting late.
Among those was Bode Miller, in bib 22. He appeared unable to generate speed at any point on course and finished a respectable 15th, but no where near any spot that counted for anything. Nyman, in 13th, led the Americans.
"I tipped over on my hip at the very top, but I don't think that cost me all that much," said Miller. "I made a great recovery and then gassed it from there down. I'm happy with the way I skied. I was pushing the line and cutting off the line almost every section of the course. My legs had good power, I felt strong all the way to the finish and I was concerned about that because it has been so bumpy. It's disappointing, but some days in ski racing there's just not much else you can do."
Nyman said, "I'm pretty psyched, I guess. It's a good result, my second best of the year. … I had an advantage starting early, that's why I'm a little bummed. I had the opportunity to do really well. It got warmer, started deteriorating, started getting bumpy."
"This hill is the real deal," Nyman added. "You see it in the finish; guys are dead. It's bumpy, it's icy, it's dark. That's the way Garmisch is."
Travis Ganong apparently broke his hand hitting a gate high on the course and finished 24th.
"I think it's kind of broken," he said his left hand packed in ice. "It hurts."
He said he smacked the hand against the base of a gate about 30 second into the course. It hurt immediately and he said that was distracting at best.
"I can't bend my finger. It hurt immediately. I could only hold me pole with two fingers it was so painful. I tried to cut inside all the bumps. … Ultimately I was really hurting and I was distracted."
Guay said his lengthy stay in the leaders box at the bottom of the course was among his favorite parts of the day. "The best feeling for me in the world is when you're standing
at the bottom in the leaders box with a fast run on a tough and challenging hill, and that's the feeling I had today watching the guys come down. Especially when Didier came down because he was so close. It was green light, red light, green light, so I didn't know which was it was going to go. When he came though a little behind me I was like, 'Thank God that he started a little further back'." – HM
The SCOOP
By Hank McKee
Men's World Championship downhill, Garmisch-Partenkirchen, Germany, Feb. 12, 2011
Equipment
Skier, skis/boots/bindings
1 Guay, Atomic/Atomic/Atomic
2 Cuche, Head/Head/Head
3 Innerhofer, Rossignol/Rossignol/Rossignol
4 Baumann, Salomon/Salomon/Salomon
5 Svindal, Head/Head/Head
6 Sporn, Elan//Elan
7 Walchhofer, Atomic/Atomic/Atomic
8 Clarey, Head/Head/Head
9 Feuz, Salomon/Salomon/Salomon
10 Hoffmann, Head/Lange/Head
Men's World Championship downhill, Garmisch-Partenkirchen, Germany, Feb. 12, 2011. … It is the fourth of 11 scheduled events, the second of five men's competitions. … It is the 63rd World Championship downhill.
It is the first career World Championship medal for Erik Guay and the fourth time he has placed in a World Championship downhill. … He was fourth at Are in 2007. … It is the second straight time C
anada has won the men's downhill title. … John Kucera won in 2009. … No other Canadian men have won the DH title, but four Canadian women have including Lucile Wheeler ('58), Gerry Sorensen ('82), Kate Pace ('93) and Melanie Turgeon ('03). … It is Guay's third win at Garmisch having won a World Cup DH in 2007 and a super G in 2010. … It is his first win of the season.
It is the fourth World Championship medal for Didier Cuche who won gold in super G in 2009, silver in downhill in 2009, and third in GS in Are in 2007. … He has also finished fourth in three World title meet races, including the super G earlier this week. … He also won an Olympic silver medal at Nagano in 1998. … It is his sixth podium result of the season. … fifth in downhill.
It is the second career World Championship medal for Christof Innerhofer and second of these Championships having won gold in the SG. … It is his third podium of the season including the two championship results.
It is the third best of four World Championship results for Steven Nyman who has also placed ninth in combined (2007) and 12th in SG (2007). … It is his second best placing of the season bested only by an 11th in DH at Bormio Dec. 29. … It is the 14th time Bode Miller has been 15th or better in a World Championship race. … It is his fourth best of five World Championship DH results. … He won the gold medal at Bormio in 2005. … It is the second career World Championship result for Ben Thomsen and is one placing better than his SG finish of 19th. … It is the second career World Championship result for Travis Ganong. … It is the fourth career title meet result for Jan Hudec, the other three all top 10 finishes including a silver in DH at Are in 2007.

Medal Count:
Austria 3 (two gold, 1 silver)
Italy 2 (1 gold, 1 bronze
Canada 1 (1 gold)
Slovenia 1 (1 silver)
Switzerland 1 (1 silver)
USA 1 (1silver)
Croatia 1 (1 bronze)
Germany 1 (1 bronze)
Sweden 1 (1 bronze)