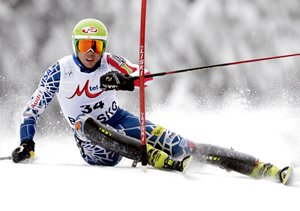 Canadian Phil Brown took the win with teammate David Donaldson in third and the U.S. powered in half of the top ten finishers with Colby Granstrom leading in second as the GS's wrapped up the leg of competition at Cornet Peak, New Zealand Saturday (Aug. 20).
Newly named head Europa Cup Coach Peter Korfiatis said he was pleased with the results considering the situation."The boys are tired," he said, explaining, "We're at the end of a four day block. By the time they ran run two, it was run eight actually and that's all part of this thing. The idea here was to get the boys use to hearing course reports from their new staff."
Swede Jon Olsson posted fourth before the Americans strung Warner Nickerson, Thomas Biesemeyer and David Chodounsky in the next three consecutive spots.
"We're going to take a day off," said Korfiatis, "and then come back." Racing in the New Zealand Winter Games begins Monday. "These races bring in some good people and we'll probably treat them more as a race situation and hope the boys can pick it up and hang with the big boys."
The coach added, "Everybody is super hungry and I'm really impressed with the intensity the boys are bringing to the hill every day. We have to cut them off at the end of the day."
GEPA file photo of Colby Granstrom
Place
Coronet
Peak, NZ (JPN)
Discipline
Giant Slalom
Date
20.08.2011
Category
FIS Race
Race codex
0069
Gender
M
Valid for FIS Points
YES
TD Name
Barrette Germain (CAN)
Rank
Bib
FIS Code
Name
Year
Nation
Run 1
Run 2
Total Time
FIS Points
1
2
103676
BROWN Philip
1991
CAN
48.79
51.68
1:40.47
9.17
2
11
930105
GRANSTROM Colby
1990
USA
49.49
51.83
1:41.32
16.53
3
3
103078
DONALDSON David
1986
CAN
49.31
52.12
1:41.43
17.48
4
6
500933
OLSSON Jon
1982
SWE
49.49
52.08
1:41.57
18.70
5
7
534038
NICKERSON Warner
1981
USA
49.79
51.79
1:41.58
18.78
6
5
531452
BIESEMEYER Thomas
1989
USA
49.24
52.40
1:41.64
19.30
7
15
534508
CHODOUNSKY David
1984
USA
50.11
51.54
1:41.65
19.39
8
12
103729
READ Erik
1991
CAN
49.36
52.49
1:41.85
21.12
9
8
930107
GREGORAK Will
1990
USA
50.22
51.73
1:41.95
21.99
10
22
370022
JENOT Olivier
1988
MON
50.23
52.11
1:42.34
25.36
11
26
934643
GOLDBERG Jared
1991
USA
50.50
51.93
1:42.43
26.14
12
13
6530319
COCHRAN-SIEGLE Ryan
1992
USA
49.97
52.53
1:42.50
26.75
13
16
700830
ZAMPA Adam
1990
SVK
50.72
51.80
1:42.52
26.92
14
33
103646
ZAITSOFF Sasha
1990
CAN
50.70
52.02
1:42.72
28.65
15
23
302368
YOSHIGOE Ippei
1986
JPN
50.48
52.26
1:42.74
28.83
16
30
303097
ISHII Tomoya
1989
JPN
51.14
51.70
1:42.84
29.69
17
20
103528
DRURY Kevin
1988
CAN
50.68
52.22
1:42.90
30.21
18
19
934518
DANIELS Nick
1991
USA
50.76
52.21
1:42.97
30.82
19
9
501401
SAXVALL Per
1989
SWE
50.69
52.29
1:42.98
30.90
20
48
301312
SASAKI Akira
1981
JPN
51.47
51.59
1:43.06
31.60
21
31
301709
YUASA Naoki
1983
JPN
51.07
52.23
1:43.30
33.68
22
37
303235
OIKAWA Takahiro
1989
JPN
51.63
51.70
1:43.33
33.94
23
28
103612
PRIDY Morgan
1990
CAN
51.28
52.07
1:43.35
34.11
24
35
304242
NARITA Hideyuki
1993
JPN
51.49
51.87
1:43.36
34.20
24
14
934502
ANKENY Michael
1991
USA
50.64
52.72
1:43.36
34.20
26
40
930023
COFFEY Sam
1990
USA
51.27
52.17
1:43.44
34.89
27
25
934524
FARRELL Bobby
1991
USA
50.74
52.78
1:43.52
35.58
28
34
410270
CAFE Tim
1987
NZL
51.42
52.14
1:43.56
35.93
29
32
103187
ATKINSON Paul
1987
CAN
50.85
52.73
1:43.58
36.10
30
42
410365
BARWOOD Adam
1992
NZL
51.63
52.26
1:43.89
38.78
31
36
532837
SHPALL Bryan
1989
USA
51.47
52.52
1:43.99
39.65
32
18
530758
COHEE Nick
1988
USA
51.74
52.30
1:44.04
40.08
33
47
53897
KNAUSS Andreas
1990
AUT
51.79
53.08
1:44.87
47.27
34
29
930133
HIGGINS Sean
1990
USA
51.82
53.26
1:45.08
49.09
35
27
103752
TROW Andy
1991
CAN
51.99
53.15
1:45.14
49.61
36
38
303099
KOBAYASHI Hiromu
1989
JPN
51.91
53.58
1:45.49
52.64
37
45
410372
PREBBLE Nick
1993
NZL
52.10
53.97
1:46.07
57.66
38
51
410334
PREBBLE Jamie
1991
NZL
52.50
53.84
1:46.34
60.00
39
50
303880
OGIHARA Shunsuke
1992
JPN
52.29
54.16
1:46.45
60.95
40
43
304139
SHIN Masanori
1993
JPN
52.52
54.01
1:46.53
61.65
41
56
303627
TANAKA Tomoyuki
1991
JPN
52.68
54.43
1:47.11
66.67
42
39
934722
STRAND Derek
1991
USA
51.87
55.27
1:47.14
66.93
43
72
6530814
MOYER Bobby
1994
USA
53.09
54.31
1:47.40
69.18
44
55
410364
FEASEY Willis
1992
NZL
52.84
54.58
1:47.42
69.35
45
53
700879
ZAMPA Andreas
1993
SVK
52.93
54.56
1:47.49
69.96
46
46
410302
WYLIE Andrew
1989
NZL
52.80
54.78
1:47.58
70.74
47
62
6530797
WILSON Kenny
1994
USA
53.18
54.43
1:47.61
71.00
48
54
304320
OHYAMA Ryu
1994
JPN
53.71
54.22
1:47.93
73.77
49
52
6530496
MCCORMICK Sean
1993
USA
53.19
54.88
1:48.07
74.98
50
41
6530108
BROOKS Dylan
1992
USA
53.11
55.08
1:48.19
76.02
51
61
6530815
ROMANO Anthony
1994
USA
53.94
54.50
1:48.44
78.18
52
49
103527
BEADON Christopher
1989
CAN
53.69
55.58
1:49.27
85.37
53
44
320367
PARK Je-yun
1994
KOR
54.01
55.70
1:49.71
89.18
54
66
430633
JASICZEK Michal
1994
POL
54.27
55.84
1:50.11
92.65
55
65
6530950
HAYES Colin
1994
USA
53.91
56.38
1:50.29
94.20
56
64
934627
CLIFFORD James
1991
USA
54.51
55.84
1:50.35
94.72
57
59
370031
ALESSANDRIA Arnaud
1993
MON
53.23
57.27
1:50.50
96.02
58
74
410395
IZARD-PRICE Harry
1995
NZL
54.88
56.31
1:51.19
102.00
59
71
410394
GREEN James
1995
NZL
54.66
56.75
1:51.41
103.90
60
63
6530918
ALVAREZ Dylan
1994
USA
54.61
57.03
1:51.64
105.89
61
73
512011
KREUZER Brian
1993
SUI
55.40
56.38
1:51.78
107.11
62
93
104311
GRASIC Martin
1995
CAN
54.38
57.72
1:52.10
109.88
63
76
410387
PASCOE Nick
1994
NZL
55.88
57.27
1:53.15
118.97
64
84
304201
KOBAYASHI Tetsuya
1991
JPN
55.93
58.57
1:54.50
130.66
65
92
304602
YAMADA Suguru
1994
JPN
57.06
59.03
1:56.09
144.43
66
83
958400
TRAVERS Dow
1987
CAY
58.11
58.05
1:56.16
145.03
67
70
320334
KIM Ha-Young
1992
KOR
57.43
59.72
1:57.15
153.61
68
79
6290815
GHILARDI Marco
1993
ITA
59.39
58.18
1:57.57
157.24
69
90
492055
RIBA Albert
1996
SPA
58.13
59.69
1:57.82
159.41
70
68
320386
JO Kwang-Ho
1995
KOR
58.52
59.33
1:57.85
159.67
71
77
320387
HAN Sang-Hyun
1995
KOR
57.95
59.93
1:57.88
159.93
72
80
491958
RAVENTOS Ignasi
1995
SPA
58.14
59.94
1:58.08
161.66
73
89
410403
GARRICK Hamish
1996
NZL
58.84
59.63
1:58.47
165.04
74
88
410404
NICHOLSON Matthew
1996
NZL
59.35
1:00.44
1:59.79
176.47
75
91
492059
PEDRET Alex
1996
SPA
58.96
1:01.41
2:00.37
181.49
76
86
304595
HAYASHI Yoshiki
1995
JPN
58.80
1:06.70
2:05.50
225.91
77
87
304820
SATO Kei
1996
JPN
58.17
1:10.05
2:08.22
249.47
Did not start 2nd run
24
302982
OHKOSHI Ryunosuke
1988
JPN
Did not finish 2nd run
85
958402
TRAVERS Dean
1996
CAY
81
221182
GOLDSWORTHY Richard
1995
GBR
78
6531216
WATTENMAKER Owen
1995
USA
75
410379
COOTE Wilbur
1994
NZL
69
303154
IIZUKA Tatsuya
1989
JPN
67
6531186
PLANT Riley
1995
USA
Did not finish 1st run
82
151050
VOLF Vojtech
1993
CZE
60
410371
NEESON Finlay
1993
NZL
58
6531203
SPROCK Ty
1995
USA
57
6530447
COOPER Scott
1993
USA
21
930160
KELLEY Robby
1990
USA
17
934568
RUBIE Brennan
1991
USA
10
531156
TARBERRY Ace
1988
USA
4
410266
GRIFFIN Benjamin
1986
NZL
1
501255
OEHAGEN Johan
1987
SWE
Place
Coronet
Peak, NZ (JPN)
Discipline
Giant Slalom
Date
20.08.2011
Category
FIS Race
Race codex
5069
Gender
L
Valid for FIS Points
YES
TD Name
Barrette Germain (CAN)
Rank
Bib
FIS Code
Name
Year
Nation
Run 1
Run 2
Total Time
FIS Points
1
1
425929
MOWINCKEL Ragnhild
1992
NOR
50.40
52.57
1:42.97
19.75
2
8
425921
HAUGEN Kristine Gjelsten
1992
NOR
50.78
52.70
1:43.48
24.06
3
6
307120
ARAI Makiko
1993
JPN
52.09
53.60
1:45.69
42.73
4
11
539360
DUNLEAVY Avril
1992
USA
52.07
53.97
1:46.04
45.69
5
3
425849
GASMANN-BROTT Rikke
1991
NOR
53.13
55.49
1:48.62
67.49
6
7
539114
ENGLE Devon
1991
USA
54.14
56.29
1:50.43
82.78
7
14
6535234
SCHWARTZNAU Karina
1995
USA
55.58
56.53
1:52.11
96.97
8
2
306833
ISHII Risa
1991
JPN
56.15
56.63
1:52.78
102.64
9
23
307492
KUSHIZAKI Mina
1996
JPN
55.87
57.24
1:53.11
105.42
10
27
307486
KOIKE Yurino
1996
JPN
55.97
57.43
1:53.40
107.87
11
13
225553
JESSE Charlotte
1994
GBR
55.68
57.73
1:53.41
107.96
12
28
325116
CHOO Ju-Yeon
1996
KOR
57.36
58.14
1:55.50
125.62
13
17
275024
BELL Victoria
1994
IRE
57.50
59.42
1:56.92
137.61
14
18
415200
TAYLOR Victoria
1995
NZL
57.45
1:00.03
1:57.48
142.35
15
22
275029
BELL Florence
1996
IRE
58.16
1:00.88
1:59.04
155.53
16
19
155786
STRYCHOVA Lucie
1995
CZE
59.52
59.91
1:59.43
158.82
17
26
325117
CHU Sa-Rang
1996
KOR
59.29
1:00.24
1:59.53
159.67
18
16
225521
PARKER Olivia
1993
GBR
59.10
1:00.93
2:00.03
163.89
19
20
415210
GAMSON Emma
1996
NZL
59.29
1:01.22
2:00.51
167.95
20
12
6535179
ELICEGUI Taylor
1995
USA
1:00.67
1:00.59
2:01.26
174.28
21
21
299294
BORGOGNO Roberta
1995
ITA
59.73
1:01.65
2:01.38
175.30
22
25
415203
MCLAUGLAN Laura
1995
NZL
1:00.20
1:01.91
2:02.11
181.47
23
24
325118
NOH Jin-Soul
1996
KOR
1:02.50
1:02.30
2:04.80
204.19
Did not finish 2nd run
10
425916
FAUSA Chloe Margrethe
1992
NOR
Did not finish 1st run
15
105649
RYLEY Kate
1989
CAN
9
306936
UEDA Satsuki
1991
JPN
5
6535359
DALEY Ryann
1995
USA
4
425982
WINQUIST Annie
1993
NOR