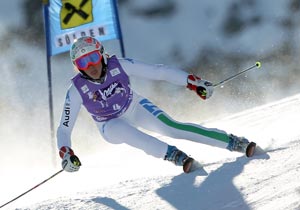 SOELDEN, Austria — After the first run of the 2011-2012 World Cup season, Italian 20-year-old Federica Brignone (1:09.43) is leading the pack with a .44 second advantage heading into the afternoon's second giant slalom leg in sunny Soelden, Austria.
On home snow, Austrian Elizabeth Goergl secured the second-fastest time (1:09.87) ahead of last years winner here and reigning GS overall World Cup champion, German Viktoria Rebensburg, .56 off the pace in third.
American Lindsey Vonn stands fourth, .82 seconds behind the leader. Fellow American Julia Mancuso holds the ninth spot, 1.87 seconds back. Teammate Sarah Schleper, who decided this morning to attempt the race despite a sore back, stood up and skied off the course after only a few gates. Both Vonn and Mancuso said the course was hard and bumpy and expected similar conditions in the second run even though the entire course will be in full sun by then.
They morning's most exciting run came from French racer Tessa Worley, who high on the course hit a gate hard and lost her left pole. With only one outrigger for most of the course, Worley still managed to pull in the sixth-best time, 1.28 seconds behind.
Canadian Marie-Michele Gagnon will take part in the 30-woman second run, standing 22nd after the first run, 2.51 seconds behind the leader. Teammate Marie-Pier Prefontaine was unable to finish.
On what many regard as the most difficult GS course the women see all season, the first run, set by French coach Anthony Sechaud, claimed 12 DNFs, Among the non-finishers was three-time podium finisher here, Finn Tanja Poutiainen, who missed a gate in the bottom third of the course and Italian Denise Karbon, who took a hard fall high on the course, but skied down under her own power.
The second run begins at 12:45 local time (6:45 EST). Click here to watch the results as they happen.