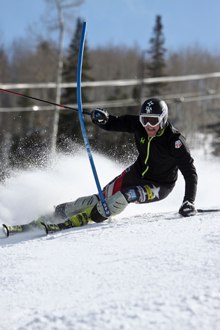 NorAm Cup racing continued today (Nov. 27) in Loveland, Colo. with another men's slalom race. The World Cup stacked field was greeted with sunshine and hard, grippy snow.
U.S. Ski Team's Will Brandenburg stood on top of the podium for the second consecutive day, winning the race by almost seven tenths of a second (1:39.48) over Austrian Mario Matt (1:40.14). Brandenburg was sitting in third place after the first run, trailing Austrians Marcel Hirscher and Mario Matt, respectively. Hirscher failed to finish the second run.
Today marked Brandenburg's third career NorAm Cup slalom victory.
Canadian Paul Stutz rounded out the podium in third place finishing with a time of 1:40.49.
The next American to cross the finish line was U.S. Ski Teamer Seppi Stiegler, finishing in 18th place. Teammate Jimmy Cochran was sitting in fourth after the first run but failed to finish the secondrun .
The men will head to Aspen for more NorAm racing taking on two giant slaloms (Nov. 28-29) on the World Cup prepped slope leftover from the women.
Image by USSA
Rank
Bib
FIS Code
Name
Year
Nation
Run 1
Run 2
Total Time
FIS Points
1
1
530165
BRANDENBURG Will
1987
USA
49.67
49.81
1:39.48
6.00
2
2
50707
MATT Mario
1979
AUT
49.56
50.58
1:40.14
10.05
3
8
102727
STUTZ Paul
1983
CAN
49.95
50.54
1:40.49
12.19
4
3
102912
SPENCE Brad
1984
CAN
50.19
50.74
1:40.93
14.89
5
7
421860
NORDBOTTEN Jonathan
1989
NOR
50.42
50.57
1:40.99
15.26
6
14
202462
DOPFER Fritz
1987
GER
49.96
51.13
1:41.09
15.87
7
18
102239
COUSINEAU Julien
1981
CAN
50.22
50.91
1:41.13
16.12
8
11
192504
MERMILLOD BLONDIN Thomas
1984
FRA
50.10
51.20
1:41.30
17.16
9
21
510997
BERTHOD Marc
1983
SUI
50.56
50.96
1:41.52
18.51
10
23
421669
HAUGEN Leif Kristian
1987
NOR
51.14
50.40
1:41.54
18.63
11
20
511908
SCHMIDIGER Reto
1992
SUI
50.41
51.21
1:41.62
19.12
12
22
421400
MYHRE Lars Elton
1984
NOR
50.65
51.05
1:41.70
19.61
13
39
180631
PENTTINEN Juho-Pekka
1991
FIN
51.67
50.52
1:42.19
22.62
13
4
421566
BRENNA Petter
1986
NOR
51.20
50.99
1:42.19
22.62
15
38
103729
READ Erik
1991
CAN
51.50
50.77
1:42.27
23.11
16
9
102922
WHITE Trevor
1984
CAN
50.76
51.53
1:42.29
23.23
17
31
180567
RASANEN Joonas
1989
FIN
51.43
50.93
1:42.36
23.66
18
27
530651
STIEGLER Seppi
1988
USA
51.13
51.38
1:42.51
24.58
19
35
103865
PHILP Trevor
1992
CAN
51.62
50.90
1:42.52
24.64
20
28
421954
LYSDAHL Espen
1990
NOR
51.42
51.16
1:42.58
25.01
21
25
301312
SASAKI Akira
1981
JPN
51.29
51.42
1:42.71
25.81
22
26
530837
KELLEY Tim
1986
USA
50.97
52.04
1:43.01
27.65
23
30
103078
DONALDSON David
1986
CAN
51.49
51.71
1:43.20
28.81
24
44
930160
KELLEY Robby
1990
USA
52.28
51.74
1:44.02
33.84
25
45
103676
BROWN Philip
1991
CAN
51.90
52.45
1:44.35
35.86
26
49
53859
TRIENDL Armin
1989
AUT
51.91
52.65
1:44.56
37.15
27
33
534507
CHRISTIANSON Charles
1984
USA
52.38
52.30
1:44.68
37.89
28
36
560425
VAJDIC Bernard
1980
SLO
51.70
53.05
1:44.75
38.32
29
40
930029
ACOSTA Christopher
1990
USA
52.19
52.93
1:45.12
40.58
30
29
302982
OHKOSHI Ryunosuke
1988
JPN
52.18
53.15
1:45.33
41.87
31
59
103752
TROW Andy
1991
CAN
52.66
52.85
1:45.51
42.98
32
62
6530167
SHIFFRIN Taylor
1992
USA
52.40
53.19
1:45.59
43.47
33
37
103528
DRURY Kevin
1988
CAN
52.95
53.19
1:46.14
46.84
34
53
934740
WUNSCH Taylor
1991
USA
52.71
54.04
1:46.75
50.58
35
15
934502
ANKENY Michael
1991
USA
50.50
56.88
1:47.38
54.44
36
65
103612
PRIDY Morgan
1990
CAN
53.62
54.29
1:47.91
57.69
37
47
934524
FARRELL Bobby
1991
USA
52.66
56.64
1:49.30
66.22
38
86
6531160
LEEVER Alex
1995
USA
54.33
55.06
1:49.39
66.77
39
43
103187
ATKINSON Paul
1987
CAN
53.59
56.07
1:49.66
68.42
40
63
103997
MEGARRY Morgan
1993
CAN
53.64
56.86
1:50.50
73.57
41
69
6530454
FARROW Tanner
1993
USA
53.83
1:02.03
1:55.86
106.44
Disqualified 2nd run
50
6530117
CONE Robert
1992
USA
Did not start 2nd run
95
481665
DRUGOV Yuriy
1995
RUS
94
6530950
HAYES Colin
1994
USA
92
6530800
THEIS Tyler
1994
USA
91
6531203
SPROCK Ty
1995
USA
90
410371
NEESON Finlay
1993
NZL
89
40536
DEMSCHAR Daniel
1994
AUS
87
6530399
O BRIEN Cannon
1992
USA
84
6530031
STENICKA Nicholas
1991
USA
82
934722
STRAND Derek
1991
USA
81
6530108
BROOKS Dylan
1992
USA
80
40553
CHEVALIER Luc Henri
1992
AUS
77
103901
SUTTON Brandon
1992
CAN
75
6530168
SMITH Cameron
1992
USA
72
6530598
SNOW Scott
1993
USA
70
410365
BARWOOD Adam
1992
NZL
67
303453
OKAMOTO Koji
1990
JPN
57
531145
SPENST Taggart
1988
USA
Did not start 1st run
46
180534
SANDELL Marcus
1987
FIN
Did not finish 2nd run
93
6530500
MCLAUGHLIN Brian
1993
USA
74
103899
SOLOMON Andrew
1992
CAN
66
531249
HARDY Colton
1988
USA
64
150834
ZIKA Adam
1989
CZE
61
6530104
BENNETT Bryce
1992
USA
60
6530250
MORSE Ben
1992
USA
55
561192
HRIBAR Timotej
1990
SLO
51
60015
MOLLIN Bart
1981
BEL
42
934643
GOLDBERG Jared
1991
USA
34
421840
HAUG Andreas Willumsen
1989
NOR
32
103313
DAWSON Travis
1988
CAN
24
51159
NOESIG Christoph
1985
AUT
17
50605
HERBST Reinfried
1978
AUT
16
934568
RUBIE Brennan
1991
USA
13
534040
COCHRAN Jimmy
1981
USA
10
930107
GREGORAK Will
1990
USA
6
53831
HIRSCHER Marcel
1989
AUT
5
930105
GRANSTROM Colby
1990
USA
Did not finish 1st run
96
481614
SHARIY Valentin
1995
RUS
88
6530447
COOPER Scott
1993
USA
85
6530507
NIEDERHAUSER Christoph
1993
USA
83
430633
JASICZEK Michal
1994
POL
79
6530159
ROGERS Dylan
1992
USA
78
930123
HARRIS Reilly
1990
USA
76
6530121
FARRELL Brad
1992
USA
73
103891
KELLOCK Jonathan
1992
CAN
71
6530674
RASMUSSEN Eric
1993
USA
68
303789
YUKI Tomohiro
1991
JPN
58
934566
ROBERTS Hig
1991
USA
56
930133
HIGGINS Sean
1990
USA
54
421871
SANDVIK Eian
1989
NOR
52
934518
DANIELS Nick
1991
USA
48
501804
MONSEN Sam
1992
SWE
41
6530599
STRAND Matthew
1993
USA
19
301709
YUASA Naoki
1983
JPN
12
102435
JANYK Michael
1982
CAN