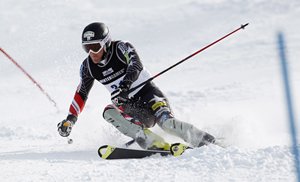 Will Brandenburg snagged a slalom win, a nice point race and a bit of prestige in out lasting Austrian veteran Rainer Schoenfelder for the New Zealand Winter Games victory Wednesday (Aug. 24). A full second behind the Austrian after the first leg of the race Brandenburg was a rocket in the second run to wind up nearly a half second up on the field.
"I am stoked. I had a blast," said Brandenburg. "It's been a hard season so this is big for me, really big. Schoenfelder is an amazing skier and has been skiing for a long time and I just had to trust myself and ski the way I wanted to ski."
Norway's Lars Elton Myhre was third and Canadian Mike Janyk fourth. German Fritz Dopfer and Swede Tim Lindgren spread the success among multiple nations finishing fifth and sixth respectively.
Tim Kelley also utilized a strong second run to give the U.S. a second top 10 finish in seventh. Brad Spence was eighth for Canada.
Brandenburg got a 6pt FIS result for his efforts in an event where wind and soft snow contributed to a large did not finish rate.
Brandenburg photo courtesy www.michaelthomas.co.nz
Place
Coronet
Peak (NZL)
Discipline
Slalom
Date
24.08.2011
Category
Australian New Zealand Cup
Race codex
0051
Gender
M
Valid for FIS Points
YES
TD Name
Barrette Germain (CAN)
Rank
Bib
FIS Code
Name
Year
Nation
Run 1
Run 2
Total Time
FIS Points
1
31
530165
BRANDENBURG Will
1987
USA
45.61
46.86
1:32.47
6.00
2
19
50547
SCHOENFELDER Rainer
1977
AUT
44.61
48.33
1:32.94
9.10
3
27
421400
MYHRE Lars Elton
1984
NOR
45.61
47.84
1:33.45
12.46
4
10
102435
JANYK Michael
1982
CAN
45.67
47.90
1:33.57
13.26
5
25
202462
DOPFER Fritz
1987
GER
45.61
48.17
1:33.78
14.64
6
3
501384
LINDGREN Tim
1989
SWE
46.25
47.81
1:34.06
16.49
7
35
530837
KELLEY Tim
1986
USA
46.57
47.51
1:34.08
16.62
8
12
102912
SPENCE Brad
1984
CAN
46.60
47.55
1:34.15
17.08
9
37
500909
ANDERSSON Oscar
1982
SWE
46.89
47.29
1:34.18
17.28
10
39
302982
OHKOSHI Ryunosuke
1988
JPN
46.44
48.25
1:34.69
20.64
11
26
102456
BIGGS Patrick
1982
CAN
45.43
49.28
1:34.71
20.78
12
42
421828
BUDAL Martin
1989
NOR
47.64
47.11
1:34.75
21.04
13
43
53922
WIESER Manuel
1990
AUT
47.59
47.26
1:34.85
21.70
14
34
301312
SASAKI Akira
1981
JPN
46.66
48.21
1:34.87
21.83
15
68
934518
DANIELS Nick
1991
USA
47.80
47.17
1:34.97
22.49
15
64
6530319
COCHRAN-SIEGLE Ryan
1992
USA
47.29
47.68
1:34.97
22.49
17
49
421946
KRISTIANSEN Emil Bjoertomt
1990
NOR
47.76
47.23
1:34.99
22.62
18
36
530651
STIEGLER Seppi
1988
USA
48.05
47.19
1:35.24
24.27
19
70
53969
BISCHOF Martin
1991
AUT
47.23
48.09
1:35.32
24.80
20
30
320266
JUNG Dong-Hyun
1988
KOR
47.01
48.63
1:35.64
26.91
21
55
934643
GOLDBERG Jared
1991
USA
46.62
49.43
1:36.05
29.62
22
52
303097
ISHII Tomoya
1989
JPN
47.93
49.23
1:37.16
36.94
23
58
304242
NARITA Hideyuki
1993
JPN
48.14
49.68
1:37.82
41.29
24
85
53897
KNAUSS Andreas
1990
AUT
49.00
49.28
1:38.28
44.33
25
44
700830
ZAMPA Adam
1990
SVK
49.69
48.79
1:38.48
45.65
26
83
103612
PRIDY Morgan
1990
CAN
49.39
50.43
1:39.82
54.49
27
94
410302
WYLIE Andrew
1989
NZL
50.20
52.11
1:42.31
70.91
28
95
700879
ZAMPA Andreas
1993
SVK
51.09
51.29
1:42.38
71.37
29
89
410365
BARWOOD Adam
1992
NZL
50.60
51.86
1:42.46
71.90
30
84
410270
CAFE Tim
1987
NZL
50.70
51.97
1:42.67
73.29
31
1
934566
ROBERTS Hig
1991
USA
46.88
55.96
1:42.84
74.41
32
40
103078
DONALDSON David
1986
CAN
52.91
50.13
1:43.04
75.73
33
99
370031
ALESSANDRIA Arnaud
1993
MON
51.96
53.83
1:45.79
93.87
34
77
930023
COFFEY Sam
1990
USA
49.44
56.70
1:46.14
96.18
35
106
491958
RAVENTOS Ignasi
1995
SPA
1:12.89
1:00.69
2:13.58
277.19
36
108
410404
NICHOLSON Matthew
1996
NZL
1:07.85
1:39.95
2:47.80
502.93
Disqualified 2nd run
41
934502
ANKENY Michael
1991
USA
Did not start 1st run
107
6290815
GHILARDI Marco
1993
ITA
97
410372
PREBBLE Nick
1993
NZL
78
370022
JENOT Olivier
1988
MON
17
421750
HAUG Kristian
1988
NOR
Did not finish 2nd run
103
410379
COOTE Wilbur
1994
NZL
101
53980
KRIECHMAYR Vincent
1991
AUT
80
320290
KIM Hyeon-Tae
1990
KOR
74
481103
ANDRIENKO Aleksander
1990
RUS
73
930133
HIGGINS Sean
1990
USA
65
320293
KYUNG Sung-Hyun
1990
KOR
59
421791
STAURSET Bjoern Tore
1988
NOR
54
53968
BERTHOLD Frederic
1991
AUT
33
51434
TIPPELREITHER Matthias
1988
AUT
32
501458
LINDH Calle
1990
SWE
28
421669
HAUGEN Leif Kristian
1987
NOR
23
930107
GREGORAK Will
1990
USA
22
480736
KHOROSHILOV Alexander
1984
RUS
20
421860
NORDBOTTEN Jonathan
1989
NOR
15
930123
HARRIS Reilly
1990
USA
13
301709
YUASA Naoki
1983
JPN
Did not finish 1st run
105
410395
IZARD-PRICE Harry
1995
NZL
104
6530815
ROMANO Anthony
1994
USA
102
6530797
WILSON Kenny
1994
USA
100
220984
STANG Alastair
1992
GBR
98
104311
GRASIC Martin
1995
CAN
96
410364
FEASEY Willis
1992
NZL
93
561303
TASIC Jan
1994
SLO
92
511978
LIESCH Gian Luca
1993
SUI
91
410334
PREBBLE Jamie
1991
NZL
90
501230
ERICSSON Daniel
1987
SWE
88
422001
BRATH Joergen
1991
NOR
87
54162
KARELLY Manuel
1993
AUT
86
53985
MATHIS Marcel
1991
AUT
82
561269
BREZNIK Jan
1993
SLO
81
532837
SHPALL Bryan
1989
USA
79
103752
TROW Andy
1991
CAN
76
54031
LEITINGER Roland
1991
AUT
75
510550
EMMENEGGER Sven
1989
SUI
72
304139
SHIN Masanori
1993
JPN
71
422184
WINQUIST Even
1992
NOR
69
320244
KIM Woo-Sung
1986
KOR
67
531156
TARBERRY Ace
1988
USA
66
202437
LUITZ Stefan
1992
GER
63
934524
FARRELL Bobby
1991
USA
62
421943
KIRKEFJORD Goeran
1990
NOR
61
103676
BROWN Philip
1991
CAN
60
930160
KELLEY Robby
1990
USA
57
501439
HEDIN Doglas
1990
SWE
56
501401
SAXVALL Per
1989
SWE
53
103729
READ Erik
1991
CAN
51
422082
SOLEVAAG Sebastian-Foss
1991
NOR
50
103528
DRURY Kevin
1988
CAN
48
501557
PIETILAE HOLMNER Johan
1991
SWE
47
103646
ZAITSOFF Sasha
1990
CAN
46
481006
ZUEV Stepan
1988
RUS
45
220689
RYDING David
1986
GBR
38
421849
JOHANSEN Truls
1989
NOR
29
51395
DIGRUBER Marc
1988
AUT
24
50824
DREIER Christoph
1981
AUT
21
50981
HOERL Wolfgang
1983
AUT
18
410266
GRIFFIN Benjamin
1986
NZL
16
501255
OEHAGEN Johan
1987
SWE
14
534508
CHODOUNSKY David
1984
USA
11
102239
COUSINEAU Julien
1981
CAN
9
102922
WHITE Trevor
1984
CAN
8
930105
GRANSTROM Colby
1990
USA
7
193481
FAVRE Arnaud
1987
FRA
6
501392
OESTER Carl-Filip
1989
SWE
5
531392
JAMPOLSKY Grant
1989
USA
4
40349
RISHWORTH Mike
1987
AUS
2
60015
MOLLIN Bart
1981
BEL