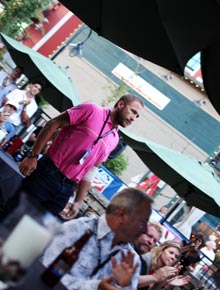 Go to our homepage to watch a video of an exclusive interview with Miller by Ski Racing.
How long can Bode Miller keep going? In training now for his 15th World Cup season at age 33, Miller is showing no signs of slowing down, though he says if he could somehow manage his own World Class racing venue, he might consider just staying home and skiing fast. That would be a huge loss for fans of ski racing and for fans of Bode Miller.
Building his own race hill isn't practical, so Miller is grunting through dryland drills with kids ten years his junior getting ready for another World Cup season.
"I'm always excited about racing. I love racing," Miller said." And the World Cup is the only way to ski that fast and jump that far without getting your (lift) ticket pulled."
Miller spoke with a group of journalists during the USSA Summit Wednesday (July 20) and said, among other things, he felt the World Cup circuit would do well to explore additional ways to use existing technology to improve the way the public views ski races.
"When people whiz by at 80mph or whatever and they're out of sight after three seconds, that doesn't tend to inspire people the way we would like," Miller said.
The 32-time World Cup winner also touched on what keeps him motivated day in and day out during the sometimes grueling winter months.
"Motivation is so dynamic, one day you are doing it for one reason and the next day it is completely different," Miller told a group U.S. Ski Team sponsors, hanging on his every word. "When someone like Ted (Ligety) beats you one run, all of the sudden your motivation is to beat him the next run. Sometimes you have a special conversation with a sponsor, or a race organizer, or a volunteer and it shifts again."
"It's been an interesting challenge for me as I got older, and older, and older," joked Miller. "I had to keep finding the right stuff, for when those moments come up and you really have to dig a little bit."
Miller has grown comfortable with his role as a leader on the team a ambassador for the sport. "I feel like as one of the veterans of the team, it's my duty to the other athletes, and my duty to the sport and my own career to see improvements through as much as I can try to have the most positive impact I can have," said Miller. "It's been a fun part of the end of my career, watching the shifts happen and seeing positive steps come into play."
After 14 seasons, he is still obviously passionate about the sport and spoke of what it means to share it with American fans yearly at the Birds of Prey downhill in Beaver Creek, Colorado.
"In the U.S. I don't think the sport is recognized enough. It's cool to see that electricity at the finish line when Daron (Rahlves) comes down in the lead where you can just really feel what the sport is. When you are hanging your life on the line and things go your way, when you take risks that you know you shouldn't but you have to to win," said Miller. "That is when your hair stands on end and people can understand what pushes the athletes to do that over and over again. It's really fun to share that with the American fans."
Photo: Sarah Ely/USSA