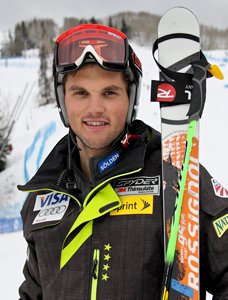 Take a bow Thomas Biesemeyer, because that victory in the Copper Mountain super G this morning (Nov. 18) was absolutely stunning. With a full complement of Austrian and Canadian speed skiers in the mix for the U.S. Ski Team FIS race, not to mention a strong U.S. squad, Biesemeyer was clocked .44 ahead of the field coming in at 1:19.66 to Romed Baumann's and Stephan Goergl's 1:20.10 in a dead heat for second. Bode Miller finished fourth another six hundredths out.
Austrian Max Franz, Americans Travis Ganong and Will Gregorak Canadians Ben Thomsen and Dustin Cook and Austrian Bernhard Graf rounded out the top 10 respectively.
The race was the first for the men at the newly opened speed venue at Copper and was the first super G held in the FIS series.
Biesemeyer took advantage of being the first skier out of the start-house, but that may not have been that big an advantage. The number two starter didn't finish, number three wound up 24th and number four finished 38th.
Place
Copper, CO (USA)
Discipline
Super G
Date
18.11.2011
Category
FIS Race
Race codex
1885
Gender
M
Valid for FIS Points
YES
TD Name
Delli Quadri Esther (USA)
Rank
Bib
FIS Code
Name
Year
Nation
Total Time
FIS Points
1
1
531452
BIESEMEYER Thomas
1989
USA
1:19.66
9.00
2
13
51215
BAUMANN Romed
1986
AUT
1:20.10
14.85
2
5
50600
GOERGL Stephan
1978
AUT
1:20.10
14.85
4
7
532431
MILLER Bode
1977
USA
1:20.16
15.65
5
21
53817
FRANZ Max
1989
AUT
1:20.20
16.19
6
9
530874
GANONG Travis
1988
USA
1:20.59
21.38
7
19
930107
GREGORAK Will
1990
USA
1:20.86
24.97
8
31
103271
THOMSEN Benjamin
1987
CAN
1:20.89
25.37
9
10
100558
COOK Dustin
1989
CAN
1:20.93
25.90
10
6
51401
GRAF Bernhard
1988
AUT
1:20.98
26.56
11
8
534289
FRANK Chris
1983
USA
1:21.15
28.83
12
39
6530104
BENNETT Bryce
1992
USA
1:21.36
31.62
13
29
534959
JITLOFF Tim
1985
USA
1:21.45
32.82
14
28
934643
GOLDBERG Jared
1991
USA
1:21.52
33.75
15
11
533131
SULLIVAN Marco
1980
USA
1:21.58
34.55
16
17
421650
BJERKESTRAND Iver
1987
NOR
1:21.60
34.81
17
26
930024
MAPLE Wiley
1990
USA
1:21.61
34.95
17
22
531156
TARBERRY Ace
1988
USA
1:21.61
34.95
19
15
51327
PUCHNER Joachim
1987
AUT
1:21.62
35.08
20
45
930160
KELLEY Robby
1990
USA
1:21.66
35.61
21
35
530165
BRANDENBURG Will
1987
USA
1:21.77
37.08
22
20
534939
FISHER Erik
1985
USA
1:21.94
39.34
23
25
934551
MOFFAT Keith
1991
USA
1:21.98
39.87
24
3
421400
MYHRE Lars Elton
1984
NOR
1:22.07
41.07
25
16
934568
RUBIE Brennan
1991
USA
1:22.10
41.47
26
41
6530534
VIETZE Sandy
1993
USA
1:22.11
41.60
27
43
6530454
FARROW Tanner
1993
USA
1:22.40
45.46
28
36
6530598
SNOW Scott
1993
USA
1:22.50
46.79
29
40
934502
ANKENY Michael
1991
USA
1:22.78
50.52
30
34
534507
CHRISTIANSON Charles
1984
USA
1:22.87
51.71
31
50
6530117
CONE Robert
1992
USA
1:22.91
52.25
32
53
6530167
SHIFFRIN Taylor
1992
USA
1:23.27
57.04
33
42
934558
NOGES Carl
1991
USA
1:23.28
57.17
34
38
6530500
MCLAUGHLIN Brian
1993
USA
1:23.38
58.50
35
18
530920
SWENSSON Joe
1986
USA
1:23.52
60.36
36
46
6530453
DUPRATT Samuel
1993
USA
1:24.04
67.28
37
54
6530952
BERLACK Ronald
1994
USA
1:24.38
71.81
38
4
531799
FORD Tommy
1989
USA
1:24.85
78.06
39
61
221213
RAPOSO Charles
1996
GBR
1:25.38
85.11
40
57
6531127
DUFFY Drew
1995
USA
1:25.54
87.24
41
47
40553
CHEVALIER Luc Henri
1992
AUS
1:26.17
95.63
42
56
104333
ACHI Ghassan
1993
CAN
1:26.21
96.16
43
55
6531145
HALL Max
1995
USA
1:27.61
114.79
44
60
6531519
MOONEY Ryan
1996
USA
1:27.69
115.85
45
59
430633
JASICZEK Michal
1994
POL
1:27.72
116.25
46
58
6531160
LEEVER Alex
1995
USA
1:28.60
127.96
47
51
6530826
ROBERTSON Carter
1994
USA
1:28.97
132.88
Disqualified 1st run
33
934518
DANIELS Nick
1991
USA
30
534038
NICKERSON Warner
1981
USA
27
421871
SANDVIK Eian
1989
NOR
Did not finish 1st run
52
6530840
DUFFY Danny
1994
USA
49
40523
DEMSCHAR Dominic
1993
AUS
48
104016
SHEINER Julian
1993
CAN
44
6531026
JONES Alec
1994
USA
37
102403
SEMPLE Ryan
1982
CAN
32
421797
THEODORSEN Espen
1988
NOR
24
53837
KRAMER Manuel
1989
AUT
23
103385
PRIDY Conrad
1988
CAN
14
54005
STRIEDINGER Otmar
1991
AUT
12
6530319
COCHRAN-SIEGLE Ryan
1992
USA
2
53902
MAYER Matthias
1990
AUT