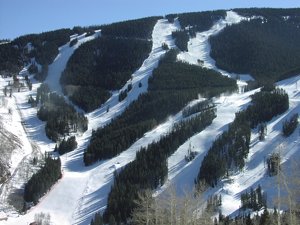 Citing the best preparation in years FIS race director Guenter Hujara has given the go-ahead for the Audi Birds of Prey races set for Dec. 2-4 in Beaver Creek. The announcement comes a full two weeks in advance of the event.
"Based on the excellent current snow conditions in Beaver Creek, everything is ready (at) the 2011 Audi FIS Ski World Cup races on the Birds of Prey competition hill. The races could take place this weekend," said Hujara. "We very much look forward to returning to Beaver Creek where this year's World Cup events will also serve as one of the important steps towards the FIS Alpine World Ski Championships in 2015." Beaver Creek is scheduled to host those championships.
"We are 99percent complete with snow-making for this year's races," added Audi Birds of Prey Chief of Race Greg Johnson. "I believe this is the best we have ever done relative to so many years of snow control."
Men's racing opens with the Birds of Prey downhill on Friday, Dec. 2 followed by a super G Saturday and a giant slalom on Sunday, where reigning World Cup giant slalom title holder Ted Ligety is the defending champion.
In addition to outstanding racing and training conditions in Colorado, the early season cold temperatures and abundant snow is also good news for recreational skiers as Beaver Creek is set to open on Nov. 23.
A complete schedule for the Audi Bird of Prey races is available at www.bcworldcup.com
Beaver Creek Resort photos.