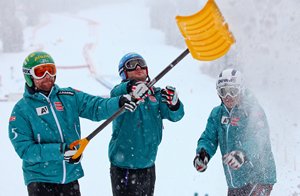 After a two hour delay while work crews scraped excess snow off the Lake Louise course the Winterstart got underway with a training run a day after heavy snows had forced cancellation of the first planned run.
"It was soft," said American Travis Ganong, "it was hard to get a ski into anything enough to turn."
Salomon skiers took the top three placings in the training run led by Austrian Romed Baumann. French skier Adrien Theaux was the second fastest finisher and Klaus Kroell of Austria the third quickest.
Canada's Erik Guay locked in fifth place with teammate Jan Hudec in seventh. Top US finisher was Erik Fisher narrowly ahead of Bode Miller. The two finished 17th and 18th respectively.
The Swiss jammed five racers between ninth and 15th with Didier Defago and Didier Cuche 10th and 11th respectively.
Austrian racers mug for the cameras during Wednesday's cancellation, from left Klaus Kroell, Georg Streitberger and Romed Baumann. -Gepa photo
Place
Lake Louise (CAN)
Discipline
Downhill
Date
24.11.2011
Category
Training
Race codex
0253
Gender
M
Valid for FIS Points
NO
TD Name
Van Slyke Paul (USA)

OFFICIAL RESULTS – SECOND TRAINING
| | | | | | | |
| --- | --- | --- | --- | --- | --- | --- |
| Rank | Bib | FIS Code | Name | Year | Nation | Total Time |
| 1 | 12 | 51215 | BAUMANN Romed | 1986 | AUT | 1:49.12 |
| 2 | 9 | 192746 | THEAUX Adrien | 1984 | FRA | 1:49.15 |
| 3 | 10 | 50753 | KROELL Klaus | 1980 | AUT | 1:49.28 |
| 4 | 6 | 292455 | FILL Peter | 1982 | ITA | 1:49.33 |
| 5 | 11 | 102263 | GUAY Erik | 1981 | CAN | 1:49.35 |
| 6 | 30 | 51327 | PUCHNER Joachim | 1987 | AUT | 1:49.49 |
| 7 | 27 | 102271 | HUDEC Jan | 1981 | CAN | 1:49.58 |
| 8 | 5 | 191591 | BERTRAND Yannick | 1980 | FRA | 1:49.68 |
| 9 | 17 | 421328 | SVINDAL Aksel Lund | 1982 | NOR | 1:49.78 |
| 10 | 13 | 510727 | DEFAGO Didier | 1977 | SUI | 1:49.81 |
| 11 | 20 | 510030 | CUCHE Didier | 1974 | SUI | 1:49.84 |
| 12 | 14 | 510890 | ZURBRIGGEN Silvan | 1981 | SUI | 1:49.93 |
| 13 | 15 | 511383 | FEUZ Beat | 1987 | SUI | 1:49.96 |
| 14 | 45 | 53817 | FRANZ Max | 1989 | AUT | 1:50.06 |
| 15 | 1 | 510767 | HOFFMANN Ambrosi | 1977 | SUI | 1:50.31 |
| 16 | 3 | 50858 | STREITBERGER Georg | 1981 | AUT | 1:50.42 |
| 17 | 35 | 534939 | FISHER Erik | 1985 | USA | 1:50.46 |
| 18 | 19 | 532431 | MILLER Bode | 1977 | USA | 1:50.50 |
| 19 | 2 | 501076 | OLSSON Hans | 1984 | SWE | 1:50.52 |
| 20 | 4 | 191740 | CLAREY Johan | 1981 | FRA | 1:50.54 |
| 21 | 48 | 50742 | REICHELT Hannes | 1980 | AUT | 1:50.61 |
| 21 | 26 | 291459 | PARIS Dominik | 1989 | ITA | 1:50.61 |
| 21 | 8 | 511313 | JANKA Carlo | 1986 | SUI | 1:50.61 |
| 24 | 21 | 380260 | KOSTELIC Ivica | 1979 | CRO | 1:50.63 |
| 25 | 24 | 192932 | FAYED Guillermo | 1985 | FRA | 1:50.78 |
| 26 | 69 | 51401 | GRAF Bernhard | 1988 | AUT | 1:50.85 |
| 27 | 16 | 511139 | KUENG Patrick | 1984 | SUI | 1:50.88 |
| 27 | 7 | 560447 | SPORN Andrej | 1981 | SLO | 1:50.88 |
| 29 | 18 | 292514 | HEEL Werner | 1982 | ITA | 1:50.89 |
| 30 | 32 | 50625 | RAICH Benjamin | 1978 | AUT | 1:51.00 |
| 31 | 66 | 510747 | GRUENENFELDER Tobias | 1977 | SUI | 1:51.26 |
| 32 | 68 | 53902 | MAYER Matthias | 1990 | AUT | 1:51.28 |
| 33 | 31 | 421483 | JANSRUD Kjetil | 1985 | NOR | 1:51.29 |
| 34 | 41 | 510993 | ALBRECHT Daniel | 1983 | SUI | 1:51.32 |
| 35 | 38 | 533131 | SULLIVAN Marco | 1980 | USA | 1:51.44 |
| 36 | 70 | 194190 | ROGER Brice | 1990 | FRA | 1:51.61 |
| 37 | 51 | 180570 | ROMAR Andreas | 1989 | FIN | 1:51.69 |
| 38 | 65 | 191964 | POISSON David | 1982 | FRA | 1:51.74 |
| 39 | 47 | 53981 | KROELL Johannes | 1991 | AUT | 1:51.78 |
| 40 | 72 | 6530319 | COCHRAN-SIEGLE Ryan | 1992 | USA | 1:51.83 |
| 41 | 78 | 191746 | DE TESSIERES Gauthier | 1981 | FRA | 1:51.84 |
| 42 | 40 | 53837 | KRAMER Manuel | 1989 | AUT | 1:51.88 |
| 42 | 34 | 201811 | STECHERT Tobias | 1985 | GER | 1:51.88 |
| 44 | 36 | 102961 | DIXON Robbie | 1985 | CAN | 1:51.91 |
| 45 | 53 | 380292 | ZRNCIC-DIM Natko | 1986 | CRO | 1:51.94 |
| 46 | 44 | 511142 | LUEOEND Vitus | 1984 | SUI | 1:51.96 |
| 47 | 52 | 561087 | MARKIC Gasper | 1986 | SLO | 1:52.09 |
| 48 | 39 | 530874 | GANONG Travis | 1988 | USA | 1:52.14 |
| 49 | 46 | 500150 | JAERBYN Patrik | 1969 | SWE | 1:52.20 |
| 50 | 75 | 511352 | VILETTA Sandro | 1986 | SUI | 1:52.24 |
| 51 | 54 | 202059 | FERSTL Josef | 1988 | GER | 1:52.26 |
| 52 | 74 | 290998 | STAUDACHER Patrick | 1980 | ITA | 1:52.28 |
| 53 | 43 | 200379 | SANDER Andreas | 1989 | GER | 1:52.29 |
| 54 | 84 | 421650 | BJERKESTRAND Iver | 1987 | NOR | 1:52.41 |
| 55 | 73 | 561085 | KRIZAJ Andrej | 1986 | SLO | 1:52.61 |
| 56 | 29 | 560332 | JERMAN Andrej | 1978 | SLO | 1:52.62 |
| 57 | 56 | 294911 | PATSCHEIDER Hagen | 1988 | ITA | 1:52.81 |
| 58 | 50 | 990081 | CASSE Mattia | 1990 | ITA | 1:52.90 |
| 59 | 62 | 561216 | KLINE Bostjan | 1991 | SLO | 1:52.92 |
| 60 | 79 | 102403 | SEMPLE Ryan | 1982 | CAN | 1:53.01 |
| 60 | 33 | 534562 | LIGETY Ted | 1984 | USA | 1:53.01 |
| 62 | 57 | 561067 | PERKO Rok | 1985 | SLO | 1:53.04 |
| 63 | 42 | 293550 | MARSAGLIA Matteo | 1985 | ITA | 1:53.09 |
| 64 | 71 | 534289 | FRANK Chris | 1983 | USA | 1:53.19 |
| 64 | 25 | 511529 | GISIN Marc | 1988 | SUI | 1:53.19 |
| 66 | 82 | 531799 | FORD Tommy | 1989 | USA | 1:53.36 |
| 67 | 58 | 103271 | THOMSEN Benjamin | 1987 | CAN | 1:53.39 |
| 68 | 23 | 102873 | KUCERA John | 1984 | CAN | 1:53.45 |
| 69 | 81 | 531156 | TARBERRY Ace | 1988 | USA | 1:53.47 |
| 70 | 80 | 220874 | BALDWIN TJ | 1990 | GBR | 1:53.57 |
| 71 | 76 | 220695 | CRAWFORD Douglas | 1987 | GBR | 1:53.64 |
| 72 | 49 | 930024 | MAPLE Wiley | 1990 | USA | 1:53.71 |
| 73 | 77 | 380298 | SIROKI Tin | 1987 | CRO | 1:53.89 |
| 73 | 61 | 103656 | HALBERT Kelby | 1990 | CAN | 1:53.89 |
| 75 | 55 | 100558 | COOK Dustin | 1989 | CAN | 1:53.95 |
| 76 | 63 | 294277 | KLOTZ Siegmar | 1987 | ITA | 1:53.96 |
| 77 | 64 | 103090 | HELIE Louis-Pierre | 1986 | CAN | 1:54.12 |
| 78 | 59 | 531452 | BIESEMEYER Thomas | 1989 | USA | 1:54.18 |
| 79 | 67 | 103385 | PRIDY Conrad | 1988 | CAN | 1:54.34 |
| 80 | 60 | 54005 | STRIEDINGER Otmar | 1991 | AUT | 1:54.92 |
| 81 | 85 | 380318 | BRIGOVIC Sebastian | 1992 | CRO | 1:56.58 |
| 82 | 83 | 400016 | WANDERS Arjan | 1978 | NED | 1:57.22 |
| 83 | 28 | 201606 | KEPPLER Stephan | 1983 | GER | 1:57.95 |
| 84 | 37 | 530939 | WEIBRECHT Andrew | 1986 | USA | 2:01.00 |
| 85 | 22 | 293006 | INNERHOFER Christof | 1984 | ITA | 2:02.07 |