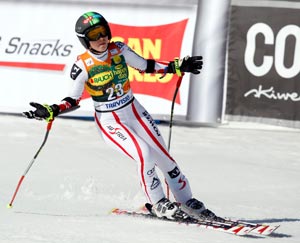 Austrian ski racer Nicole Schmidhofer will likely miss the first few months of the 2012 World Cup season after sustaining a leg injury while training in Zermatt, Switzerland.
The 22-year-old speed specialist and 20-time World Cup top-30 finisher, fractured her left ankle and partially tore her left hamstring. After an MRI, doctors decided that Schmidhofer will not need surgery to repair the damage.
"I suspect that it will take until January before I can again intervene in the world cup scene," Schmidhofer told the APA.
Schmidhofer will require eight weeks of rest to restabilize the ankle and physical therapy to heal the hamstring.
Image by Gepa