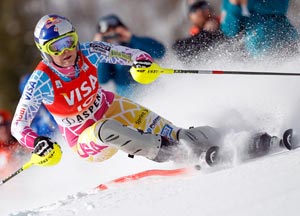 Officials from the International Ski Federation (FIS) today (Nov. 17) cleared Aspen's Lower Ruthie's Run course to host women's World Cup competition next weekend.
Cold temperatures at the beginning of November allowed course workers to get their snowmaking homework done early and several mid-month snow storms pitched in as course shapers got to work.
"This has been one of our best preparation periods ever," said Aspen Director of Public Relations, Jeff Henle. "We were able to blow plenty of snow at the begging of the month and take our time perfecting the course and avoid the stress of having to work on it last minute."
The U.S. Ski Team women, who have been training at nearby Vail and Copper Mt. for the past three weeks, will make the move to Aspen this weekend to take advantage of training on the race slope along with several other nations that are in the area.
The 2011 Aspen Winternational World Cup event consists of a women's giant slalom Friday, Nov. 26, followed by a slalom on Sunday.
For a complete preview of what to look for at the Aspen races, watch for a brand new digital issue of Ski Racing due out early next week.
Image: Lindsey Vonn races in Aspen last year. by Gepa