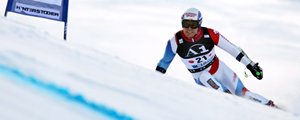 Germany's Tobias Stechert won back to back downhills in LaParva last week with Frenchmen Yannick Bertrand and Andreas Sander gaining the other podium p-lacings in the first and Slovene Gasper Markic and German Josef Ferstl in the second. World Junior Champion Bostjan Kline of Slovenia got the super G win with Bertrand second and German Stephan Keppler third.
But the bigger news of the races may have been the placings of Swiss Daniel Albrecht who completed his first speed races since his horrific crash in Kitzbuehel in 2009. In La Parva Albrecht finished 11th in both of the downhill races and took 31st in the super-G among 58 competitors.
There were no U.S. skiers in the fields. Canadian Benjamin Thomsen led his squad in the downhills with finishes of 17th and 13th. Dustin Cook led the Canadians in the super G finishing 15th.
On the ladies side, a much smaller field was at start and all three races were won by Russian 17-year-old Alexandra Prokopyeva.
Daniel Albrecht file photo by Gepa.
Place
La
Parva (CHI)
Discipline
Downhill
Date
06.09.2011
Category
South American Cup
Race codex
0037
Gender
M
Valid for FIS Points
YES
TD Name
Hughes Chuck (USA)
Rank
Bib
FIS Code
Name
Year
Nation
Total Time
FIS Points
1
28
201811
STECHERT Tobias
1985
GER
1:20.22
6.00
2
46
191591
BERTRAND Yannick
1980
FRA
1:20.29
7.16
3
44
200379
SANDER Andreas
1989
GER
1:20.44
9.65
4
52
202059
FERSTL Josef
1988
GER
1:20.66
13.29
5
30
191964
POISSON David
1982
FRA
1:20.70
13.96
6
29
194167
MUZATON Maxence
1990
FRA
1:20.79
15.45
7
31
192746
THEAUX Adrien
1984
FRA
1:20.82
15.95
8
41
561087
MARKIC Gasper
1986
SLO
1:20.89
17.11
9
32
201987
STRODL Andreas
1987
GER
1:21.05
19.76
10
48
192932
FAYED Guillermo
1985
FRA
1:21.13
21.09
11
33
510993
ALBRECHT Daniel
1983
SUI
1:21.14
21.25
12
45
191740
CLAREY Johan
1981
FRA
1:21.22
22.58
13
47
201606
KEPPLER Stephan
1983
GER
1:21.32
24.24
14
43
561216
KLINE Bostjan
1991
SLO
1:21.40
25.56
15
54
192504
MERMILLOD BLONDIN Thomas
1984
FRA
1:21.49
27.06
16
35
510747
GRUENENFELDER Tobias
1977
SUI
1:21.56
28.22
17
40
103271
THOMSEN Benjamin
1987
CAN
1:21.58
28.55
18
39
561067
PERKO Rok
1985
SLO
1:21.68
30.21
19
53
220695
CRAWFORD Douglas
1987
GBR
1:21.70
30.54
20
50
194190
ROGER Brice
1990
FRA
1:21.82
32.53
21
60
102403
SEMPLE Ryan
1982
CAN
1:21.95
34.68
22
34
193034
BOUILLOT Alexandre
1985
FRA
1:22.02
35.84
23
49
202125
ZEPNIK Philipp
1988
GER
1:22.09
37.00
24
51
561085
KRIZAJ Andrej
1986
SLO
1:22.13
37.67
25
42
103656
HALBERT Kelby
1990
CAN
1:22.22
39.16
26
57
220874
BALDWIN TJ
1990
GBR
1:22.26
39.82
27
58
481196
BYSTROV Andrey
1991
RUS
1:22.35
41.31
28
61
481054
MURAVYEV Ivan
1989
RUS
1:22.46
43.14
29
38
100558
COOK Dustin
1989
CAN
1:22.47
43.30
30
36
191778
PICHOT Sebastien
1981
FRA
1:22.48
43.47
31
55
220656
DRAKE Ed
1986
GBR
1:22.52
44.13
32
56
191746
DE TESSIERES Gauthier
1981
FRA
1:22.53
44.30
33
62
481327
TRIKHICHEV Pavel
1992
RUS
1:22.55
44.63
34
37
103385
PRIDY Conrad
1988
CAN
1:22.95
51.26
35
27
221053
STEUDLE Roy-Alexander
1993
GBR
1:24.92
83.92
36
21
110320
CLARO Eugenio
1993
CHI
1:24.97
84.75
37
24
110269
CARVALLO Nicolas
1991
CHI
1:25.59
95.03
38
23
430560
RZEPECKI Filip
1992
POL
1:25.74
97.52
39
22
110263
SUMPS Stephan
1988
CHI
1:25.83
99.01
40
63
870002
STEYN Luke
1993
ZIM
1:25.90
100.17
41
67
110328
PFINGSTHORN Sebastian
1994
CHI
1:26.57
111.28
42
26
110324
VON APPEN Henrik
1994
CHI
1:26.88
116.42
43
25
110268
CARVALLO Benjamin
1991
CHI
1:27.22
122.06
44
64
221190
NORRIS Kieran
1995
GBR
1:29.64
162.18
45
69
110290
RIVERA Matias Jose
1992
CHI
1:30.20
171.46
46
66
110350
FIGUEROA Andres
1996
CHI
1:30.21
171.63
47
68
110351
QUIROGA Gonzalo
1996
CHI
1:32.19
204.46
Did not start 1st run
59
480885
LISITSA Evgeniy
1987
RUS
Did not finish 1st run
65
110330
DUCCI Diego
1994
CHI
Place
La
Parva (CHI)
Discipline
Downhill
Date
07.09.2011
Category
South American Cup
Race codex
0038
Gender
M
Valid for FIS Points
YES
TD Name
Hughes Chuck (USA)
Rank
Bib
FIS Code
Name
Year
Nation
Total Time
FIS Points
1
23
201811
STECHERT Tobias
1985
GER
1:21.14
6.00
2
29
561087
MARKIC Gasper
1986
SLO
1:21.58
13.21
3
25
202059
FERSTL Josef
1988
GER
1:21.83
17.31
4
21
191591
BERTRAND Yannick
1980
FRA
1:21.98
19.77
5
24
200379
SANDER Andreas
1989
GER
1:22.02
20.42
6
30
201987
STRODL Andreas
1987
GER
1:22.30
25.01
7
28
192746
THEAUX Adrien
1984
FRA
1:22.44
27.31
8
41
201606
KEPPLER Stephan
1983
GER
1:22.52
28.62
9
22
191964
POISSON David
1982
FRA
1:22.56
29.28
10
47
194190
ROGER Brice
1990
FRA
1:22.69
31.41
11
33
510993
ALBRECHT Daniel
1983
SUI
1:22.78
32.88
12
39
192504
MERMILLOD BLONDIN Thomas
1984
FRA
1:23.21
39.93
13
42
103271
THOMSEN Benjamin
1987
CAN
1:23.23
40.26
14
37
561067
PERKO Rok
1985
SLO
1:23.24
40.42
15
46
202125
ZEPNIK Philipp
1988
GER
1:23.25
40.59
16
35
191740
CLAREY Johan
1981
FRA
1:23.28
41.08
17
32
192932
FAYED Guillermo
1985
FRA
1:23.56
45.67
18
55
561085
KRIZAJ Andrej
1986
SLO
1:23.79
49.44
19
50
510747
GRUENENFELDER Tobias
1977
SUI
1:23.84
50.26
20
38
102403
SEMPLE Ryan
1982
CAN
1:23.89
51.08
21
49
193034
BOUILLOT Alexandre
1985
FRA
1:23.98
52.55
22
40
561216
KLINE Bostjan
1991
SLO
1:24.30
57.80
23
61
481327
TRIKHICHEV Pavel
1992
RUS
1:24.42
59.76
24
48
220695
CRAWFORD Douglas
1987
GBR
1:24.53
61.57
25
52
103656
HALBERT Kelby
1990
CAN
1:24.69
64.19
26
57
191746
DE TESSIERES Gauthier
1981
FRA
1:25.05
70.09
27
59
481196
BYSTROV Andrey
1991
RUS
1:25.06
70.25
28
58
220874
BALDWIN TJ
1990
GBR
1:25.10
70.91
29
51
100558
COOK Dustin
1989
CAN
1:25.29
74.02
30
54
103385
PRIDY Conrad
1988
CAN
1:25.82
82.71
31
56
220656
DRAKE Ed
1986
GBR
1:25.85
83.20
32
53
191778
PICHOT Sebastien
1981
FRA
1:26.19
88.78
33
60
481054
MURAVYEV Ivan
1989
RUS
1:26.38
91.89
34
44
110324
VON APPEN Henrik
1994
CHI
1:27.14
104.35
35
34
430560
RZEPECKI Filip
1992
POL
1:27.76
114.51
36
36
110269
CARVALLO Nicolas
1991
CHI
1:28.07
119.59
37
45
221053
STEUDLE Roy-Alexander
1993
GBR
1:28.22
122.05
38
43
110320
CLARO Eugenio
1993
CHI
1:28.48
126.31
39
26
110268
CARVALLO Benjamin
1991
CHI
1:28.53
127.13
40
31
110263
SUMPS Stephan
1988
CHI
1:29.35
140.57
41
62
870002
STEYN Luke
1993
ZIM
1:30.07
152.38
42
64
110328
PFINGSTHORN Sebastian
1994
CHI
1:30.41
157.95
43
66
110330
DUCCI Diego
1994
CHI
1:32.19
187.13
44
67
110350
FIGUEROA Andres
1996
CHI
1:33.79
213.35
45
68
110290
RIVERA Matias Jose
1992
CHI
1:33.99
216.63
46
63
221190
NORRIS Kieran
1995
GBR
1:34.80
229.91
47
65
110351
QUIROGA Gonzalo
1996
CHI
1:36.37
255.64
Did not finish 1st run
27
194167
MUZATON Maxence
1990
FRA
Place
La
Parva (CHI)
Discipline
Super G
Date
08.09.2011
Category
South American Cup
Race codex
0039
Gender
M
Valid for FIS Points
YES
TD Name
Hughes Chuck (USA)
Rank
Bib
FIS Code
Name
Year
Nation
Total Time
FIS Points
1
31
561216
KLINE Bostjan
1991
SLO
1:19.74
6.00
2
40
191591
BERTRAND Yannick
1980
FRA
1:19.77
6.40
3
24
201606
KEPPLER Stephan
1983
GER
1:19.90
8.13
4
37
191746
DE TESSIERES Gauthier
1981
FRA
1:19.96
8.92
5
35
560447
SPORN Andrej
1981
SLO
1:20.02
9.72
6
46
192746
THEAUX Adrien
1984
FRA
1:20.31
13.58
7
66
191964
POISSON David
1982
FRA
1:20.53
16.50
8
48
561087
MARKIC Gasper
1986
SLO
1:20.56
16.90
9
39
560332
JERMAN Andrej
1978
SLO
1:20.58
17.17
10
41
561085
KRIZAJ Andrej
1986
SLO
1:20.60
17.43
11
42
201811
STECHERT Tobias
1985
GER
1:20.65
18.10
12
55
202059
FERSTL Josef
1988
GER
1:20.69
18.63
13
29
193034
BOUILLOT Alexandre
1985
FRA
1:20.74
19.29
14
22
561067
PERKO Rok
1985
SLO
1:20.93
21.82
15
43
100558
COOK Dustin
1989
CAN
1:21.13
24.48
16
52
194190
ROGER Brice
1990
FRA
1:21.27
26.34
17
54
191740
CLAREY Johan
1981
FRA
1:21.35
27.40
18
68
192932
FAYED Guillermo
1985
FRA
1:21.49
29.26
19
50
200379
SANDER Andreas
1989
GER
1:21.52
29.66
20
27
201987
STRODL Andreas
1987
GER
1:21.54
29.93
21
51
191778
PICHOT Sebastien
1981
FRA
1:21.78
33.12
21
25
220656
DRAKE Ed
1986
GBR
1:21.78
33.12
23
28
220874
BALDWIN TJ
1990
GBR
1:21.80
33.38
24
59
103271
THOMSEN Benjamin
1987
CAN
1:21.83
33.78
25
56
202125
ZEPNIK Philipp
1988
GER
1:21.93
35.11
26
57
103656
HALBERT Kelby
1990
CAN
1:21.98
35.78
27
65
481327
TRIKHICHEV Pavel
1992
RUS
1:22.16
38.17
27
58
220695
CRAWFORD Douglas
1987
GBR
1:22.16
38.17
27
53
103385
PRIDY Conrad
1988
CAN
1:22.16
38.17
30
62
102403
SEMPLE Ryan
1982
CAN
1:22.34
40.56
31
49
510993
ALBRECHT Daniel
1983
SUI
1:22.54
43.22
32
60
481054
MURAVYEV Ivan
1989
RUS
1:22.75
46.01
33
63
481196
BYSTROV Andrey
1991
RUS
1:22.87
47.61
34
61
480885
LISITSA Evgeniy
1987
RUS
1:23.11
50.80
35
64
532165
LEAFE Trevor
1989
USA
1:23.18
51.73
36
69
481428
NOVIKOV Vladislav
1993
RUS
1:23.23
52.39
37
67
6530250
MORSE Ben
1992
USA
1:24.03
63.03
38
21
430560
RZEPECKI Filip
1992
POL
1:24.09
63.83
39
38
870002
STEYN Luke
1993
ZIM
1:24.53
69.67
40
33
110269
CARVALLO Nicolas
1991
CHI
1:24.67
71.54
41
36
110266
ANGUITA Martin
1991
CHI
1:24.71
72.07
42
23
110320
CLARO Eugenio
1993
CHI
1:24.90
74.59
43
32
221053
STEUDLE Roy-Alexander
1993
GBR
1:25.20
78.58
44
34
110324
VON APPEN Henrik
1994
CHI
1:25.44
81.77
45
44
110263
SUMPS Stephan
1988
CHI
1:25.49
82.44
46
26
110294
ECHEVERRIA Jose Tomas
1992
CHI
1:25.51
82.70
47
30
110268
CARVALLO Benjamin
1991
CHI
1:25.62
84.16
48
47
180729
SVENSK Mikael
1994
FIN
1:25.73
85.63
49
74
110350
FIGUEROA Andres
1996
CHI
1:27.38
107.56
50
45
110328
PFINGSTHORN Sebastian
1994
CHI
1:27.73
112.21
51
70
110339
ECHEVERRIA Sebastian
1995
CHI
1:28.37
120.72
52
72
221190
NORRIS Kieran
1995
GBR
1:29.28
132.82
53
79
110351
QUIROGA Gonzalo
1996
CHI
1:30.96
155.15
54
76
110346
ULLOA Manuel
1995
CHI
1:31.21
158.47
55
75
110356
OPPLIGER Lucas
1996
CHI
1:31.25
159.00
56
77
110362
SAMSING Hans
1996
CHI
1:32.04
169.51
57
73
110347
VENEZIAN Eduardo
1995
CHI
1:32.41
174.42
58
80
110363
SAMSING Ian
1996
CHI
1:32.88
180.67
Did not start 1st run
71
110297
EGUIGUREN Gonzalo
1992
CHI
Did not finish 1st run
81
110345
ARZE Ivan
1995
CHI
78
110330
DUCCI Diego
1994
CHI