Goepper opens with a win in slopestyle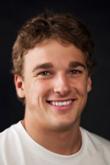 The slopestyle season got underway with first year US team member Nick Goepper using tricks he'd never practiced to out perform the field for the first win of the season at Cardrona, New Zealand Aug. 25.
In his first run Goepper said he went with the practiced and proven approach, but in the second, "I went out and did something completely new, that I hadn't practiced, but was confident I could land. I mixed it up and tried to get a little more creative on the jumps."
Goepper performed a trio of difficult tricks in that run including a Screamin' Semen, a right flat spin 9– and a double 1260 true tail grab.
"That is the type of aggressive skiing that it takes to be the best," said head coach Mike Jankowski. "I'm looking forward for great things to come from Nick this season."
With Slopestyle making its Olympic debut this season and a tight qualifying situation the win was considered critical in securing maximum quote spots.
In the women's event Devin Logan, a winner in halfpipe a week prior crashed in both runs to finish fifth.