Camp: Eliteam Conditioning Camps
Eliteam Conditioning Camps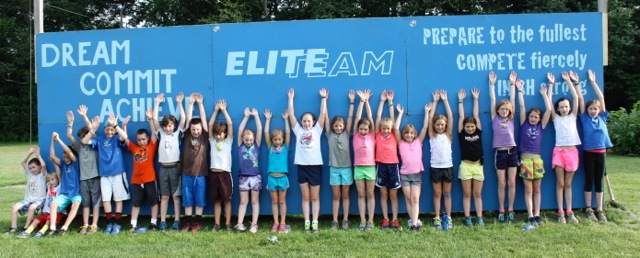 Overview: ELITEAM Conditioning camps are specifically designed for young athletes (ages 8-14). ELITEAM's unique approach teaches these young athletes the importance of sports physiology, sports psychology and sports nutrition. In its 23rd year, ELITEAM is high energy with non-stop action and is all about pushing limits, learning new skills and having fun! ELITEAM 's goal is simple… to develop healthy, confident and "complete" athletes.
Through its "hands-on" approach, ELITEAM involves the athlete in the education process. Activities such as rock wall climbing, ropes courses and race situations will be used to teach focus, mental imagery skills and stress management. Mountain biking, running and ski specific exercises will be used to understand the body's physiological functions. And by baking bread, muffins and other healthy snacks, and nutritionally evaluating a variety of foods, the athletes discover how diet can affect their health and performance.
Ultimately, ELITEAM is more than a set of conditioning camps. It is a philosophy. It is a way of life where the focus is on fun, healthy living, learning, growing, setting goals and pushing your limits, both mentally and physically.
Featuring Olympian Doug Lewis: Doug Lewis, creator of ELITEAM camps, is a two-time U.S. Olympian and World Championship medalist. Doug has been extensively involved in World Class athletics as a ski racer, coach, broadcaster, motivational speaker and spokesperson for over 30 years.  He has dedicated himself to passing on his winning knowledge of sports and competition to young athletes.
Activities: A wide variety of cross-training activities to improve each athlete's power, strength, balance, agility & coordination. Including…dryland SL, ropes courses, rock wall climbing, slacklining, ski-specific exercises, obstacle courses, sand pits, hiking, soccer, yoga, cooking, funky dance, circuits, leg routines, USST exercises, mtn biking (world cup camps only), and more
Who Attends: ELITEAM is for high energy kids who love the outdoors and are involved in competitive sports. Many of the campers who attend are young ski racers, but any young athlete is welcome. No matter what sport your child participates in, he/she can benefit from the ELITEAM program. Overall, ELITEAM is ideal for kids who are active, outdoorsy, and love a challenge!
Locations: ELITEAM is now offering camps in both Utah and Vermont. The common goal of all camps is to educate, inspire, and have fun! All sessions are overnight camps, which is an important part of the experience and education process. The athletes become fully immersed into the ELITEAM world for several intense days of work and fun!
Park City, Utah: ELITEAM has partnered with the U.S. Ski Team to provide exclusive access to the Team's Center of Excellence facility and World Class Trainers. ELITEAM will use the Center's gym, testing equipment, workout rooms, kitchen and classroom. Every afternoon, the athletes will hear directly from a U.S. Ski Team guest speaker to learn about a variety of topics, covering the target areas of Sports Physiology, Sports Psychology and Sports Nutrition. ELITEAM will also use the many recreational fields and trails in and around Park City. All campers will be housed at the National Ability Center's Lodge.
Waitsfield, Vermont: ELITEAM's roots run deep in Vermont. The camps began there in 1991 with a tiny group of enthusiastic campers, and have been growing ever since. ELITEAM's Vermont camps are held at one of the East's premier ski academies, the Green Mountain Valley School. All campers and staff stay in the dorms. ELITEAM utilizes the academy's gymnasium, soccer fields, and ropes courses, along with the Mad River Valley's extensive trails, fields and mountains for training and activities.
Camper/Coach Ratio: Approximately 40-45 campers attend each session. A ratio of 4:1 ensures personal attention for every camper.
Camp Dates & Rates:  Park City, Utah 
World Cup (ages 11-14) June 22-26 – $1250                         -
Europa Cup (ages 8-11) June 28-July 1 – $800                      -
Waitsfield, Vermont
Europa Cup 1- (ages 8-11) July 9-12 - $700
Europa Cup 2 (ages 8-11) July 16-19 - $700
World Cup 1-(ages 11-14) July 21-26 – $1125
World Cup 2 (ages 11-14) July 28-Aug 2 – $1125
Contact: Director Kelley Lewis 802-793-5055, kelley@eliteam.com