Olympics: Bright wins first Australian gold in snowboard halfpipe, Teter silver, Clark bronze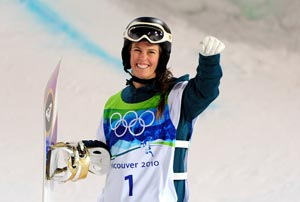 VANCOUVER, BC (Feb. 18) – Australian snowboarder Torah Bright, flag bearer for her nation in the opening ceremonies, proved she can lead her team in competition as well tonight as she won a gold medal in the women's halfpipe event at Cypress Mountain. It was the first Australian gold medal of these Games, second overall after moguls skier Dale Begg-Smith's silver medal performance. American Hannah Teter, the defending gold medalist, took the silver while teammate Kelly Clark (2002 gold medalist) rounded out the podium in third place.
"For Australia, a Winter Olympic medal is huge. We're not known for our winters, we're more known for our white sandy beaches," laughed Bright. "We [my family] travelled a lot in the northern hemisphere. My mum home schooled me, so I could keep snowboarding and doing what I do. It's been a long journey, but a good one."
Bright, who finished fifth at the Torino Games, came into Vancouver in banged up shape. Only three weeks ago, the 23-year-old was forced to pull out of the X Games after sustaining two concussions in three days. She looked as sharp as ever tonight taking the best scores from qualification, all the way through to the final in front of more than 4,000 screaming spectators.
Bright's parents traveled over over 30 hours to see their daughter's performance, hiding in the audience. "I had no idea my parents were here. It wasn't until my second run [that] my brother Ben pointed them out," she said. "I just wanted to burst into tears, I was so happy."
After falling while attempting a backside 720 in her first run, Bright was pushed to the first start in the second run. On her second go she brought out a huge backside 360, followed by a Switch Backside 720 and a Backside 540, and waited while 12 riders unsuccessfully tried to beat her.
The U.S. had four riders in the final and had high hopes of an American sweep, but, similar to the men's event, won by Shaun White, they settled four two of three as Bright put down 45-point second run that held for the win in the best of two run format.
Teter was leading after the first run with 42.4 points but lost the edge when she bobbled a frontside 360 during her second run.
"Torah's run was super motivating. I knew I'd have to throw down super hard to try to catch her," said Teter who has donated all of her winnings to charity for the last three years. "I couldn't catch her tonight. She was on fire."
American's Elena Hight and defending silver medalist Gretchen Bleiler, who fell in both of her runs, finished 10th and 11th, respectively.
Mercedes Nicoll was the only Canadian to make the final, pulling in a sixth-place finish.
"It was huge to be in my own backyard and make the final," said Nicoll. "The crowd was ridiculous, and my whole family was here to see me."
The 16-year-old World Cup leader, Xuetong CAI (CHN), fell on both her runs finishing out of the competition in 23rd.
The U.S. maintains the lead in the overall medal rankings with 17. Germany stands second with 11 ahead of Norway with eight.