Kelleher donates photo contest prize to brother of late racer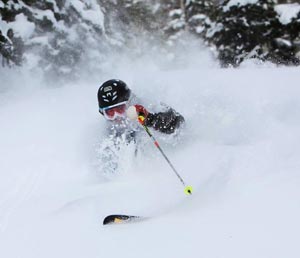 When former U.S. Ski Team racer Keely Kelleher had the idea of honoring late racer Spencer Nelson, she turned to the ski racing community to help her do it.
In February, Kelleher entered a photo she took of former ski racer turned photographer Marcus Caston into a contest put on by ski film maker Warren Miller Entertainment. The photo, which captured Caston cutting through chest-deep snow in one of Kelleher's "secret powder stashes" at Snowbird, won the grand prize after collecting more than 2,000 Facebook votes. As the photo's caption indicated, Kelleher gave the prize - six days of helicopter skiing in Alaska - to Nelson's younger brother Connor.
"I thought it would be cool to donate the trip to Spencer's brother because he is an amazing up-and-coming free skier," said Kelleher. "We thought it would be a perfect thing for him since he's been through so much this year."
Spencer Nelson, a racer at the University of Colorado, was killed in a hiking accident last August. Kelleher became close friends with Spencer last summer when they both lived in the Atomic house in Mt. Hood, Oregon.
Connor Nelson, 19, who recently graduated from the Winter Sports School in Park City, Utah, will be taking the trip – his first time heliskiing - next May.
"It's going to be a trip of a lifetime, I can't wait to see what I can really do and push myself as a big mountain skier while I'm there," said Connor Nelson, who hopes to make a video during the trip to further his career as a professional free skier.
Connor plans to honor his late brother during the trip as he always does while enjoying the sport they both loved.
"We grew up skiing together, he loved skiing as much as I do. He was a racer but he loved skiing pow," said Connor of his brother. "I'll probably bring some ashes with me and scatter them on one of the higher peaks that I get to ski. He's always with me because I have a necklace with his ashes in it that I wear everyday."