Northug sprints to narrow 30k pursuit championship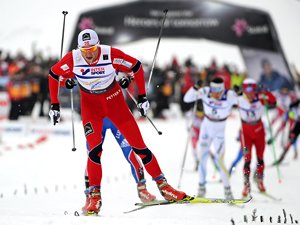 With Holmenkollen stadium packed with flag waving Norwegians, Petter Northug provided the inspiration trampling the field in a breathtaking sprint to the finish and a successful defense of the World 30k pursuit gold medal.
After an hour and ten minutes of racing, the final margin between Northug and silver medalist Maxim Vylegzhanin was 0.7 seconds.
The field remained compact throughout the first classical portion of the race with the few breakaways caught by the pack. It wasn't until near the end of the free technique portion of the race, with Sjur Roethe of Norway leading the pace that the action heated up with Canada's Alex Harvey attacking. The pack hunted him down and at the final uphill, entering the huge stadium, Northug made his move, got a crease between he and Russians Vylegzhanin and Ilia Chernousox and turned on the jets.
"I thought to myself this is probably the only possibility I will ever get to win a gold medal at my home track," said Northug, saying the roar of the crowd helped power him to the win. "This is the biggest thing you can experience. This has been my biggest dream ever since I discovered there would be a Nordic World Championships in Oslo. It is fantastic to have such luck and stand here. The audience was fantastic."
Vylegzhanin said he was pleased with the silver medal. "I attacked in the second to last uphill before the stadium but Petter was faster," he said. He added that the Russian plan had been to remain in contact with the leaders throughout the race. "When Alex Harvey flew away we controled the gap so that he did not break away completely," he said.
Chernousov suggested the Russians should prove strong in the relay, noting that Alexander Legkov could have joined them on the podium had he not fallen and broken a pole.
The win was Northug's third individual world title, plus two relay gold medals from 2007 and 2009.
Gepa image
Place
Oslo
(NOR)
Discipline
30 km M Pursuit
Date
27.02.2011
Category
World Ski Championships
Race codex
2119
Gender
M
Valid for FIS Points
NO - Waiting reports
TD Name
Pekk Tiit (EST)
Rank
Bib
FIS Code
Name
Year
Nation
Time
FIS Points
1
4
3420239
NORTHUG Petter jr.
1986
NOR
1:14:10.4
0.00
2
6
3480013
VYLEGZHANIN Maxim
1982
RUS
1:14:11.1
0.22
3
24
3480314
CHERNOUSOV Ilia
1986
RUS
1:14:11.6
0.38
4
38
1125588
DOLIDOVICH Sergei
1973
BLR
1:14:13.0
0.82
5
13
3420228
JOHNSRUD SUNDBY Martin
1984
NOR
1:14:13.5
0.98
6
5
3500139
HELLNER Marcus
1985
SWE
1:14:13.5
0.98
7
10
3290016
CLARA Roland
1982
ITA
1:14:15.8
1.70
8
23
1178162
ANGERER Tobias
1977
GER
1:14:16.9
2.04
9
8
3100006
KERSHAW Devon
1982
CAN
1:14:16.9
2.04
10
11
1067291
DI CENTA Giorgio
1972
ITA
1:14:19.8
2.96
11
36
3200001
GOERING Franz
1984
GER
1:14:20.5
3.18
12
16
3100110
HARVEY Alex
1988
CAN
1:14:20.7
3.24
13
26
1139459
PILLER COTTRER Pietro
1974
ITA
1:14:21.0
3.33
14
35
3420605
ROETHE Sjur
1988
NOR
1:14:21.2
3.40
15
28
3100190
BABIKOV Ivan
1980
CAN
1:14:22.2
3.71
16
25
1283892
OLSSON Johan
1980
SWE
1:14:23.0
3.96
17
19
3420023
GJERDALEN Tord Asle
1983
NOR
1:14:23.6
4.15
18
15
3180053
HEIKKINEN Matti
1983
FIN
1:14:24.2
4.34
19
2
3480016
LEGKOV Alexander
1983
RUS
1:14:25.9
4.88
20
20
1248293
SOEDERGREN Anders
1977
SWE
1:14:27.6
5.41
21
12
3480832
SEDOV Petr
1990
RUS
1:14:31.3
6.57
22
14
3190111
MANIFICAT Maurice
1986
FRA
1:14:41.2
9.69
23
7
1345875
GAILLARD Jean Marc
1980
FRA
1:15:03.8
16.80
24
1
3510023
COLOGNA Dario
1986
SUI
1:15:04.6
17.05
25
27
1223849
CHECCHI Valerio
1980
ITA
1:15:05.2
17.24
26
32
1106867
BAJCICAK Martin
1976
SVK
1:15:32.6
25.86
27
3
3500015
RICKARDSSON Daniel
1982
SWE
1:15:40.3
28.28
28
47
1292331
SIMILAE Tero
1980
FIN
1:15:50.2
31.39
29
18
1285347
FREEMAN Kris
1980
USA
1:16:20.3
40.86
30
17
1221036
FILBRICH Jens
1979
GER
1:16:21.2
41.15
31
9
3150069
JAKS Martin
1986
CZE
1:17:04.2
54.67
32
29
1286608
PERRILLAT Christophe
1979
FRA
1:17:05.5
55.08
33
33
1363141
FISCHER Remo
1981
SUI
1:17:06.1
55.27
34
22
1100077
VITTOZ Vincent
1975
FRA
1:17:07.3
55.65
35
42
3460018
PEPENE Paul Constantin
1988
ROU
1:17:09.6
56.37
36
21
3200015
REICHELT Tom
1982
GER
1:17:11.4
56.94
37
45
3530489
HOFFMAN Noah
1989
USA
1:17:14.1
57.79
38
49
3390103
TAMMJARV Karel
1989
EST
1:17:15.0
58.07
39
43
1175155
MAGAL Jiri
1977
CZE
1:17:17.7
58.92
40
41
1282728
PINTER Juergen
1979
AUT
1:17:36.7
64.90
41
63
3390074
VAHTRA Eeri
1988
EST
1:17:43.4
67.01
42
31
3300190
YOSHIDA Keishin
1987
JPN
1:17:52.2
69.77
43
39
3180301
LEHTONEN Lari
1987
FIN
1:17:59.9
72.20
44
51
3670006
CHEREPANOV Sergey
1986
KAZ
1:18:00.4
72.35
45
55
3180016
VARIS Kari
1983
FIN
1:18:13.4
76.44
46
30
1324729
GREY George
1979
CAN
1:18:35.1
83.27
47
59
3660013
LASUTKIN Alexander
1983
BLR
1:18:46.8
86.95
48
72
3670032
AKHMADIYEV Yerdos
1985
KAZ
1:18:48.0
87.33
49
62
3670017
MATVIYENKO Gennadiy
1988
KAZ
1:19:03.2
92.11
50
52
3150000
NOVAK Petr
1982
CZE
1:19:27.1
99.63
51
37
1175058
KOUKAL Martin
1978
CZE
1:19:27.4
99.72
52
56
1311925
VILARRUBLA Vicenc
1981
SPA
1:19:27.6
99.78
53
40
1196883
FLORA Lars
1978
USA
1:20:02.4
110.73
54
34
1362656
LIVERS Toni
1983
SUI
1:20:06.3
111.96
55
46
3530492
ELLIOTT Tad
1988
USA
1:20:08.8
112.74
56
44
3300021
NARUSE Nobu
1984
JPN
1:20:10.9
113.41
57
48
1323468
REHEMAA Aivar
1982
EST
1:20:23.3
117.31
58
50
3220002
MUSGRAVE Andrew
1990
GBR
1:20:23.3
117.31
59
61
3090024
TZINZOV Veselin
1986
BUL
1:20:25.8
118.09
60
60
1277393
LEYBYUK Roman
1977
UKR
1:21:05.4
130.55
61
71
3670020
OSSIPOV Aleksandr
1987
KAZ
1:21:10.4
132.12
62
54
3040011
SIM Ben
1985
AUS
1:21:53.6
145.71
63
58
3300209
KIMURA Masaya
1986
JPN
1:22:34.5
158.58
64
53
3490026
GUTIERREZ Javier
1985
SPA
1:22:38.1
159.71
65
57
3420365
BRANDSDAL Eirik
1986
NOR
1:23:20.9
173.18
66
64
3690018
BILOSYUK Myroslav
1985
UKR
1:23:36.9
178.21
Lapped
83
3920002
BAENA Cesar
1986
VEN
82
1287384
BOIT Philip
1971
KEN
81
3080013
LUTZ Leandro
1982
BRA
80
3080005
RIBELA Leandro
1980
BRA
79
3030004
CICHERO Federico Pablo
1983
ARG
78
3770006
ROJIN Artem
1986
KGZ
77
3040039
GRIMMER Nick
1983
AUS
76
3410002
KOONS Benjamin
1986
NZE
75
3040037
WATSON Ewan
1987
AUS
74
3380009
BURIC Andrej
1989
CRO
73
1291070
THOR OLSEN Jonas
1978
DAN
70
3170006
WULFF Kristian
1985
DAN
69
3040080
WATSON Callum
1989
AUS
68
3460021
HOGIU Petrica
1991
ROU
66
3410009
KOONS Nils
1988
NZE
Did not start
84
3920005
BAENA Bernardo
1990
VEN
Did not finish
67
3390002
KOKK Kaspar
1982
EST
65
3560087
TRSAN Rok
1992
SLO