Canadians rule World Cup dual moguls at home in Mont Gabriel, Cota fourth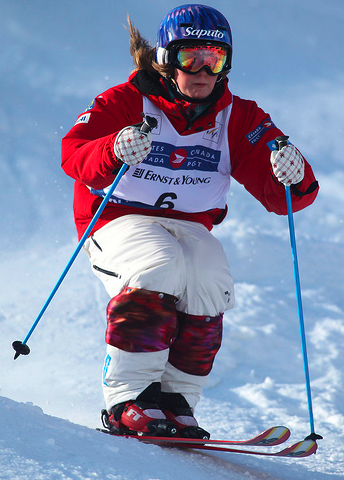 Canadian skiers controlled the moguls hill today (Jan. 15) in front of a home crowd of 2,000 in Mont Gabriel as four Canadians landed on the podium. Canadians Alexandre Bilodeau and Justine Dufour-Lapointe grabbed the World Cup dual moguls wins.
Bilodeau, who became a national hero last February by being the first Canadian to win an Olympic gold medal on home soil, secured his first World Cup podium of the season by outlasting teammate Mikael Kingsbury, who at just 18 earned his third World Cup podium of the season.
"It feels great to touch the podium again and I think the results here are really promising for the rest of the season," said Bilodeau. "What we see here today with the men and the women speaks to the excellent job the Canadian Freestyle Ski Association is doing and it looks really positive for the future."
Overall World Cup leader, France's Guilbaut Colas took home third - his fourth podium of the season - after beating American Jeremy Cota, who finished fourth, in the small final. Colas was also the winner of this season's first dual moguls contest in mid-December in Meribel, France.
The result marked Cota's career-best finish as he led the U.S. Team followed by World Champion Patrick Deneen in fifth and Olympic bronze medalist Bryon Wilson in seventh. Teammate Sho Kashima also cracked the top ten in eighth.
Cota, who qualified in fifth, won his first round before having to go head-to-head with Deneen in the quarterfinals. "I knew it was gonna be a tough dual. Pat is one of the fastest guys out there," said Cota. "I pushed myself speedwise and we were pretty close across the finish line. I had a little higher degree of difficulty and it paid off for me."
In his semifinal run Cota faced off with Bilodeau, the eventual winner. "I probably skied the best run I was capable of skiing, but it wasn't quite enough," said Cota of his semifinal run.
On the women's side, Dufour-Lapointe beat Russian skier Anastassia Gunchenko in the final. Canadian Olympic silver medalist and five-time overall titleholder Jennifer Heil rounded out the podium in third after besting Justine's older sister Chloé in the consolation round.
"I'm really stoked, I'm more than happy," said 20-year-old Justine Dufour-Lapointe. "I can't believe that I won my first World Cup here in Mt. Gabriel and in my home country for only my third competition on the World Cup circuit."
All three Dufour-Lapointe sisters, Justine, Chloé and Maxime, all of whom grew up skiing with the Mt. Gabriel Freestyle Team, made it to the finals. It was the first time in Canadian Freestyle history that three siblings from the same family competed in a World Cup event together.
Eliza Outtrim led the American women in seventh followed by Olympic gold medalist and current overall leader Hannah Kearney in ninth. Kearney, who qualified in second, was eliminated early when she had an uncharacteristic mistake as she slid out on her landing off the bottom hit in the first round of the finals.

World Cup freestyle skiing competition continues in Mont Gabriel tomorrow with men's and women's aerials competitions before heading stateside, Jan. 22-23, when Lake Placid, NY will play host to the Nature Valley Freestyle Cup which includes two men's and women's moguls events.
Image of Justine Dufor-Lapointe by Freestyle Canada
OFFICIAL RESULTS
FIS Freestyle World Cup
Mont Gabriel, QC - Jan. 15, 2011
Dual Moguls
Men
1. Alexandre Bilodeau, Canada
2. Mikael Kingsbury, Canada
3. Guilbaut Colas, France
-
4. Jeremy Cota, Carrabassett Valley, ME
5. Patrick Deneen, Cle Elum, WA
7. Bryon Wilson, Butte, MT
8. Sho Kashima, Lake Tahoe, CA
17. David DiGravio, Famrington, ME
22. Joe Discoe, Telluride, CO
32. Nate Roberts, Park City, UT

Women
1. Justine Dufor-Lapointe, Canada
2. Anastassia Gunchenko, Russia
3. Jennifer Heil, Canada
-
7. Eliza Outtrim, Steamboat Springs, CO
9. Hannah Kearney, Norwich, VT
17. Heather McPhie, Bozeman, MT
24. Kayla Snyderman, Winchester, MA
35. Heidi Kloser, Vail, CO