FIS Council suspends Morzenti after conviction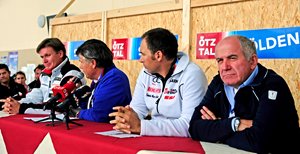 The FIS Council has suspended an Italian member after a conviction on counts of extortion.
The Council Saturday (Nov. 6) officially suspended Italian Council member Giovanni Morzenti, also the president of the Italian Winter Sports Federation after he informed the Council he had been convicted by a court in Cuneo, Italy of extortion.
Morsenti himself informed his fellow Council members of the conviction and suggested he be provisionally suspended until the case in concluded, an indication he intends to appeal the court's decision.
The Council said Italy would be entitled to send a representative as an observer to future Council meetings, but without any voting privileges.
The Council was conducting its annual Autumn Meeting at the FIS headquarters in Oberhofen, Switzerland. hm
Giovanni Morzenti pictured at far right - Gepa