USASJ Athletes Make Final Preparations Before Snow Flies
With winter on the cusp and the trees nearly bare of autumnal leaves, the ski jumping men of the USASJ program are putting their finishing touches on their plastic jump training and dryland conditioning efforts.
Following his win-with a new hill record in Lake Placid-Peter Frenette, is continuing his training currently based out of the Olympic Training Center (OTC) in Lake Placid. USASJ coaches report that he continues to nurse a little soreness in his groin, following an injury earlier this year, and is receiving help from the OTC staff.
New Hampshire jumpers Nick Alexander and Nick Fairall are also still in Lake Placid continuing jump training on the Olympic jumps at Intervale.
Jumpers Mike Glasder and two-time US Olympian Anders Johnson returned home to Park City, UT from training in Lake Placid to continue preparations and await the snow on the jumps at Utah Olympic Park.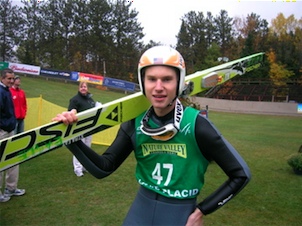 Team jumper Chris Lamb continues to ply his efforts for the winter based out of Trondheim, Norway. There he has been competing against many of Norway's top fliers. During the off-season, Lamb took part in a FIS Cup in Falun, SWE and the Norwegian National Championships in Trondheim. FIS Cup events are the third highest-ranking events following COC's and World Cups. At the Norwegian nationals he turned in some solid performances.
Lamb wrote recently," In the championships on the large hill, I had caught a groove and made two of my best jumps this summer. After the first round I was in 8th position with a jump of 127 meters. It was a great feeling as I had jumped into the top of the field among some of the world's best."
His 2nd ride was good for 121m and he finished in a "very satisfying 12th place".
USASJ coach Casey Colby said today that the "USASJ athletes will start the winter season in Park City in mid-November as the jumps are prepared with snow. We have decided as a team to start everyone on the Continental Cup events in Finland and Norway in early December."
Looking ahead Colby senses a strong start to the season. "These are very tough first events with a lot of good skiers, but we feel that our boys are up to the task after a very productive summer of training. By mid December we may have to split up to tackle multiple events; FIS Cups in Norway, COC in Turkey, and possible world cup starts for anyone that is really on their game early in the season."
-- Peter Graves