Fischer adds to XC stable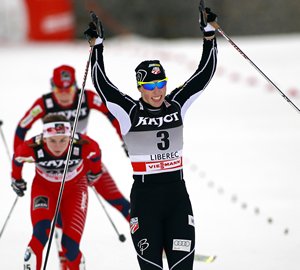 Fischer Skis announced today (Sept. 8) that five of the seven U.S. Ski Team cross-country athletes will race on Fischer skis for the next two years. Kikkan Randall )pictured), Andrew Newell and Kris Freeman have used Fischer Skis throughout their competitive careers on the World Cup circuit and at World Championship and Olympic events. Newcomers Morgan Arritola and Simeom Hamilton both join the Fischer fold.
"We are excited to continue working with Kikkan, Andy and Kris, providing them with the best possible skis in their pursuit of athletic excellence on the racing trails," said Chris Hall, Nordic racing director, Fischer Skis U.S.A. "And with Morgan and Simi joining the team, we are delighted to have these two young, up and coming athletes using Fischer."
"I put hours and hours of training in each year to achieve my goals and dreams in the sport of cross country ski racing," said Randall. "Therefore, it's essential to put my trust in a ski sponsor that provides me with the best equipment and service, and that is why I choose Fischer."
All five athletes will begin the 2010-2011 season in Gallivare, Sweden, competing in the opening World Cup races and following the World Cup circuit with the goal of achieving top results at the 2011 Nordic World Championships in Oslo, Norway. -h
GEPA photo