Chappuis takes World Cup nordic combined opener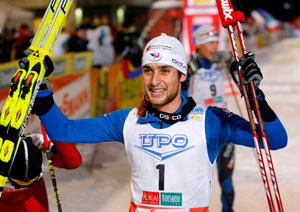 The nordic combined World Cup season got its start this morning (Nov.28) in Kuusamo, Finland as France's Jason Lamy Chappuis grabbed his sixth career World Cup victory in a field of 55 competitors.
Second place went to three-time Olympic medalist, Finn Hannu Manninen, who was cheered on by 6,000 of his countrymen to his 86th World Cup podium. Germany's Eric Frenzel took the last podium spot, his fifth career World Cup top-three finish.
Chappuis, who was in the lead after the jumping portion of the event, outlasted Manninen in the cross country race, beating him by eight seconds. It had been nearly two years since Chappuis' last World Cup victory at Seefeld in January 2008.
"I just love this hill, I had so much fun at this hill and I am very confident when I jump here in Kuusamo," said Chappuis. "This morning, I had a very good attempt, got 30 seconds advantage. My tactic was to start on my own pace and to see what's going on."
"I heard that Hannu was making up time and I pushed very hard in the last lap," Chappuis continued. "My tactic was to be in front after the jumping and to be in the battle for the podium. This victory is important for my confidence, also in view of the Olympic Games where I would like to win a medal."
Norway's Mikko Kokslien was the fastest cross country skier launching him from 31st after the jump to a ninth-place overall finish.
Last season's overall World Cup winner Anssi Koivuranta was in third place coming out of the jump but slipped to fifth place after the cross country portion of the event.
Canadian Wesley Savill was the lone North American competitor in the field, finishing 43rd.
Tomorrow, the DKB FIS Nordic Combined World Cup will continue in Kuusamo with another individual event.
Image: Jason Lamy Chappuis takes the season's first nordic combined World Cup. (Gepa)
Rank
Bib
FIS Code
Name
Year
Nation
Result
1
1
610
LAMY CHAPPUIS Jason
1986
FRA
27:05.0
2
14
19
MANNINEN Hannu
1978
FIN
27:13.1
3
2
1050
FRENZEL Eric
1988
GER
27:15.6
4
8
680
TANDE Petter L.
1985
NOR
27:19.7
5
3
1156
KOIVURANTA Anssi
1988
FIN
27:20.6
6
15
1650
SCHMID Jan
1983
NOR
27:26.4
7
4
198
TALLUS Jaakko
1981
FIN
27:53.2
8
6
1152
RYYNAENEN Janne
1988
FIN
28:00.1
9
31
1149
KOKSLIEN Mikko
1985
NOR
28:04.3
10
23
257
KIRCHEISEN Bjoern
1983
GER
28:09.3
11
20
351
EDELMANN Tino
1985
GER
28:14.7
12
21
8
STECHER Mario
1977
AUT
28:18.1
13
12
590
RYDZEK Johannes
1991
GER
28:35.9
14
7
683
RIAN Espen
1981
NOR
28:40.0
15
9
606
BRAUD Francois
1986
FRA
28:41.4
16
5
111
BIELER Christoph
1977
AUT
28:45.4
17
18
459
LACROIX Sebastien
1983
FRA
28:49.9
18
29
1003
DVORAK Miroslav
1987
CZE
28:52.2
19
25
1029
PITTIN Alessandro
1990
ITA
29:00.9
20
22
416
SLAVIK Tomas
1981
CZE
29:10.7
21
26
623
HUG Tim
1987
SUI
29:15.4
22
30
74
ACKERMANN Ronny
1977
GER
29:18.5
23
27
216
TAKAHASHI Daito
1980
JPN
29:23.0
24
46
349
HURSCHLER Seppi
1983
SUI
29:27.4
25
34
215
CHURAVY Pavel
1977
CZE
29:28.4
26
44
973
MOAN Magnus-H.
1983
NOR
29:36.4
27
17
1444
SCHMID Tommy
1988
SUI
29:40.5
28
43
768
MINATO Yusuke
1985
JPN
29:46.5
29
19
214
DENIFL Wilhelm
1980
AUT
29:50.9
30
35
609
LAHEURTE Maxime
1985
FRA
29:56.3
31
42
137
KREINER David
1981
AUT
29:56.7
32
36
1660
WENDEL Ole-Christian
1992
NOR
29:56.7
33
32
1059
REUSCHEL Sebastian
1988
GER
29:59.3
34
11
1228
LEETOJA Aldo
1988
EST
30:07.6
35
28
694
VODSEDALEK Ales
1985
CZE
30:18.7
36
50
203
HEER Ronny
1981
SUI
30:21.3
37
13
1473
ASIKAINEN Lauri
1989
FIN
30:26.5
38
10
1485
NURMSALU Kaarel
1991
EST
30:32.3
39
24
1147
POCHWALA Tomasz
1983
POL
30:35.2
40
41
1164
FELISAZ Jonathan
1985
FRA
30:58.3
41
45
592
KLAPFER Lukas
1985
AUT
30:58.3
42
38
960
MASLENNIKOV Sergej
1982
RUS
31:05.1
43
40
164
SAVILL Wesley
1989
CAN
31:06.3
44
49
705
KAEHKOENEN Ville
1984
FIN
31:07.2
45
47
1015
PICHLMAYER Marco
1987
AUT
31:27.4
46
55
200
HASENEY Sebastian
1978
GER
31:39.0
47
52
217
HETTICH Georg
1978
GER
31:48.0
48
53
1479
PANIN Ivan
1987
RUS
31:52.6
49
51
419
KLEMETSEN Haavard
1979
NOR
32:01.1
50
33
357
SOBOLEV Ivan
1983
BLR
32:19.0
51
37
637
BRESADOLA Davide
1988
ITA
32:23.7
52
16
1474
TUPPURAINEN Ville
1988
FIN
33:10.3
53
54
1410
BAUER Armin
1990
ITA
33:21.5
54
39
1469
MAKA Marcin
1985
POL
33:37.3
Did not start
50
252
GRUBER Bernhard
1982
AUT
11
35
GOTTWALD Felix
1976
AUT
Did not finish
48
1548
HAERTULL Jim
1990
FIN