Spillane Out Following Injury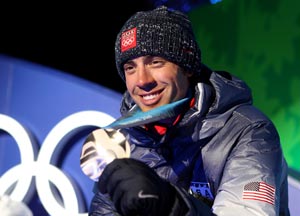 PARK CITY, UT (Aug. 2) -- One of America's great nordic combined skiers, Johnny Spillane, has had surgery following a recent accident in Lake Placid, NY. He is expected to be in rehab mode for several months, according to U.S. Nordic Combined head coach Dave Jarrett.
Spillane, a World Champion and double Olympic silver medalist, recently suffered a torn ACL and MCL, while jumping off a well-known rock outcropping called Pulpit Rock on the shores of Lake Placid.
"I am currently rehabbing in Steamboat, so far so good. It is going to take a while to get back from this but my goal now is to be in good shape for World Championships," Spillane told Ski Racing. "I'm not really sure when I can start training but it is going to be a while."
"Hopefully Johnny will be back on snow, by the time of the first snow," said Jarrett at the U.S. National Ski Jumping and Nordic Combined Championships in Park City last weekend. "We have to be patient and see how the rehab goes, but Johnny is good at rehab, so we are hopeful. - Peter Graves
Image by Gepa