USSA hosts Partner Summit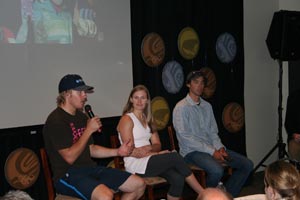 Representatives from the U.S. Ski and Snowboard Association's partner brands gathered this week (July 20-21) at the organization's headquarters - the Center of Excellence – in Park City, Utah for the 2010 USSA Partner Summit.
Ski equipment manufacturers, to food and beverage makers, to hair care companies met face to face with USSA leaders and top athletes. The brand representatives heard presentations from USSA staff regarding events, media operations, sales and brand licensing. An athlete panel allowed those in attendance to ask Olympians Ted Ligety (alpine racing), Heather McPhie (moguls skiing) and Johnny Spillane (nordic combined) about growing up in the sport, how they mentally prepare to compete and details about their Olympic performances at the Vancouver Games. Lindsey Vonn also took time from training and red-carpet events to thank the partners for their support as her Olympic gold and bronze medals hung from her neck.
The focus of the meeting was on capitalizing on the organization's recent success and finding ways to maintain marketing momentum during the next four years.
"Our Olympic success in Vancouver has created a real platform, for us as an organization and you as partners, to come together and go forward," said USSA President and CEO Bill Marolt as he welcomed the partners. "Right now we have the greatest interest that we have ever had in the organization. Clubs around the country are telling us they're growing and we are looking for new ways to interact and respond to our fan base, so it's a good time for us to come together and figure out where we are going down the road."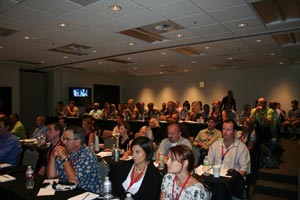 The event was conducted by the USSA's newly appointed chief revenue and marketing officer, Andrew Judelson, who promoted the organization's transparency and forward thinking.
"We have a wonderful opportunity here. The flame everyday we move from Vancouver dims so the time is now, and it can't be once every four year," said Judelson. "It really is all about the athletes and what they represent."
Through Q&A sessions, breakout group discussions and open forums, the partner representatives were able offer feedback, ask questions and help shape how the USSA works with its partners as a new, four-year Olympic cycle begins.
The event concluded with attendees getting a chance to work out in the center's state-of-the-art gym with several Olympic athletes.