Falun to Host 2015 Nordic Worlds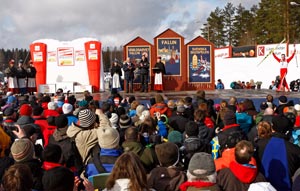 Right on the heels of the great news that Vail/Beaver Creek will host the FIS World Alpine Championships in 2015, came the close vote to elect Falun, Sweden to the honor of playing host to the FIS World Nordic Championships that same year. According to the FIS, it took four election rounds before Falun was elected the host city. Oberstdorf, surprisingly went out after only one-round of voting.
The FIS has approved the upcoming FIS ski jumping calendar, including those for this summer's Grand Prix. Those events will be kicked off in early August in Hinterzarten, Germany.
As has been the case for many seasons, Kuusamo, Finland has gotten the nod to open the WC calendar in late November and the fabled Four Hills Tournee will highlight the holiday period in Austria and Germany from Dec. 29 to Jan. 6, 2011. The World Cup final will return to the popular venue of Planica (SLO) from March 18-20th. The FIS said that World Cup locales will be in nine countries with 16 different events. In addition, there will be four weekends of ski flying events, always exciting and pleasing on the eye.
Of course, 2011 will be the return to Oslo, for the 2011 World Championships, which everyone is looking forward to attending, on the brand new, but historic venue in February.
The FIS is also reporting that during this 47th FIS Congress, the FIS Council has decided to sanction the Russian Ski Federation, regarding the large number of doping incidents. The Russian Federation, according to the FIS, has "expressed its sincerest remorse for the situation and informed the FIS about the serious work that they have begun at the very highest level."
Peter Q. Graves