U.S. Cross Country Skiers Enjoy Bend Camp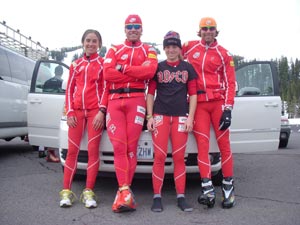 As the first major part of the training season is now underway in Bend, OR, members of the U.S. National Cross Country Ski Team and others are hard at work in anticipation of the 2011 racing season. Athletes have been spending time over the Memorial Day weekend at Mt. Bachelor.
Newly appointed USST coach, Chris Grover said the great advantage is that it's an on-snow camp.
"We have excellent skiing this time of year, so close to home, it would be a shame not to take advantage of it, the athletes are now over four weeks into their new training year, so it is a great time to get back into a camp situation where they have quality training partners after training by themselves."
Among those taking part in the camp are Kris Freeman, Morgan Arritola, Liz Stephen, Simi Hamilton, Noah Hoffman and Andy Newell, while Kikkan Randall is attending the FIS Congress going on this week in Turkey, as one of two international crosscountry skiing athlete reps.
Ski Racing was able to catch up with Andy Newell, who had this to say about the camp.
"The camp has been going great so far... although it's been a bit cold so far. I was looking forward to the shirt-off skiing of Bend camp and each day it's been cold with fresh snow falling every night," said Newell. "The cold conditions make for a little bit nicer skiing which is good and it makes it so we don't have to wake up so early in the morning to get up there for hard tracks."
"My main focus for this camp is to get on snow and work on a few technical adjustments," continued Newell. "We're always trying to tweak certain things so to get the chance to be on snow so early in the training year is very helpful. We will do a lot of video and work closely with the coaches while we are here.
"From a fitness standpoint I'm just trying to continue to work on a solid base and take advantage of working with the coaches to dial in the right paces for intervals. We are training with the Canadian team a bit so one of my goals will be to hop in with them on some distance workout and try to feel out a faster aerobic pace."
"Our entire team is here, except for Kikkan, along with the full Canadian squad and some local skiers. It's early in the training year still so I'm trying not to get too fired up, but I do feel pretty motivated. I'm really stoked to continue to get more and more fit each week. we tend to start up training in May after a break and it just feels awesome to see yourself getting fitter and feel yourself increase your capacity each week. This year will be the first time I'm beginning to focus equally on distance skiing and sprinting so it feels fresh and exciting to me."
The camp will wrap up on June 4th.
Peter Q. Graves