Freestyle Nationals: Robertson, Cota secure dual moguls titles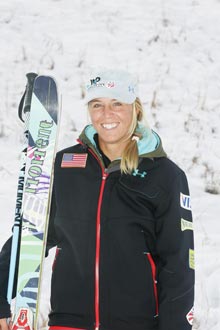 The Sprint U.S. Freestyle Championships came to a close Sunday (March 28) in Squaw Valley as hometown girl Shelly Robertson and U.S. Ski Team rookie Jeremy Cota took dual moguls national titles to end the U.S. Freestyle Ski Team's competitive season.
"This is so awesome being at Squaw in front of all my friends and family," said Robertson, who earned her fourth national title. "I'm so excited to win today. This is where it all started for me on this run right here when I was 15. It feels good to finish on this run on top."
The women's podium was completed by Eliza Outtrim with her second second-place results of these championships (second in the singles competition) and Heather McPhie who finished third for the second time of the weekend.
"It's incredible. I've probably had my best three results I've ever had in the last week and a half," said Outtrim, who pulled in her first World Cup win last week in Sierra Nevada, Spain. "They're my first podiums at U.S. Champs and to get two seconds is pretty sweet. It feels so good and it's so motivating. I can't wait to get back and start training again this summer."
Absent from the competition, but there watching with friends and family was local hero and Olympic bronze medalist Shannon Bahrke who did not compete due to an injury. She has announced that she will retire after this season.
In his fourth trip to a national championships, Cota grabbed his first title ahead of singles winner Joey Discoe in second and fellow Carrabassett Valley Academy product Dave DiGravio who finished third for his first nationals podium.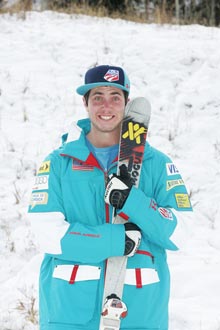 "This is my first time winning a national title and I'm definitely psyched," Cota said. "There's a lot of incredible skiers in this event and for me to win I had to do my very best, and I was happy to be able to do that."
Cota's seasons, his first on the World Cup, saw the 21-year-old pull in three top-10 finishes on the world's highest level of moguls skiing competition.
"The whole season has been a confidence builder. As the season went on I kept doing well and was able to ski my best. It kept building and here I am," Cota said. "I'm excited and I'm going to do a lot of summer training. This year was definitely an eye opener to where I need to be to reach my goals. I have a plan now and I'm going to stick to that."
Images of Robertson and Cota by Brian Robb/USSA
OFFICIAL RESULTS
2010 Sprint U.S. Freestyle Championships
Squaw Valley, CA - March 28, 2010
Dual Moguls
Men
1. Jeremy Cota, Steamboat Springs, CO
2. Joey Discoe, Telluride, CO
3. Dave DiGravio, Farmington, ME
4. Zak Watkins, Telluride, CO
5. Bradley Wilson, Park City, UT
Women
1. Shelly Robertson, Reno, NV
2. Eliza Outtrim, Steamboat Springs, CO
3. Heather McPhie, Bozeman, MT
4. Laurel Shanley, Squaw Valley, CA
5. Mikaela Matthews, Frisco, CO