NCAAs, Day 3: Hemmingsson, Adde win nighttime SL; DU lead shrinks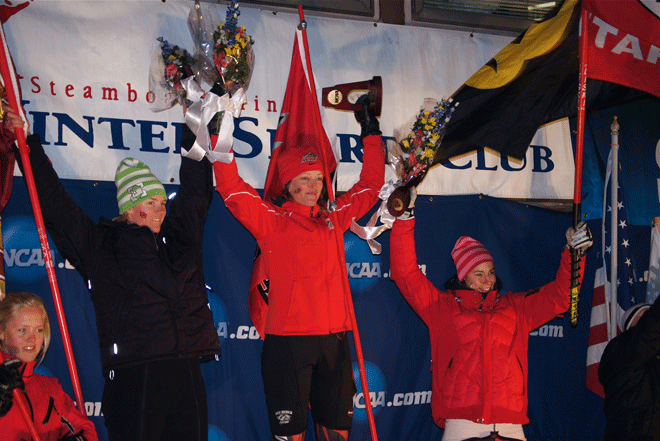 NCAAs, Day 3: Hemmingsson, Adde win nighttime SL; DU lead shrinks
March 12, 2010
The penultimate round of competition at the 2010 NCAA Championships was held under the lights tonight at Steamboat's Howelsen Hill, making for a Euro-like alpine atmosphere charged by a raucous and rowdy crowd.
It was just the second time in NCAA skiing history that a race was held at night (Howelsen also hosted the first in 2006), and when the fireworks ceased at the end of the evening, New Mexico's Malin Hemmingsson had claimed her third NCAA slalom crown in four years.
Though the Howelsen slalom track is a sprint by most standards, it features wicked steep fallaway sections that invariably deliver deserving champions. Tonight was no exception, and Hemmingsson looked the ace of the field from the second she left the start -- in balance, quick, and seemingly miles inside the line of other racers on the course's most difficult sections.
"I'm so happy," a slightly teary Hemmingsson said in the finish. "It's the perfect ending to a wonderful four years at New Mexico."
The 24-year-old Hemmingsson, who won NCAA slalom titles at New Hampshire in 2007 and at Bates College last season, led a massive surge by the Lobos tonight -- five of the team's six skiers scored All-America honors: Anne Cecelie Brusletto and Kate Williams finished fourth and ninth; Petter Brenna and Chris Acosta finished fourth and eighth. The complete team effort thrust UNM past CU and into second place behind Denver.
"The women skied great in the giant slalom, but overall we didn't get off to as strong a start as we wanted on Wednesday," said New Mexico alpine coach Martin Kroisleitner. "Everybody on the team responded tonight, though. It was just one of those days where you think, 'This is why we do it, this is why we work so hard.' I'm very happy for our team, very happy for the athletes."
After finishing runner up in the giant slalom two days ago, Lindsay Cone put together another silver medal effort with a combined time of 1:20.68, comfortably situated between Hemmingsson at 1:19.91 and Utah's Anna Kocken at 1:21:00 .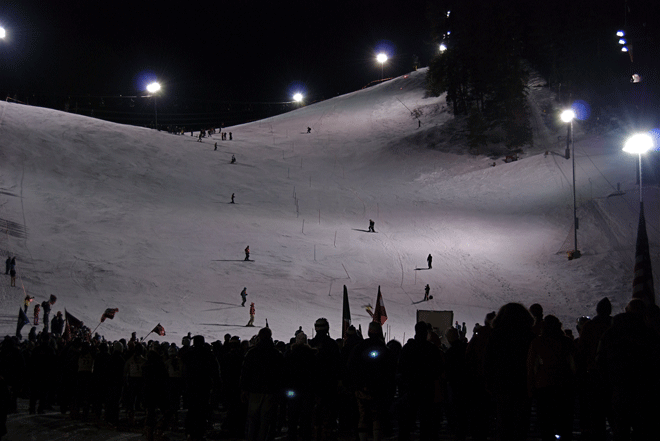 "Half of me was skiing for the team, and the other half wanted to go all out," Cone said of the difficult task of balancing Denver's team needs and her individual ambitions. "Of course I wanted to win, but I also knew that by standing up and skiing solidly, I could help make things a less rough on our Nordic skiers tomorrow. It was another strong performance for us and I think we're all pretty happy."
The Colorado ladies -- Carolina Nordh, Erika Gent, Katie Hartman -- finished 5-6-7, a very strong showing that keeps the Buffaloes within striking distance of the overall title despite their alpine men having had a disappointing night.
Alaska'a Andreas Adde won the men's race, much to the delight of his coaches.
"I'm thrilled for Andreas and for our program," Alaska's alpine coach Sparky Anderson said. "You'll have to forgive me for getting a little emotional. It's just that the kid has worked so hard all season long, and to see it all come together like this is awesome."
Anderson said Adde -- who won several RMISA races at season's end -- found another gear in recent weeks. "As a freshman, it took him a while to settle into college life," Anderson said. "Once he got more comfortable with that, we really upped the intensity of his training and he's found another level pf speed."
Adde's combined time was a was a sublime 1:14.91. He was followed by Utah's Torjus Krogdahl (1:15.03) and Vermont's David Donaldson (1:15.30).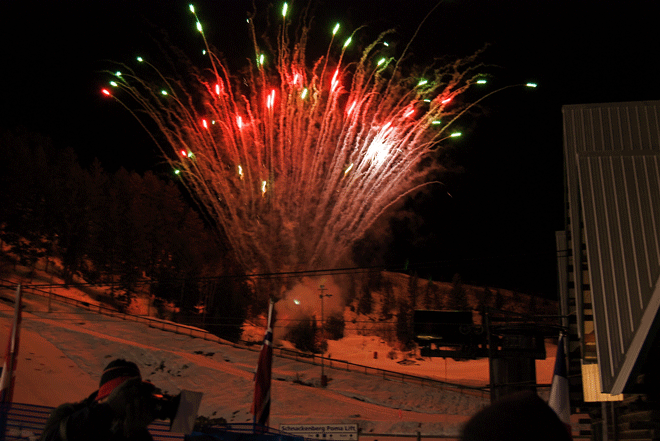 Slalom has made and broken the title hopes of many teams over the years. Tonight Denver had an opportunity to shut the door on this National Championships event -- they didn't quite seal the deal, but it'll be tough to catch 'em. With 589.5 points, the Pioneers now sit on the precipice of an historic three-peat, while Colorado -- having played bridesmaid the past two seasons -- will have to overcome 85.5 points to leap into the lead. New Mexico's nordics will have to make up 65.5 points.
The 2010 NCAA Champions will be crowned tomorrow after cross country skiers duke it out in the freestyle mass start events at Howelsen Hill. Leading into the final day, the overall team standings:
University of Denver: 589.5
New Mexico: 525
Colorado: 504
Utah: 472
Vermont: 423.5
For complete results, click here.
-- Bryce Hubner
Photos: men's slalom podium; women's podium; shot of the arena at Howelsen Hill; post-race fireworks.
Credit: Bryce Hubner