Olympics: Demong, Spillane take gold, silver in nordic combined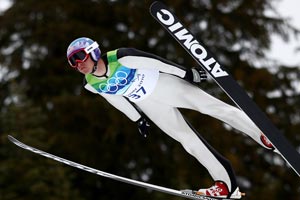 WHISTLER OLYMPIC PARK, BC (Feb. 25)- Before the Vancouver Games, the United States had never won an Olympic medal in nordic combined. Now it has four. Bill Demong and Johnny Spillane tacked on the last two (gold and silver) at today's normal hill event at the Whistler Olympic Park (WOP). Austrian Bernhard Gruber finished with the bronze medal.
This morning's jumping portion of the event saw Gruber, part of Tuesday's gold medal winning Austrian relay team, take the advantage into this afternoon's 10km cross country race with a 134-meter leading jump.
Two-time silver medalist at these Games (individual normal hill and team relay), American Johnny Spillane started 34 seconds behind Guber in the cross country race after securing the second-best jump with 129 meters. Spillane became the first American to ever win an Olympic medal in nordic combined with his first silver medal performance last week.
"Skiing into the start and down that final stretch was quite a bit of fun," said Spillane. "I knew I wasn't going to catch Bill and I didn't feel that Gruber was going to catch up to me so being able to enjoy the last 300 or 400 m was a lot of fun."
Defending world champion in same event, Demong, who stood sixth after the jumps, overcame a 46-second disadvantage to join Spillane through the second half of the race. The American duo then passed Gruber at the 4.2 meter mark and never let go.
"We just kept taking turns, waiting, and we shared the lead," said Spillane of the U.S. team work. "We were skiing really fast, and slow. We did some big accelerations and eventually he [Gruber] was going to break."
The leading trio was a full minute in front of the following pack of a dozen racers for the final half of the race.
"I had my best day today mentally. I was in it," said Demong. "I didn't expect to win the medal until it was over. These Olympics are the combination of years of hard work and hard breaks. I'm just starting to let it sink in a bit."
After finishing 13th in the jumps, American teammate Todd Lodwick couldn't overcome a 1:13 penalty, finishing 13th. Always a teammate, Lodwick did his part to support the U.S. squad from behind.
"Once I knew that third place was out of reach, I wasn't going to help anyone get up there," said Lodwick. "I jumped in front [of the pack] and slowed down the other skiers. Other skiers were not so happy but who cares. We're on the podium."
Much controversy surrounded this morning's jumping round as rain, snow and wind forced organizers to cancel a first attempt 31 jumpers in and start all over. All 46 racers made it through on the second attempt but many racers were disappointed with how it was handled.
"This competition is a joke, it is not fair and it is not fun," said Magnus H. Moan of Norway who stands fourth in the World Cup standings. "We train so hard for this every four years."
World Cup leader and normal hill gold medalist Jason Lamy Chappuis agreed.
"It's like a lottery, some guys got good conditions, and other guys got bad conditions," said Chappuis. "There's a corridor and, if the light is green, you can jump. But conditions are still not fair. It's clearly not like an Olympic competition, it's a shame."
Today's race concludes the Olympic nordic combined events.