American Nyman lost for season to Achilles tear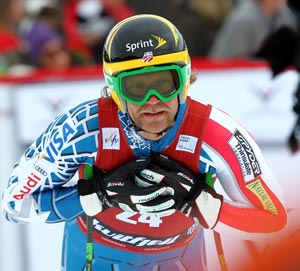 U.S. speed skier and two-time Olympian Steven Nyman will be forced to sit this season out after tearing his left Achilles tendon while training yesterday (Nov. 8).
The three-time World Cup podium finisher sustained the injury while downhill training on the U.S. Ski Team's new speed venue at Copper Mountain, Colo.
"Blown Achilles tendon=no ski season for me this year," tweeted Nyman late Tuesday night. "Time to mend, I will be back."
This is not the 29-year-old, Utah native's first run in with injury. In Nyman's 10 years on the U.S. Team, he has sustained two broken legs and battled back pain through several seasons.
"Steven was evaluated Tuesday at the Steadman Clinic in Vail and diagnosed with a torn left achilles," said U.S. Ski and Snowboard Association Medical Director Kyle Wilkens. "He will miss the remainder of the 2011-12 World Cup season."