Inside the Ski Racing Mind: Build Prime Confidence, Part I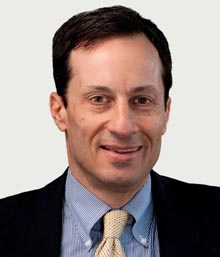 Last season I wrote two articles in which I discussed the importance of confidence and five keys to Prime Confidence. With the new season approaching, this issue no less important. I want to return to the topic of confidence and devote my next two articles (directed at racers) to more practical ways you can build your confidence leading up to the first races.
One mistake that racers often make is that they wait to do mental training until after they've lost confidence, for example, they've had a string of DNFs or disappointing finishes. Yet you don't wait to get hurt before you start doing physical training. You don't wait to develop a technical problem before you work on technique. You do them beforehand to prevent the problems. The same thing holds true for building confidence.
Walk the Walk

One thing I've noticed in my work with World Cup racers is that they carry themselves a
certain way; they move and walk with confidence. A first step in developing confidence is to learn to "walk the walk." How you carry yourself, move, and walk affects what you think and how you feel. If your body is down, your thoughts and feelings will be negative. If your body is up, your thoughts and feelings will be positive. Walking the walk involves moving with your head high, chin up, eyes forward, shoulders back, arms swinging, and a bounce in your step. You look and move like a winner.
In contrast, not walking the walk involves your head, eyes, and shoulders down, feet dragging, and no energy in your step. You look and move like a loser.
To give yourself a feeling of what this is like, try walking the walk and saying negative things about yourself. As you will see, it's difficult to do because your thoughts are inconsistent with what your body is signaling to you. Then try not walking the walk and saying positive things. Again, it's difficult because your thoughts conflict with what your body is doing.
So, here's an exercise for you. Every day as you enter and leave physical conditioning, focus on how you walk. Make a concerted effort to walk the walk. At first, it will feel uncomfortable, but the more you practice, the more natural and comfortable it will become and, before you know it, you'll just walk like a winner.

Talk the Talk
You must also learn to "talk the talk." What you say to yourself affects what you think and how you feel. If your talk is negative, your thoughts and feelings will be negative. If your talk is positive, your thoughts and feelings will also be positive. It's hard to think and feel negative when you're talking positively. Don't say, "I don't have a chance today." Say, "I'm going to try my hardest today." By talking the talk, you're also being your own best ally. You're showing yourself that your fellow competitors may be against you, but you're on your side.
Conversely, not talking the talk includes "I'm going to ski terribly today" and "I don't have
a chance." If you say these things to yourself, you're convincing yourself that you have no possibility of achieving your goals. With that attitude, you really have no chance because not only is everyone else in the race trying to beat you, but you're planning on beating yourself
Balance the Scales
When I work with racers, I like to chart the number of positive and negative things they say or do during training and before races. In most cases, the negatives far outnumber the positives. In an ideal world, I would love to eliminate all negatives and have racers only express positives. But this is the real world and any racer who cares about their sport is going to feel and express, for example, frustration, anger, or disappointment occasionally.
In dealing with this reality, you should learn to balance the scales. The immediate goal is to increase the positives. This means rewarding yourself when you ski well. If you beat yourself up over a mistake, why shouldn't you pat yourself on the back when you get it right. Pump your fist, slap your leg, say, "Yes!," when you have a good run in training or finally get some new technique. It will psych you up, make you feel positive and excited, and it will build your confidence.
Once you've balanced the scales by increasing your positives, your next goal is to tip the scales in the positive direction by reducing the negatives. Ask why you're so hard on yourself when your skiing doesn't live up to your expectations. The best racers in the world don't always ski their best. Why shouldn't it be okay for you to have down periods in your skiing?
Also, become aware of your negativity and then do things that counter the negativity. For example, after you ski out, instead of dropping your head and saying, "I suck," try pumping your fist and saying, "Come on!" I can assure you that it's better to fire up than give up.
This step of tipping the scales toward positives is so important; some recent research has found that negative experiences, such as negative self-talk, body language, and emotions carry more weight than positive experiences. In fact, it takes 12 positive experiences to equal one negative experience. What this means is that for every negative expression you make, whether saying something negative or screaming in frustration, you must express yourself positively 12 times to counteract that one negative expression.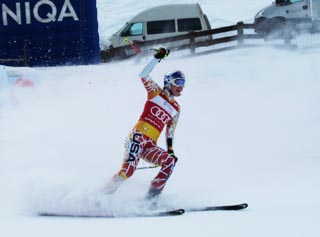 Thought-stopping
Someone very wise once said, "We become what we think of most of the time." If you think you're going to fail, you probably will. So, another useful technique to reduce your negative thinking and develop your positive thinking is called thought-stopping. This strategy involves replacing your negative self-talk with positive self-talk.
List the negative statements you commonly say to yourself when you're training and racing. Next, indicate where and in what situations you say those negative things. This will help you become aware of the situations in which you're most likely to be negative. Then, list positive statements with which you can replace them. For example, after a bad day on the hill, you might usually say "I had a horrible race." Instead, replace that negative statement with something more positive such as "I'll work hard and ski better the next time."
The thought-stopping sequence in training or competition goes as follows. When you start to think or say something negative; say "stop" or "positive," then replace it with a positive statement.
Final Thoughts
Remember that how you think, walk, and act are skills. If your scale is tipped heavily to the negative side, you have become very skilled at these negative expressions. Like changing any skill, to get rid of the bad ones, you have to identify better skills, make a commitment to changing them, and practice the positive skills until they're ingrained and automatic. And then you'll be one very confident racer!
Follow me on Facebook, Twitter, or YouTube. Watch my 2010 Winter Olympics Discovery Channel interview on fear in high-risk winter sports here
About Dr. Jim Taylor
Dr. Jim Taylor knows the psychology of ski racing! He competed internationally for Burke Mtn. Academy, Middlebury College, and the University of Colorado. For the past 25 years, Jim has worked with many of America's leading junior race programs as well as World Cup competitors from many countries. He is a clinical associate professor in the Sport&Performance Psychology graduate program at the University of Denver. Jim is the author of Prime Ski Racing: Triumph of the Racer's Mind and his latest parenting book is Your Children are Listening: Nine Messages They Need to Hear From You.